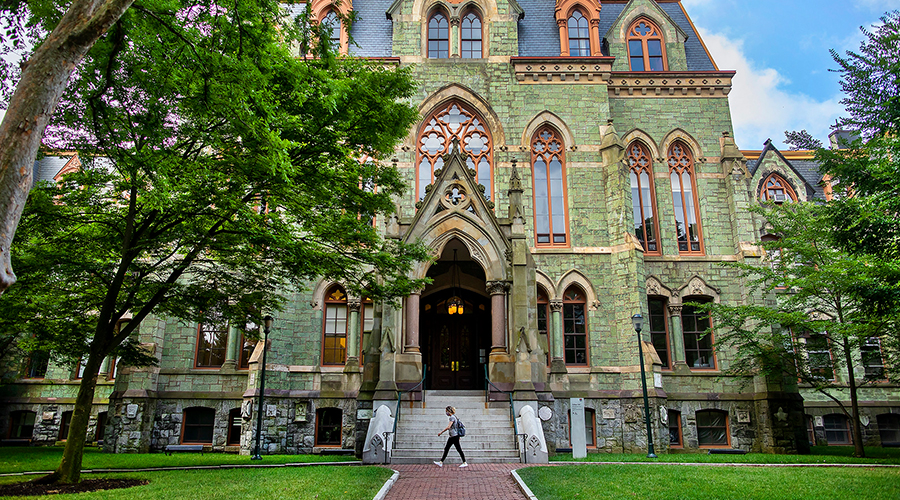 Where would you like to be in 2021? A new year is often an opportunity to reflect on personal, professional, and academic goals—and to take action. Whether you're currently enrolled in the Bachelor of Applied Arts and Sciences (BAAS) degree, looking for a certificate to enhance your resume, or curious about taking online courses on an individual basis, you can register for accelerated 8-week courses led by Ivy League faculty in a range of disciplines. Unlock your creativity, explore new ideas, and learn skills you can put immediately to work.
Spring course registration is open now, and there's still time to enroll as a certificate or course student. Spring 1 courses start on January 13 and spring 2 courses begin on March 15, but don't wait to sign up—some courses fill up quickly. To help you get started, here are 11 spring courses you can take to achieve your resolutions this year!
Resolution: Become a better global citizen
GLBS 2000: Globalization: Social, Economic, and Political Aspects

Global studies courses are designed to give you context to understand the 21st century world through historical patterns of trade, politics, culture, and more. Global studies is an inherently interdisciplinary field, and GLBS 2000 focuses on sociology, economics, and political science to understand global trends today. Applying that three-pronged approach to topics including digital technology, population and migration, climate change, and social inequality, the global perspective you gain in this course would complement your studies in almost any subject or serve as an introduction to a new field.

Instructor: Mauro F. Guillén, Zandman Professor of International Management at the Wharton School
8-week course, offered in spring 1 (January 13 – March 10, 2021)
May be taken as an individual course
May be applied to the BAAS concentrations in Individualized Studies and Literature, Culture, and Tradition

MODM 3200: America and Iran: 1720 to Present

2020 was a year packed with political news, so it may surprise you to recall that it was only in January of this year that a US drone strike killed a prominent Iranian military commander. The Interim Director of Penn's Middle East Center, John Ghazvinian drew on his expertise to put the event in political and historical context. (Read "A history of US-Iran relations" on Penn LPS Online for more.) Likewise, MODM 3200 takes a long view of the two countries: For example, early America's founders looked to the Persian Empire for guidance, and 19th century Iranian newspapers praised American ideals. With a range of multimedia sources and synchronous meetings for group discussions, this course will make history come to life and shed light on the present.

Instructor: John Ghazvinian, PhD, Interim Director of Penn's Middle East Center
8-week course, offered in spring 2 (March 15 – May 11, 2021)
May be taken as an individual course
May be applied to the BAAS concentrations in Individualized Studies and Literature, Culture, and Tradition
Resolution: Bring your A-game to the workplace
ORGC 3300: Building Influence Across Cultural Boundaries in Organizations

When we talk about culture in the workplace, we're not only talking about cultural identities formed along demographics such as age, location, or ethnicity. Every organization has cultures and subcultures: From the company as a whole to the smaller divisions of departments and teams, people who work together operate with both explicit and implicit expectations for communication and behavior. Organizational anthropology courses are designed to help identify and understand these workplace cultures, and ORGC 3300 focuses on effective communication and collaboration among colleagues who bring different perspectives to work. For more insight into the field of organizational anthropology, visit the Penn LPS Online feature "Learning to understand and assess organizational culture."

LEAD 1010: Leadership Theory and Practice

What kind of leader are you? That is one of the questions you set out to answer in this intensive introductory course. Effective leadership can take many forms, and this course explores a range of strategies and real-life case studies of living and historical leaders. In addition to readings and lectures, live meetings and reflective assignments help you identify your own unique strengths in leadership. This course can be taken individually, but is designed to prepare you for success in more advanced leadership and communication courses. To learn more about this high personalized course series, visit the Penn LPS Online feature "How to be a leader in the workplace."

PROW 4010: Composing a Professional Identity

Career advancement generates its own genre of writing: Cover letters, resumes, portfolios, and even social media play a role in projecting your professional image and making a strong impression. This new course builds on concepts introduced in earlier professional writing courses, such as discourse communities and rhetoric, to examine how professional identities are constructed in different media and contexts. Along with weekly exercises and reflections, you'll complete the course with your own polished profile, including a cover letter, resume, social media, and web portfolio—which makes the course ideal for BAAS students working toward their ePortfolio requirement, as well as jobseekers and entrepreneurs.

MTHS 1000: Mathematical Foundations for Data Analytics

Data is a powerful tool in solving problems and assessing impact, and Penn LPS Online data analytics courses prepare students to understand and interpret large data sets effectively. If you're interested in testing the waters in this cutting-edge field and want to brush up on mathematics and statistics first, this introductory course provides an overview of key concepts and techniques. Whether or not you're preparing for a longer course of study in data analytics, you'll sharpen your quantitative toolkit with plenty of hands-on practice in logic, algebra, probability, and more.
Resolution: Know thyself—and understand human nature
NEUR 1000: Introduction to Neuroscience

Get at the root of human behavior by studying its source: the brain and nervous system. Neuroscience can shed light on nearly every aspect of human (and animal) experience: how we respond to stress, what happens when we experience emotions and senses, what factors influence our actions and decisions. To dive deep into the structures of the nervous system, you'll need some baseline knowledge of biology and chemistry—which you'll have the opportunity to brush up on during a learning assessment module prior to the course. NEUR 1000 is a prerequisite to any other Penn LPS Online course in neuroscience, so completing the course in spring 1 positions you to take future courses in pharmacology, behavior, and the neuroscience of music. To learn more about what neuroscience can teach you about human behavior, visit the Penn LPS Online feature "Your mind at work: Applying neuroscience in the classroom and outside of the lab."

APOP 3200: Morality and the Good Life

Centuries of philosophy have been dedicated to debating the concept of good and the conditions of living a good life. Positive psychology takes a scientific approach, drawing on psychological research to approach the question of how we define morality and what factors influence how we make moral judgments. With an emphasis on reflection and discussion, this course invites you to examine how you navigate moral challenges personally—but the discipline's emphasis on combining quantitative and qualitative methods will provide the foundation to understand how others make moral judgments (even if they differ from yours). It is strongly recommended, although not required, that you complete APOP 1000: Introduction to Positive Psychology before enrolling in this course.

DIGC 160: A History of Digital Culture

Digital technology has changed so rapidly in recent decades that it may be hard to imagine its evolution as history—but technological tools make for rich objects of historical study by examining their material use and social impact as well as the discourse and cultural practice that accompany them. In this course, you'll have the opportunity to better analyze your own experiences interacting with digital media and technology as well as to understand these tools within broader cultural and historical contexts. To learn more about how digital culture can help you see the bigger picture (even if you're viewing it on your phone), visit the Penn LPS Online feature "To thrive in the new digital landscape, you need to be more than just a user."

Instructor: Meryl Krieger, PhD, Senior Learning Designer of Penn Arts and Sciences Online Learning
8-week course, offered in spring 1 (January 13 – March 10, 2021)
May be taken as an individual course
May be applied to the BAAS concentrations in Individualized Studies and Literature, Culture, and Tradition
Resolution: Explore the craft of creative expression
There are so many reasons to write stories: to preserve memories, to explore ideas and emotional truths, to escape and entertain. Whether you're a new or seasoned storyteller, this collaborative workshop offers readings to inspire you, peer and instructive feedback to support you, and exercises to explore the elements of fiction writing. Want to read more about what creative writing classes can do for you? Visit the Penn LPS Online feature "Skill, style, and substance: How creative writing workshops fuel personal and professional growth."

ENLT 1200: Writing about Literature and Culture

Good readers make good writers, as the saying goes—in any case, steeping your mind in great literature can excite and inspire your own creativity. This introductory course takes an inclusive approach to 20th and 21st century literature, featuring English language poetry and prose by writers from a range of national and cultural backgrounds. Not only will you enhance your understanding of literary form, you'll develop critical writing skills such as organizing an analytical essay, composing a compelling argument, and expressing your ideas clearly and effectively.
This is just a sampling of the exciting and interesting online courses that bring the Penn experience to you this spring. View our course calendar to see the full range of what's available in any upcoming term.
If you are already enrolled as a Bachelor of Applied Arts and Sciences or Penn LPS Online student, you can register for online courses now through Path@Penn. Learn how to enroll if you're ready to get started!