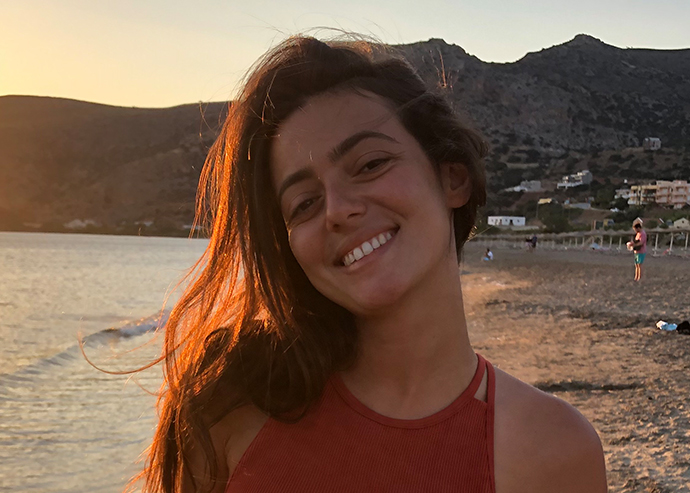 Dana Cheaib
Freelance marketing writer and copywriter
Education:
Master of Fine Arts in Creative Writing, Vermont College of Fine Arts '23—expected
Penn LPS Online Certificate in Creative Writing '20
Bachelor of Arts in Psychology, McGill University '16
Poetry runs in Dana Cheaib's blood: she has been writing poetry since childhood, and her mother and grandfather write poetry in Arabic. "It's almost like it's genetic. They couldn't have taught me to write English poetry," she reflects. Dana will be the first in her family to seek out graduate-level instruction in the craft, however: this fall she will begin a low-residency program in Vermont that will allow her to travel and continue working with her copywriting clients in Dubai. "I wasn't 100% sure that I wanted to do a master's degree. One of the reasons I did the Certificate in Creative Writing is to see how I would feel about studying and writing in an academic setting," she explains. Even so, when she began her search for online writing classes, she was surprised to have the opportunity to take Penn classes from halfway around the world. "I knew Penn is an Ivy League school, and I couldn't believe this was available for me."
During her time in the certificate program, Dana was determined to make the most of the experience. "I took it really seriously," she recalls. "I canceled plans to watch the sessions synchronously. I didn't want to miss out on any opportunity to learn not just from the instructors, but the other students in class." Although the time difference sometimes meant logging on late at night, Dana valued the opportunity to meet and discuss writing with her classmates. "You have this impression of what a writing workshop looks like, and it's very judgment-based. I was very intimidated by the idea," she says. "But it was the total opposite in class. I was surprised by how welcoming and open people were."
In her coursework, Dana explored genres outside of poetry: The course Writing About Place encouraged her to write more about residing in Dubai and Montreal; when she was living in Lebanon shortly after the Beirut port explosion, the course Journalism presented an opportunity to write and talk about the experience. In the course The Art of Editing, she learned when to use and break the rules of language. "For me, poetry is an emotional reaction. You want to have total freedom when you're writing poetry," she says, "but at the same time, you need to make moves that make sense within the context of language. What I learned in the program is to combine the emotional experience with the craft of writing and rewriting and editing."
When Dana committed to pursuing an MFA in creative writing, she had a varied body of work to select for her portfolio. "90 percent of what I submitted, I had either worked on or polished in class, or had gotten feedback on it afterward," she says. In addition to feedback on her portfolio, her certificate writing instructors talked to her about different programs—including the Vermont College of Fine Arts—and suggested program contacts. When Dana wanted to learn more about the faculty in her top choice MFA programs, she was directed to Penn Libraries—a resource she says she wishes she had used more during the program—and was advised to familiarize herself with her future mentors' publications. "The instructors were so generous and supportive with their help," she recalls.
"Lack of confidence used to prevent me from making plans around writing, which is the thing I'm most passionate about," Dana concludes. "But because the program is such a safe space and people were so encouraging, my writing practice improved a lot, and it definitely gave me confidence. I think that's the most important thing I took from the program."