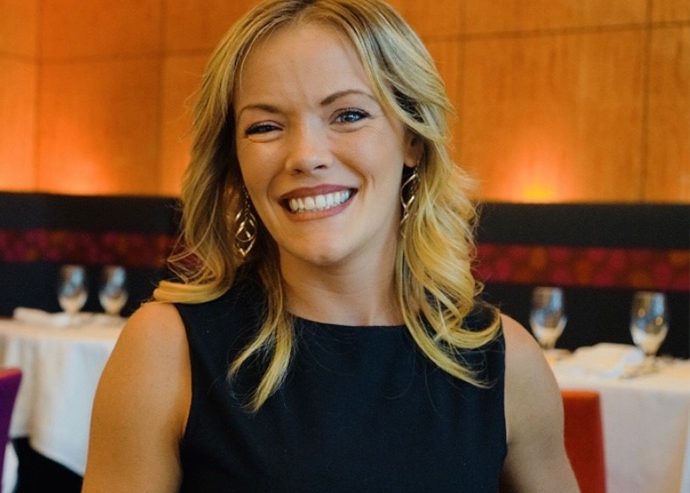 Mary Koenke
Manager, Ark Restaurants
Education:
Bachelor of Applied Arts and Sciences, Physical and Life Sciences, University of Pennsylvania '20
Mary Koenke (BAAS '20) started a traditional undergraduate degree at Penn in 2004 but left before graduating to start a family and a career. Years later, the Penn LPS Online Bachelor of Applied Arts and Sciences program gave her the flexibility she needed to come back and finish her degree. "This was something I really wanted to do for myself for a long time and thought was out of reach, given my life," says Mary, a single mom with a demanding career as manager of New York City's Bryant Park Grill.
Initially, Mary felt some apprehension about returning to school: "My first class back, I thought, Am I still smart? Am I still going to be able to get all of this done?" In reality, she found that she was more equipped than ever to thrive academically and that her time away from school had made her a more capable and insightful student. Mary had also worried about transitioning to online learning, as someone who had never identified as a "technology person." That fear evaporated as she learned digital platforms and tools through her online courses and discovered, "Actually, I am good at this." So much so, that she is now exploring master's programs in cybersecurity and artificial intelligence. Her interest in the latter sparked when she took NEUR 100: Introduction to Neuroscience and began exploring the intersection between brain science and technology. "It was my first time learning about the intricacies of the brain—how these tiny chemical reactions and electrical signals can have such huge effects. I'm fascinated by the idea of trying to replicate those processes with computer programming," she says.
Mary says the BAAS courses are "exceptionally well done" and that when watching the video lectures, "you feel like you're there; you can see the professors' expressions and their passion for the material." She was also impressed by how accessible and helpful her instructors were. Another aspect of the online learning experience at Penn that Mary especially appreciated was the balance between independent learning activities, which students can complete on their own schedules, and live sessions that bring students together and build community. Reflecting on her classmates, Mary says, "Everyone was brilliant. It was refreshing to be in the company of that kind of intelligence." She also notes, "Each course was such a melting pot, professionally and culturally, and everyone was able to shine a different light on the material. And even though we are so extremely different, we are all adult students who are moving forward in our education. It was great to collaborate with peers who share that experience."
Mary selected the BAAS concentration Physical and Life Sciences since it aligned most closely with her prior coursework. She also graduated with a Certificate in Applied Positive Psychology. Mary was planning to take only two of the applied positive psychology courses and count them as her last two elective requirements for the degree. "But I got so much out of those courses that I knew I had to complete the certificate," she says. Mary now applies positive psychology concepts "on a daily basis." At her restaurant, she adjusts her management style to bring out employees' strengths and deploys strategies she learned in class to support organizational change initiatives. The courses have also informed Mary's approach to parenting. "Helping my child recognize her strengths and list what she's grateful for, even when it's difficult, has shifted a lot in our home." Mary supplied her daughter's school with positive psychology education materials that emphasize character-building. She marvels at the potential impact of teaching all children to be self-aware, resourceful, and kind to themselves and others.
As part of the requirements for the degree, BAAS students complete an ePortfolio, in which they demonstrate their learning outcomes and reflect on how they can apply them in fulfilling work. Mary chose to represent the learning outcome "digital literacy" with a video she created for one of her first classes using iMovie. Teaching herself that software was her first clue that she might have a knack for technology. For the "global citizenship" learning outcome, Mary wrote about spearheading a sexual harassment training at work. In the process of helping employees in the restaurant's kitchen fill out paperwork for the training, she learned that some of the teammates could not read or write. "That moment made me so grateful for the opportunities that I've had and for my ability to be of service to other people," she says. Mary enjoyed the process of working with Penn LPS Online's Associate Director of Career Advising, Kristen Sowden, to tailor the ePortfolio project to her needs as a working adult student.
Mary says what made the ePortfolio especially meaningful for her was the opportunity to take stock of the skills she has developed over years of educational, professional, and personal growth. She reflects, "My college experience was so disjointed by the roller coaster of my 20s. This helped me integrate everything I have learned into who I am and what I can give back to the world." With all of this self-knowledge, and a University of Pennsylvania diploma in hand, Mary is now walking confidently toward her future. "I have been gifted with a really bright brain, and I want to use it," she says.