The University of Pennsylvania has welcomed members of the military since our founding and many of history's finest military leaders have earned their degree at Penn. From our decorated alumni to our esteemed NROTC program, Penn embraces those who serve our country. As a veteran in Penn LPS Online, you can expect the highest quality Ivy League education in an institution that values your background. Penn proudly honors the Yellow Ribbon Program and Pennsylvania National Guard Educational Assistance Program and is a Leadership Scholar Program, Warrior Scholars Project, and FourBlock affiliate institution.
While studying at the University of Pennsylvania, you have access to academic support services that can make your transition into higher education as smooth as possible. Along with world-class facilities, professors on the forefront of their field and programs built to fit each student's needs, you will find that veterans are truly a part of the fabric of Penn. Our non-traditional students bring their unique histories and expertise in their studies and our military population is a crucial part of Penn's diversity in the classroom.
Student support services
Penn and Penn LPS Online offer tools and guidance to ensure every student's success.
The Yellow Ribbon Program
In accordance with the Post-9/11 GI Bill®, The University of Pennsylvania will help cover the costs of tuition for undergraduate and graduate programs offered through Penn LPS Online. The Yellow Ribbon Program allows Penn to voluntarily enter into an agreement with the VA to fund tuition expenses for eligible veterans.
"GI Bill®" is a registered trademark of the U.S. Department of Veterans Affairs (VA). More information about education benefits offered by VA is available at the official U.S. government website at www.benefits.va.gov/gibill.
The Pennsylvania National Guard Educational Assistance Program (PHEAA)
Together with the Pennsylvania Department of Military and Veterans Affairs, PHEAA administers this tuition assistance program for students who enter into an eligible service commitment with the Pennsylvania National Guard.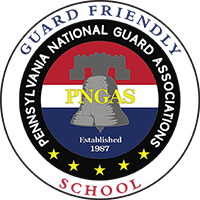 In November 2019, the Pennsylvania National Guard Associations (PNGAS) announced Penn LPS Online as one of the 30 colleges and universities that have earned the inaugural PNGAS Guard-Friendly School designation. Developed by the PNGAS Education Advisory Council, the PNGAS Guard-Friendly School standards were designed to recognize colleges, universities, and trade schools that meet or exceed ten baseline criteria that create a supportive learning environment to assist members of the Pennsylvania Guard pursuing post-secondary degrees. Read more about PNGAS >
Academics and admissions
Penn LPS Online offers transformative educational experiences for non-traditional students seeking new paths and possibilities. We understand that many military-affiliated students have been away from academics for an extended period of time and Penn LPS Online values your military experience when it comes to admissions. Our advisors will help you find undergraduate, graduate and professional programs to fit your intellectual and professional interests—and one that fits your schedule.
FourBlock Career Readiness Program
In addition to existing LPS Online career services, student veterans have enhanced opportunities through FourBlock—a blended online and in-person veteran career readiness program made up of Fortune 500 companies, top universities, and high potential veterans.
Health and wellness
The Steven A. Cohen Military Family Clinic at the University of Pennsylvania provides no-cost, high-quality, integrated behavioral health care for veterans and/or their family members in an independent, private setting. Their mission is to improve the quality of life for military families and veterans, including those from the National Guard and Reserves, regardless of role or discharge status.
Penn's leave of absence policy
Should you need to withdraw from your studies due to active military service, Penn will support you in your re-entry to academics.
Veteran and active military groups at Penn
Penn offers a range of groups, organizations, academic supports and resources, some focused specifically on veterans, and others that may be of interest to veterans.
University of Pennsylvania Student Veteran Association (UPSVA)
University of Pennsylvania Student Veteran Association (UPSVA) is the student organization for current and former military members affiliated with the University of Pennsylvania.
UPSVA LinkedIn group
Group membership is open to students and alumni of the University of Pennsylvania who have served or are currently serving in the armed forces for their respective countries.
Naval ROTC
University of Pennsylvania's Naval Reserve Officer Training Corps prides itself on its rich history and training program. With more than sixty-five years of experience, the University of Pennsylvania Naval ROTC program seeks to train the most technically and tactically proficient officers to serve in the United States Navy and Marine Corps. Through hard work, perseverance, and the help of our highly trained officers, students can earn a commission into the world's strongest navy.
Penn Law's Service Members and Veterans' Legal Assistance Project
In 2011, Penn Law students founded the Service Members and Veterans Legal Assistance Project (SVLAP) to provide targeted and useful resources to Philadelphia's veterans and service members in need of civil legal assistance. SVLAP also supports attorneys in Philadelphia who have made it a priority to serve veterans in our community.
TRiO Veterans Upward Bound
The TRiO Veterans Upward Bound (VUB) Program is a free, non-credit, non-profit, pre-college program federally funded by a grant from the US Department of Education. Students come to TRIO VUB from Bucks, Chester, Delaware, Montgomery, and Philadelphia counties in Pennsylvania and Camden County in New Jersey.
Contact us
Current and prospective LPS students are encouraged to reach out to Kathy Urban, LPS veterans, and active military contact, for more information about Penn's military services. Kathy can be contacted via email or by calling (215) 573-7536.