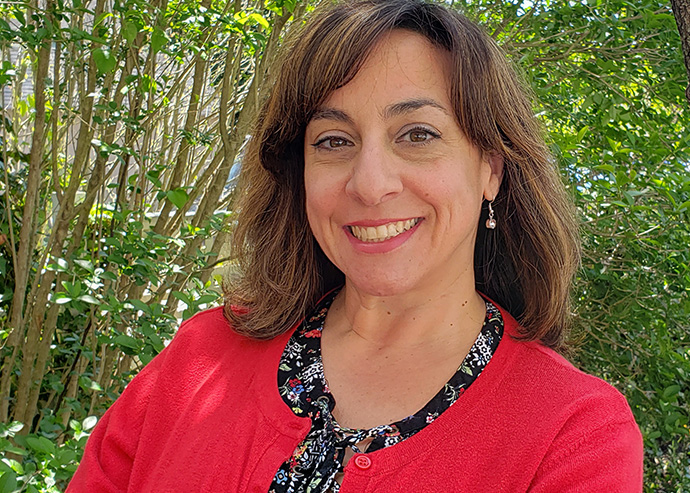 Daniela Mandracchia
Support Services Specialist, Internal Revenue Service
Education:
Bachelor of Applied Arts and Sciences, Individualized Studies, University of Pennsylvania '20
"Going to college was always a dream of mine," says Daniela Mandracchia (Bachelor of Applied Arts and Sciences `20). "With a bachelor's degree, I might be able to aspire to positions within the government that have a better promotion potential than the position I'm in now." Daniela was born in the United States but spent most of her young life in Italy, where she married and started a family after graduating high school. After her household relocated to New Jersey, Daniela started a full-time job in the Internal Revenue Service and completed an associate's degree in business administration at her local community college. She then applied to the Bachelor of Arts program at Penn's College of Liberal and Professional Studies and was awarded a Bread Upon the Waters scholarship to assist with tuition. "Bread Upon the Waters is a marvelous scholarship program for nontraditional students who are women," explains Daniela. "There are a lot of us out there. We have a really great community, and we constantly reach out and encourage each other."
As a working bachelor's degree student, Daniela registered for online courses when they were available but took most of her courses in the evening. "After work, I would walk over to Penn to take a three-hour class and then get home really, really late. It was hard for me," she recalls. As soon as the Bachelor of Applied Arts and Sciences (BAAS) degree became available, Daniela spoke to her advisors about transferring into the fully online program. Not only was she able to spend evenings at home with her family, but she also found that the online course structure improved her learning experience. "The 8-week accelerated semester helped me enormously because I was able to concentrate on one class at a time instead of flip-flopping between two," she says. "And all of the homework assignments are based on applying what you've learned to real-life situations, which makes it very interesting."
As a transfer student close to completing her degree requirements, Daniela opted for the Individualized Studies concentration to maximize the amount of credit she could apply toward the degree. Her prior coursework had been primarily in the social sciences, which she felt would be beneficial to her career at the IRS. To complete the BAAS degree and continue her focus on human behavior and social relationships, she took online courses in applied positive psychology. "That opened up a whole new world to me," she says. "I am much more understanding of human nature now. Once you understand the underlying factors for certain behaviors, you can interact with anybody—your supervisor, your coworkers—and get the most out of those relationships." Personally, Daniela adds, she has felt happier and more confident in her strengths since completing the online applied positive psychology courses. "They include a lot of reflection and insight geared toward well-being," she explains.
As the final step toward meeting the BAAS graduation requirements, Daniela curated an ePortfolio that incorporated coursework from throughout her entire degree as well as written reflections on what she had learned. "The ePortfolio really launches you into the workplace with a major force, because you're not only coming from an Ivy League institution, you also have this body of work that has been reviewed by Penn," says Daniela. The ePortfolio also includes a cover letter and resume, which Daniela tailored to position herself for career advancement. "I took total advantage of that," says Daniela. "Who better than a committee at Penn to help you revise your cover letter or your resume, right?" With her diploma and committee-reviewed ePortfolio in hand, Daniela feels prepared to explore government career pathways where she can put her enhanced behavioral knowledge and analytical powers to use. "Graduating from Penn shows that I am a proficient learner and that I work very well under stress and competing deadlines," Daniela adds.
Now that she's not balancing coursework with her working hours and family life, reading for pleasure is at the top of Daniela's to-do list: a lifelong collector of Stephen King editions, she looks forward to reading the best-selling author's extensive bibliography in chronological order. "I consider myself a lifelong learner, in the sense that I'm always looking for knowledge. But now I read and study what I want," she laughs. "It's a marvelous feeling."