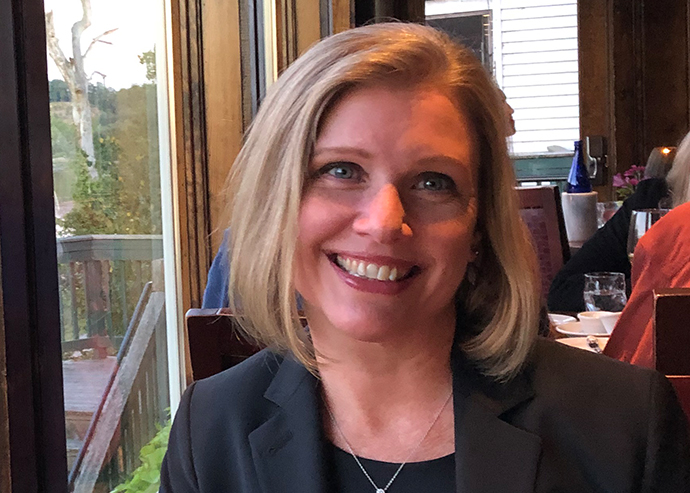 Erin Herbst Gomolinski
Director of Marketing Communications at AlixPartners
Education:
Penn LPS Online Advanced Certificate in Creative Writing '21
Master of Science in Corporate and Organizational Communication, Northeastern University '08
Master of Professional Studies in Design Management, Pratt Institute '04
Bachelor of Science in Graphic Design, Drexel University '97
As a film buff and trained graphic designer, Erin Herbst Gomolinski (Advanced Certificate in Creative Writing '21) prioritizes art and culture in her life. As she shifted from brand management into a more corporate role, however, her artistic interests took a backseat. "When I transitioned fully into marketing, I wasn't doing as much creative direction or design. So, I needed a creative outlet," she recalls. To reconnect with her design skills, Erin set out to write and illustrate a children's book—and ended up researching creative writing programs. "I thought I'd be painting and drawing, and instead I spent all my time writing," she laughs.
Having previously flourished in executive education and graduate degrees, Erin chose the Advanced Certificate in Creative Writing because she was looking for a challenge. "I wanted to go to an Ivy League institution. The fact it's the University of Pennsylvania and an accelerated program meant that classes would be more intense," she explains. "And I thought the structure of the program would not only give me the tools to refine my writing, but also the hard deadlines to hold me accountable and make sure that I dedicated the time to writing on a regular basis." Erin planned out her six terms of study to include a range of genres—culminating with Screenwriting, a course on the medium that interests her the most. "If I have experimented with fiction and nonfiction and journalism and editing and poetry, I'll know where my strengths are and where I am most effective," she reasons. "That way, I'll have my full toolkit going into Screenwriting."
Erin sought out online classes to accommodate her demanding work schedule and avoid a lengthy campus commute, but found that there were other benefits to online learning. "We're in the classes with people from all over the place, which is really exciting. You learn more about different perspectives," she says. "Everybody is there to learn. Everybody is there to have an open mind, and to be really thoughtful with their feedback and advice, and to genuinely help each other grow." She also valued the availability of writing instructors in live meetings and office hours. "That one-on-one time with the professors is important and invaluable, and they have all been flexible and welcoming," she says. "If you need time, they'll give it to you."
In one such meeting, when Erin expressed her concern about keeping up a regular writing habit during the month break between summer and fall terms, her nonfiction instructor encouraged her to seek out a community to support her outside of class. "You think of Stephen King sitting alone in his house in Maine, just cranking out bestseller after bestseller with no influence or feedback from anyone," laughs Erin. "The professor said that's a myth. Every great writer has a network of writers who help each other." Now Erin meets regularly with some of her classmates to talk about writing and hold one another accountable to their creative goals. "We're all encountering similar struggles, we're all learning at the same time, and we trust each other. So it's a safe space to learn and grow," she says.  
"This has been a fantastic experience," Erin concludes. "I've learned so much from the exposure to so many different disciplines, different artists, different formats, different types of creative writing and media. I think that's invaluable." As her time in the program comes to a close, Erin is looking ahead to incorporating more creative engagement in her life: writing, publishing, perhaps teaching again (as she used to do before her career change). "I was just reflecting on what I want to do in the next 20 years, and thinking about the things I enjoy the most in my free time," she adds. "If I could just sit down and write every day, what a great life that would be."