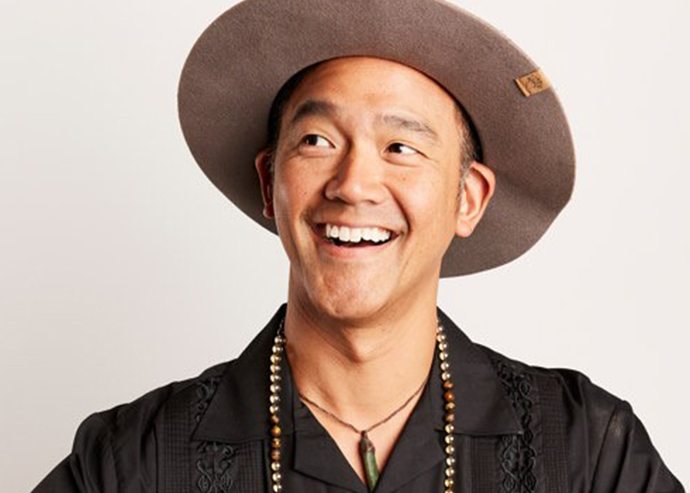 Erwin Benedict Valencia
Team Physical Therapist and Wellness Lead for the New York Knicks; Founder and Executive Director of the Grasshopper Project; Author, Speaker, Coach
Education:
Penn LPS Online Certificate in Applied Positive Psychology '21—expected
New York University, Advanced Diploma in Coaching '18
The University of St. Augustine for Health Sciences, Doctor of Physical Therapy '11
Plymouth State University, Master of Education in Athletic Training and Sports Medicine '02
University of the Philippines, Bachelor of Science in Physical Therapy '99
"The intention I had for 2020 is clarity," says Erwin Benedict Valencia, Team Physical Therapist and Wellness Lead for the New York Knicks. "From the get-go, the Certificate in Applied Positive Psychology has allowed me to have more clarity for not only for myself but also for what I can do to impact more people in this world."
As a sports medicine and performance specialist, Erwin had long been interested in studying positive psychology at Penn, where the discipline was founded and whose experts include a number of sports psychologists. For Erwin, physical fitness alongside emotional and spiritual well-being have always been connected; having earned a black belt in taekwondo at age 12, he loves the term "mental judo" for reframing your approach to thinking traps, a term he learned from positive psychology instructor Karen Reivich in her module for real-time resilience. "Look at it from a different perspective: instead of 'grind,' instead of 'hustle,' how about 'achieve?,'" he says. "If you're more positive it allows you to move forward, because you see what you're doing as fulfilling."
Erwin knew he wanted to learn more about the science of positive psychology, but working with a professional basketball team did not give him the flexibility to do an intensive graduate degree in the subject. "I've been meaning to apply to the Master of Applied Positive Psychology program for years, but I just did not have time, so getting into this program was such a godsend," he says. Taking the certificate courses online and largely asynchronously allowed Erwin to fit in coursework around his demanding schedule. "I enjoyed how the program was spaced, as well as the platform and interface that we used. There's a lot of work, yes. A lot of reading, yes. But the program spaces it out by adding things that entertain you, coming from a perspective that finding engagement with people is necessary," says Erwin. "The program is so modern in the sense that you won't get bored. Why? You're listening to podcasts as homework. You're watching TED talks as homework. How can anyone get bored? Also, having those intermittent spaces where you can then join people going through the program with you on a Zoom call were beautiful," he adds.
Erwin completed the first two courses of the certificate, and in addition to strategies for mental judo, he became interested in the concept of PERMA model of flourishing—that is, Positive Emotion, Engagement, Relationships, Meaning, and Accomplishments. "My PERMA scores are through the roof," laughs Erwin. "I may not only be in the 27 percent of the happiest people on Earth, I may even be in the top one percent! In taking this course, I now know why I exist like this."
While Erwin's work and passion projects keep him busy, he looks forward to eventually taking additional courses to complete the Certificate in Applied Positive Psychology and possibly pursuing doctoral studies that look at the intersection between well-being and high-performance athletics. But the clarity he looked for in the program has strengthened his commitment to sharing the science of well-being with people outside of sports. In service of that mission, he creates videos to share on social media, speaks on panels both local and international, writes a blog for his website, and has been working on a couple of books. "My goal is to one day go back to the Philippines and help bring awareness and be a champion for mental health and overall well-being," he says. "It was important to me to have the science to back it up, so that when I talk about happiness, it's not just from personal experience. I learned the science behind why it occurs."
Erwin was recently named one of 100 Most Influential Filipino Americans in 2020 by The Outstanding Filipinos in America (TOFA) Awards. Read more about his journey in "Manifest It: New York Knicks' Filipino therapist's dreams are bigger than basketball" at Philstar.com.