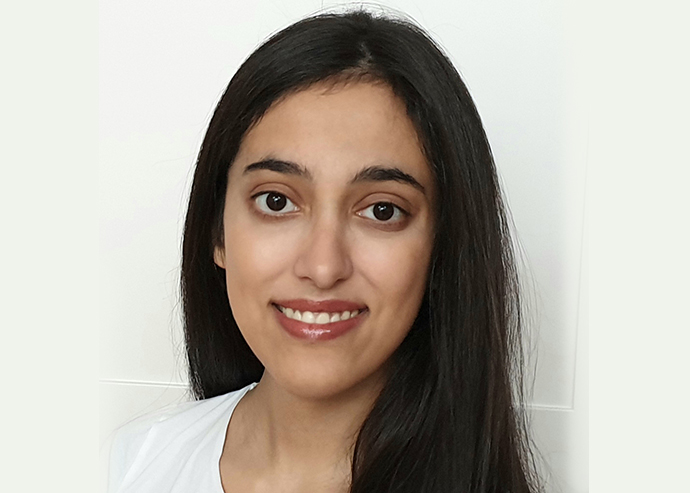 Felicia Grable
Paralegal, Goldblum & Pollins P.C.
Education:
Penn LPS Online Certificate in Creative Writing '20
Bachelor of Arts in Psychology and Film Studies, Bryn Mawr College '19
Felicia Grable (Penn LPS Online Certificate in Creative Writing '20) has always been equally attracted to analytical and artistic pursuits: as an undergraduate, she studied film and theater while majoring in psychology, and she had considered creative career paths prior to her current interest in law. The summer of 2020 offered the occasion to explore both: she enrolled in the Screenwriting and Advanced Nonfiction courses at Penn. "I was looking around and thinking this is the opportune time to do something with my writing interests," recalls Felicia, who was facing an isolated summer due to the pandemic. "The courses would be a great chance for me to dive back into creative writing and see what happens."
In addition to her summer courses, Felicia took Journalism and The Craft of Creative Writing in the fall 1 term—completing the 4-course Certificate in Creative Writing in just two terms. "I wanted to show that I could write creatively, and I wanted something I could put on my CV—the certificate is something to be proud of," she explains. Immersed in two accelerated courses at a time, Felicia leaned on the time management skills she had cultivated in college. "It was definitely a challenge, both in terms of the course load and then actually thinking meaningfully about the process," she says. "But I was able to carve out the time needed. Having online access meant I could set my own pace and gave me the flexibility to devote myself fully on the course material at the best times for me," she adds.
The course material reignited Felicia's love of storytelling in all its forms. "I loved, loved getting those reading assignments," she laughs. "It was amazing to get professor-approved reading that's going to enrich my knowledge, and develop my vocabulary, expose me to different perspectives and then discuss these opinions in the class. And these reading assignments informed my work for the assignments going forward." For example, she recalls reading a breathless stream-of-consciousness piece in The Craft of Creative Writing, then trying out the style herself. "I took that premise and I ran with it. I really enjoyed that writing assignment, and it was completely informed by the reading assignment that we had," she says.
Having the occasion to explore and discuss literary genres helped Felicia understand herself better as a writer and storyteller. "What makes a compelling story? You can break down certain aspects or elements of it, and you can use certain techniques to improve your writing, but, with anything creative, the process and outcome is subjective as well. I might have an opinion on something that is completely different to what someone else is thinking," she reflects. Interrogating the craft and purpose of her own work—as well as her peer's work and exemplary published work—showed Felicia the connection between what she used to see as diverging skill sets. "I honestly think that asking these questions is not only very analytical but also useful, because you are delving into what works and what doesn't," she explains. "And it's a different approach and answer for any game that I play, any film that I watch, any television show I view. And that's the joy of it—always discovering what that approach or answer is."
Felicia encourages new certificate students to let themselves be open to that sense of discovery in the classroom. "Don't overthink it, don't try to outsmart it," she says. It was a challenge she had to learn to overcome herself: receiving feedback through peer workshops was a daunting prospect at first, although Felicia came to appreciate the process. "We're all just out there laying ourselves bare, and we're giving feedback and trying to help each other, and that really helped me to shed those inhibitions," she laughs. "As part of my ongoing process, the online writing courses definitely helped me overcome that initial anxiety—to the point where even now I'm writing things down in my journal, because you never know! If it's an idea right now, I can explore it later, but just writing it down is so important."
In the notes she jots down in moments of inspiration, Felicia continues making space for the craft of creative writing alongside her developing professional interests. "I am still discovering what it means to have a conversation with art, and what it means to have a conversation with a piece of writing," she says, "And that's a beautiful thing."