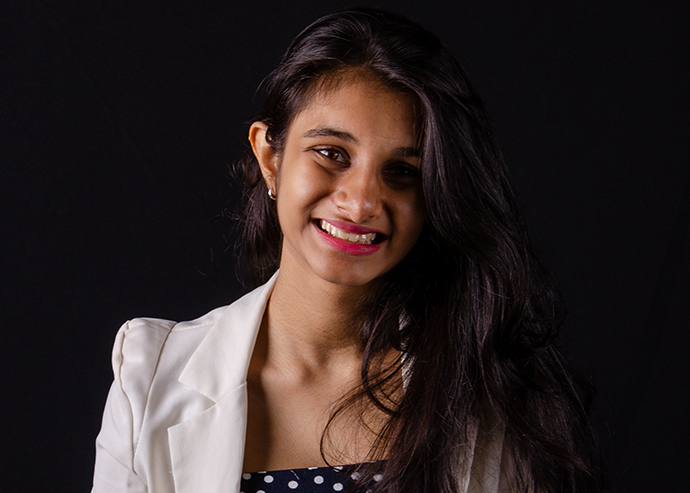 Harsha Ravindran
Chief Marketing Officer, Ascendance
Education:
Bachelor of Applied Arts and Sciences, University of Pennsylvania '24—expected
Harsha Ravindran (Bachelor of Applied Arts and Sciences '24—expected) is passionate about making education relevant and practical. As Chief Marketing Officer of Ascendance, a youth movement she co-founded as a teenager, she has thought deeply about how to empower students her age and younger with learning they can use. "Ascendance's goal is to live in a world where everyone has the opportunity to do what they love doing, and are working on discovering themselves," she says. "We might not live in that world, but the students who are in primary school now might be the ones leading it. So it's only fair that they have a say in how that world works."
Over the last five years, Harsha and her Ascendance colleagues have grown their idea into an organization that partners with the Ministry of Education in Malaysia, where they are based; they provide opportunities for experiential learning to supplement traditional education from elementary school all the way through high school, and run year-long intervention programs to help struggling students cultivate their strengths and improve their grades. "If you discover your passion, and if you find out what you love doing, the skills that you learn will help you be a better student, and will help you make sense of what you're learning in school so that it becomes relevant to your life," Harsha explains. "So even though our students might just be 14 or 15 or even 8, we get them to learn about the world around them through experiential learning, help them discover their values and passions, and get them started on careers while still in school.
As someone who started her own career while in secondary school, Harsha needed an undergraduate education that she could balance with her leadership role at Ascendance as well as her start-up and her recently published book, The Makings of a Teenage Entrepreneur. As an education professional, she knew she had found the right path with Penn's Bachelor of Applied Arts and Sciences degree. "I think that this is one of the best models of education I have seen," says Harsha. "The subjects that are offered and the way they are structured are really practical."
While working full-time, Harsha has been taking courses with an eye toward enhancing her effectiveness at work. "Right now I'm in an Applied Positive Psychology course that is all about getting people to thrive, tapping into their virtues, and creating massive change," she says, "and that is very directly related to what I'm doing with Ascendance." Taking a course in Digital Literacy helped her reimagine some of the ways she uses social media as a teaching tool as well as a platform. But it's not only the immediate practical applications that make an impression on Harsha in her first year; she valued the opportunity to think deeply about subjects such as human history in Greek and Roman Mythology and cultural difference in Intercultural Communication. "I'm quite literally halfway across the world. Culture is very different here," she says. "A lot of my assignments were me pouring my heart out about things that I saw in my community, and things that were personal to me that I experienced in my day to day life with my family."
She also learned a few things about herself as a learner. "Deep down, I still have my own set of habits when it comes to learning in the classroom," she reflects. "When my brain is in that mode, I miss the beauty of how the course is set up and how I learn and engage with it. All of the grades and other things will come naturally if you just focus on learning." Challenged by questions and assignments in Digital Literacy for which there truly is no single correct answer, "it really got us to examine how we think, what perceptions we hold, and what things we take for granted online and offline."
Harsha sees her bachelor's degree as a complement to her passions and professional responsibilities; she's not in a rush to cram it in quickly. She also envisions that exploration and engagement as a path toward outlining the next chapter in her life. Ascendance is an organization founded by youth, and Harsha believes it should be run by youth; she sees herself stepping down from her leadership role in a few years. Afterward, she reflects, "I just want to learn full-time, really learn about myself and what makes us human, and see how we can use that knowledge to impact other parts of the world."