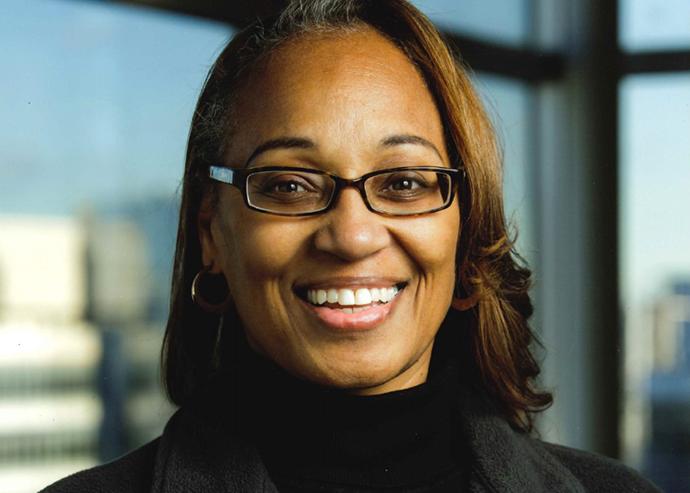 Tamaira Rhodes
Manager of Distribution Services at Penn's Perelman School of Medicine
Education:
Master of Liberal Arts, University of Pennsylvania '23—expected
Penn LPS Online Advanced Certificate in Creative Writing '21
Master of Science in Human Resource Management, Wilmington University '06
Master of Business Administration, Wilmington University '05
Bachelor of Science in Behavioral Science, Wilmington University '02
"I'm always thinking about how to keep myself engaged. I feel like I'm a forever student," says Tamaira Rhodes (Advanced Certificate in Creative Writing `21), who has a bachelor's degree in behavioral science and a master's in business and human resources. Even so, she wasn't planning on enrolling in additional coursework herself when she invited a Penn LPS Online representative to speak to her staff at the Perelman School of Medicine. Tamaira encourages her team of twenty to seek out professional development and educational opportunities at Penn; she thought the online courses would offer an accessible option for her staff. "Penn gives you every opportunity to earn an Ivy League education, and they give you alternative ways to be able to enter the school," she says. After learning about the program options, "I enrolled the very next day," she laughs. "I was afraid if I didn't take a class right away, I wouldn't do it."
Now, Tamaira has completed a six-course Advanced Certificate in Creative Writing and will begin a Master of Liberal Arts degree in the fall, where she plans to continue exploring the different genres such as fiction and screenwriting that she focused on in certificate courses. "Right now I have cast a wide net, and then I know that as I go down the road I will become more narrowly focused," she says. "You don't want to have your hands in too many pots because then you won't complete anything. I want to be able to complete something that I am proud of and I want to be able to see it in print." In the meantime, Tamaira has written and revised several short stories that she plans to submit for publication—with feedback from her classmates and encouragement from her fiction workshop instructor. "I never thought that I could write a short piece and have it submitted to be published. But you don't have to write a novel to get your story across. You can do it in as few as 900 words," she says.
Prior to the Certificate in Creative Writing courses, Tamaira had enjoyed writing down stories and envisioning book-length projects, but she wanted to learn more about the craft. "My main goal, if I'm going to do this, is to make sure I have the tools to do it the right way," she explains. "I want to be able to write in a way that touches people, and learn the mechanics of how to write a novel or a script or a TV show." The courses also provided motivation to carve out time from her busy work and family life: Tamaira says she gets most of her writing done at night, when she's less likely to be distracted. "I made an effort to attend every class, even the one that was at 2 o'clock in the afternoon," she adds. "Even though we're not required, it helps me gain more from the class and from classmates' feedback."
At first, Tamaira was nervous about receiving peer feedback in writing workshops. "I think everyone feels that way. Everyone is nervous to let someone look at their baby and tell them something they didn't like about it," she laughs. She quickly learned that workshops provided a valuable source of reader reactions. "Each class is different, but they provide an outline of how we should give feedback in a constructive manner," she explains. "The feedback you get is not critical, it's helpful. It provides me with areas of improvement, like filling in gaps for the reader."
As she prepares for her next chapter, Tamaira is grateful for the support of her creative writing instructors and the flexibility of her workplace. She recounts a conversation with her department's director, who congratulated her on her academic success and teased her about getting yet another degree. "I don't need another degree, but this one's on Penn," she laughs. "And to be able to learn from some of the best people in the country? I think that's amazing. Honestly, this one is just for me."