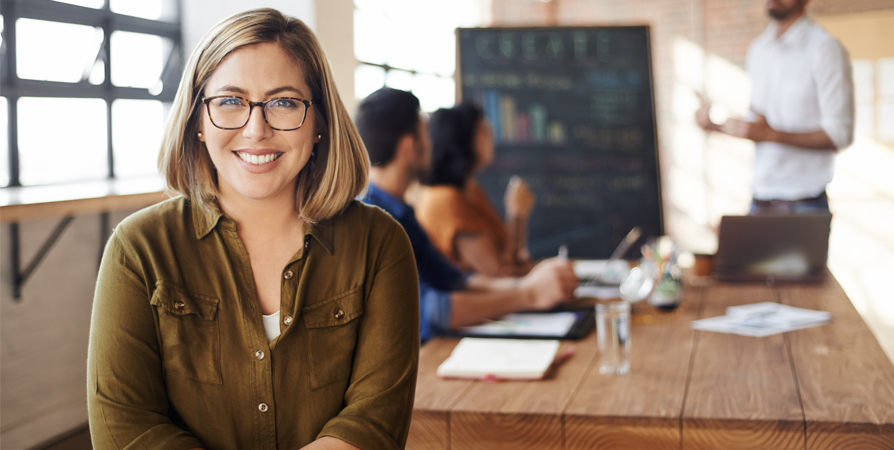 Remember when the end of August signaled back-to school-time and taking young children shopping for new clothes and school supplies after a long summer break? Increasingly, back to school is a concept that is also resonating with many adult learners. According to the National Center for Education Statistics, the number of students projected to attend American colleges and universities in fall 2018 is 19.9 million—7.6 million of those students will be 25 years old and over. While these adult learners aren't shopping for new school supplies, they are shopping for resume enhancements and even new careers. And they are looking to additional education to help them reach those things.
"Do I need to go back to college?"
Wherever you are in your career, it's certain that one way or another, your skills need to keep up with an evolving workplace. The speed with which technology changes, the transformation of the workplace into a digital-centered environment, the complexities of leadership in diverse 21st-century work environments, and emerging challenges that call for innovative solutions all require a nearly constant retooling of your skill set. Sometimes, that retooling occurs organically through various periods on the job. Very often, though, skills development requires additional education.
Today's dynamic workplace opens many doors for advancement, career change, and personal development, but you need to have the education to go successfully through those doors. You need to bring your goals and skills in alignment with the opportunities that present themselves or even the opportunities you want to create for yourself.
Even if you stay in one occupation through changes of employers and work situations, your skills cannot remain stagnant because no occupation remains stagnant. Your career is not an endpoint that you reach. It's not something you complete within a finite period of time. It is a lifelong process that grows and changes along with you. Your career will involve making a series of work and educational choices throughout your life. And it may require you to ask and answer the question, "Do I need to go back to college?" more than once.
What are the main reasons for returning to college as an adult?
Adults go back to campus, or increasingly to virtual classrooms, for any number of reasons, both professional and personal, and they are doing so in large numbers. "It's true that a growing number of adults are returning to school to complete their undergraduate degree, earn a master's degree, or get targeted training through a certificate or non-credit academic program," says Josh Power, Director, Career Advising and Programming for Penn LPS Online.
Every adult learner has his or her own unique reasons for returning to the classroom, but generally, they fall into four categories:
They want to learn to earn. Some adults want to advance in their present careers but need additional education to propel them forward to higher paying jobs or equip them to take on leadership roles.
They want to pivot. These adults want to use their talents in new and different workplace settings. They can bring a great deal of experience to a new career, but need additional education or skills to enter a new field and be competitive. Factors such as early retirement (voluntary or involuntary) can spur a need to return to the classroom and create a new chapter in an adult's life.
They want to grow and take advantage of learning opportunities. After some time in a career, many adult learners want to engage intellectually or follow a passion. In many cases, they want to do this without committing to a full-blown degree program or having to travel to and from campus.
They want to finish what they started. Some adults may have a handful of credits under their belt, but their college dreams were derailed for one reason or another. Returning to get that interrupted degree can provide a great deal of satisfaction in addition to increasing career opportunities.
For many adults, it may be a combination of all of the above factors. For others, education in and of itself brings with it increased self-worth and confidence along with new opportunities. "Some adults see themselves as lifelong learners and are attracted to a degree setting to focus and guide their learning. Others view degree completion as the key to unlocking new career opportunities," says Power. "Others return to reskill to make themselves more competitive in a changing work environment. There's no right or wrong, best or worst reason for returning to school. Everyone has their own story and their own goals. We're here at Penn LPS Online to help you accomplish them."
Fortunately for today's working adults, the growth of for-credit certificates, online degrees and online colleges, and even micro-degrees are providing much-needed options when they do decide to return to college. As an adult student, you are no longer limited to one traditional path to a college education--instead, you have a number of alternatives you can follow. A solution like Penn LPS Online can give you the flexibility to tailor an educational experience to fit your own unique career needs.
Benefits and challenges of being an adult learner
There are obvious benefits of returning to education as an adult. Returning to college can jumpstart an existing or new career. Your coursework will expose you to new domains of applied knowledge and challenge you to refine your existing professional skills and develop new ones. There are other, more intangible benefits. "Your classmates, instructors, and program directors will serve as valuable professional networks throughout your career," says Power. "And your diploma will signal to current and future employers your commitment to academic and professional advancement, hard work, and success."
Adult learners bring many plusses to the classroom. In many cases, they have a lifetime of personal and professional experience and perspective to share with their fellow classmates and their professors. This can significantly enhance the learning dynamics for adult students. Adult students can be very engaged—after all, they don't have to be there, they want to be there, and they are motivated to participate and succeed.
Adult students are results-oriented—they want to apply what they learn in the educational process, and they flourish in an educational environment that is relevant to their career and personal goals. Employers, in turn, want the skills these adult learners are refining and acquiring when they return to school. Earlier this year, using data from their 500 million+ members, along with the results of 2,000 business leaders they surveyed, LinkedIn identified the hard and soft skills sought after by today's employers. They found that leadership, communication, collaboration, and time management are the most important soft skills identified by employers—skills that are at the core of the educational experience at Penn LPS Online. In fact, 57% of the business leaders surveyed by LinkedIn said they believe soft skills are more important than hard skills—these skills translate to any career path or leadership opportunity.
There's a flipside to the adult educational experience: these learners can also face numerous challenges when returning to the classroom, especially after a long hiatus. For many adults, it may have been quite a long time since they were last enrolled in a class. Their study skills can be rusty, and they may need to learn different time-management techniques to be able to master class work in addition to life work. These adult students are already busy. The daily juggling act of work and home responsibilities that most adults shoulder can leave them wondering if adding education to the juggling act is even feasible. Choosing the right college can be the one critical key to success. "Returning to school can be daunting and even a little intimidating, but you can do it!" says Power. "Our online degree and certificate programs are designed to accommodate even the busiest schedules and are led by scholars and professionals who understand the demands of adult learners."
It might be time for a career self-assessment
For many adults, "one" education is not enough to keep pace with the evolutions transforming today's multi-faceted workplaces. But how do you know when the time is right to return to the classroom in support of a career or personal goal? There are some signals you can look for.
"Career transitions will look different for each individual," says Power. "You may be ready to pivot to a new career if you're finding less enjoyment and personal fulfillment from work if you no longer feel challenged, if there is little opportunity for professional growth or advancement within your organization, or if your salary prospects are low."
New workplace realities require a more holistic approach to thinking, planning, and making educational decisions.
"If you think a career change may be in your future, some helpful first steps include taking a career self-assessment, re-engaging your personal and professional networks to identify and connect with individuals doing work that seems interesting, editing your resume and sharing it with people you trust to provide constructive feedback," says Power. "You also need to start considering academic degree or certificate programs or other opportunities for advancement."
What is a career self-assessment?
A career self-assessment provides a framework for you to reflect on your values, interests, personality traits and skills. "It can do so in ways that help to identify your optimal career path and work environment," says Power. "This process may also illuminate the education or training needed to get there."
A career self-assessment won't tell you what to do, and it won't have any right or wrong answers. It can help you answer the question, "Do I need to go back to college?" by providing insights to assess where you are, identify any skills gaps, and provide a guide to formulate your plan of action.
Who benefits from a career self-assessment?
Anyone, at any stage of their career, can benefit from a career self-assessment."Much like a health physical exam, such assessments should happen routinely," says Power. "Hopefully, yours will mostly serve to confirm a full bill of career-related health, but it's likely there will be times when a self-assessment will help you identify changes in your work life and professional goals that may indicate that a career change or additional education and training could be helpful." 
According to Power, it can be useful to do a self-assessment even while you are a student. "A career assessment can be a helpful guide as you make academic decisions such as choosing a major or selecting a topic for a capstone project," advises Power. "It may also help further align your academic pursuits with your professional skills and current or future career interests."
What tools can you use to help you assess?
Simply put, most career self-assessments are designed to help you understand what you like to do and what comes most naturally to you, and, conversely, what you dislike and what will be more of a challenge. Some self-assessments are explicitly career-related, while others are more broadly oriented toward identifying personality traits. A few popular assessments available online include:
Self-assessment takes time and thoughtful consideration to be effective. It is a first step in a considered decision-making process. Your answers may change over time or according to circumstances. The only "right" answer is going to be the answer that fits you and your personal goals and needs.
How often should you take stock?
Career assessments can be a helpful routine exercise, but the frequency will depend on an individual's specific circumstance. "These assessments may be especially helpful to guide work or education related transitions such as conducting a job search, applying for academic degree programs, or completing a degree program," says Power.
If you know what you want or have a specific subject or skill set in mind, a career self-assessment can help you narrow down what your immediate next steps are or help you choose the kind of educational experience best suited to your goals. Penn LPS Online offers a number of certificates designed to enhance your resume and have immediate career impact. These credit-bearing certificates are ideal for adult students who want to return to college but would like to earn an alternative credential to completing a bachelor's degree. They are created with busy adult learners in mind and are offered on a flexible and accelerated schedule.
If you are considering an undergraduate degree (or want to finish an interrupted undergraduate experience), a career self-assessment can help you identify a path for degree completion and help you evaluate if a program like the Penn LPS Online Bachelor of Applied Arts and Sciences (BAAS) degree may be the right option for you. The Penn LPS Online BAAS is an accredited degree designed for working adults and other non-traditional students who want to pursue an Ivy League education. The degree was created with career enhancement in mind. You can choose from a variety of courses and degree concentrations to tailor an educational experience that fits your needs as an adult learner.
Adult learners also have the option to enroll in individual courses without committing to a certificate or a degree, enjoying the flexibility and expertise offered by Penn LPS Online to suit their individual schedules, goals, and interests.
One thing is clear, adults going back to college are not structuring their education around the traditional undergraduate, on-campus experience, but they are structuring their education around their lives and careers. That means that whatever educational experience they consider must have added flexibility and accessibility built in.
Online learning means that an education is always at your fingertips, but careful research about your options and taking the time to choose the right program can increase your odds for success. Some final good words of advice from Josh Power: "Be sure to select the program that best aligns with your academic, professional, and personal goals."
For more information about Penn LPS Online courses, certificates and the Bachelor of Applied Arts and Sciences undergraduate degree, start with the Academics section of our website.