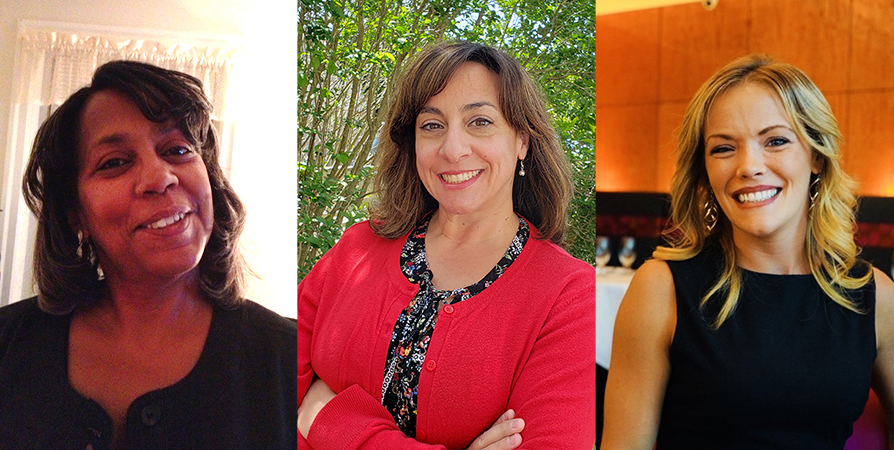 Penn LPS Online and the College of Liberal and Professional Studies are proud to recognize our first-ever class of Bachelor of Applied Arts and Sciences (BAAS) graduates. These hard-working adult students balanced their academic goals with working hours as well as family and community needs. Some were career-changers, some wanted to advance in their careers, and some were motivated simply by a passion for lifelong learning. Now, all are holders of a University of Pennsylvania diploma.
The applied and customizable emphasis of the degree led each graduate to find unique and practical ways to put their education to use. "In the BAAS degree, all of your assignments are based on applying what you've learned to real situations," explains Daniela Mandracchia, one of the recent BAAS graduates. "It's very interesting because you're applying what you learn immediately." In addition, Penn's commitment to liberal arts values—delivered by Ivy League faculty and experts—offered opportunities to explore and discover pathways our students had not yet imagined. For these students, completing the BAAS was about more than earning an undergraduate credential; their time in the program also ignited new passions and gave them clarity about what they want to achieve next. Meet three of our recent BAAS graduates and learn how they put their degrees to work.
Unlocking career pathways with personalized professional advising
After completing an associate degree in business administration, Daniela Mandracchia applied to the Penn LPS Bachelor of Arts degree program and won a Bread Upon the Waters scholarship. "Going to college was always a dream of mine," she explains, "and I might be able to aspire to positions within the government that have a better promotion potential than the position I'm in now." Daniela continued working full time at the Internal Revenue Service as she pursued her degree, taking evening courses in the social sciences and getting home late at night. As soon as the Bachelor of Applied Arts and Sciences degree became available, she applied to transfer into the online program to spend more time at home with her family.
Daniela appreciated the convenience and flexibility of completing her degree online and found the ePortfolio requirement particularly useful to position herself for career advancement. "The ePortfolio really launches you into the workplace with a major force, because you're not only coming from an Ivy League institution, you also have this body of work that has been reviewed by Penn," she says. "It allows you to build your resume and write pieces that you might submit to a future employer." For the ePortfolio, BAAS students curate a selection of work that represents the knowledge and skills they developed during their degree, as well as a cover letter and resume tailored to their career goals. "I took total advantage of that," says Daniela. "Who better than a committee at Penn to help you revise your cover letter or your resume, right?" In addition to future job application materials, the ePortfolio includes a final synthesis where students sum up their professional, academic, and personal growth. "Graduating from Penn shows that I am a proficient learner and that I work very well under stress and competing deadlines," Daniela laughs.
Daniela's graduating peers agree that the ePortfolio was a valuable experience. For Mary Koenke, a hospitality management professional, completing the ePortfolio helped her envision a new career direction; she is now considering master's programs in computer science. Mary says, "You could tell a lot of thought went into designing the ePortfolio to set students up to succeed. Kristen Sowden [Associate Director of Career Advising at Penn LPS Online] was so helpful and responsive and had great ideas for how I could approach the project to suit my needs as a working adult." The ePortfolio process guides students to identify their liberal arts strengths and articulate how they can leverage those strengths in their next chapter, whatever shape that may take. Joslyn Banks, a retired administrative coordinator, appreciated the opportunity to reflect on her time in college as she embarks on her next journey. "It's a very personal experience," she says. "Even if you're unfamiliar with doing a portfolio, the program helps you along the way, and it can only help you remember what you've learned and how you've used it."
Channeling a lifelong love of learning into a passion for community outreach
At 64, Joslyn Banks had recently retired and moved to central Pennsylvania before her final year as a bachelor's degree student. During her career at the University of Pennsylvania Museum of Archaeology and Anthropology, Joslyn enrolled in the Penn LPS Bachelor of Arts degree primarily motivated by her love of learning. "Perhaps I could have finished the bachelor's degree a long time ago," she reflects. "But once I got my associate degree, I just started taking random classes in anything that sounded interesting," says Joslyn, who enjoyed a wide variety of courses in gender studies, social sciences, and psychology. When she moved to the rural county where she'd always dreamed of living, she was concerned that she wouldn't be able to complete the intensive on-campus instruction required to meet the BA foreign language requirement. Joslyn transferred to the Bachelor of Applied Arts and Sciences, which did not require language instruction and which allowed her the flexibility to learn from her new home. "The icing on the cake is that I needed to take two more classes to complete the BAAS degree," she recalls. "I had everything else done."
Like many transfer students, Joslyn graduated with an Individualized Studies concentration, but her focus remained on social science. "I feel that social science can make you a more well-rounded person, and more able to learn and see how the world works outside of the business world," she says, adding that she felt the courses would help her in her lifelong passion for community outreach. As an independent volunteer, Joslyn coordinates donations and sponsors to provide fresh meals and school supplies to families in need; she looks forward to investing more time into this mission now that she is retired. "I don't need a degree for what I want to do now, but it's good to have one," she says. "If I'm involved in some type of community outreach with children, and if I'm trying to encourage them to go to school and get an education, I need to practice what I preach."
Applying positive psychology concepts at home
Mary Koenke started a traditional undergraduate degree at Penn in 2004 but left before graduating to start a family and a career. Years later, the online Bachelor of Applied Arts and Sciences program gave her the flexibility she needed to come back and finish her degree. "This was something I really wanted to do for myself for a long time and thought was out of reach, given my life," says Mary, a single mom with a demanding career as manager of New York City's Bryant Park Grill. With her degree completed, Mary is poised for a more senior role in her company's corporate office, or she might transition to a new career in computer science. "I didn't even realize that I'm good with technology until I started learning digital platforms for my courses and completing some digitally based assignments. Then, I took neuroscience and loved it, so I'm exploring master's programs in machine learning and artificial intelligence," she says.
Mary selected the BAAS concentration Physical and Life Sciences since it aligned most closely with her prior coursework. She also graduated with a Certificate in Applied Positive Psychology and says the field is as fascinating as it is practical. "I apply concepts from those courses every day at my restaurant—whether it's adjusting my management style to bring out employees' individual strengths or using strategies I learned in class to make organizational change initiatives more successful. And I apply positive psychology in other aspects of my life, especially parenting," she notes. The applied positive psychology courses helped Mary integrate experiences from her personal, professional, and educational lives and reflect on the natural talents that she brings to the world. That wisdom is also helping her raise her daughter to be self-aware, resourceful, and kind—to herself and others. For example, Mary says, "Helping my child recognize her strengths and list what she's grateful for, even when it's difficult, has shifted a lot in our home." Mary also supplied her daughter's school with positive psychology education materials that emphasize character-building.
In fact, all three of these recent BAAS graduates discussed how much they valued the insights they gained through studying applied positive psychology. "Everybody has a gift. My gift is giving," says Joslyn. Daniela reflects, "I am much more understanding of human nature now. Once you understand the underlying factors for certain behaviors, you can interact with anybody—your supervisor, your coworkers—and get the most out of those relationships." Personally, Daniela adds, she has felt happier and more confident in her strengths since completing the online applied positive psychology courses. "They include a lot of reflection and insight geared toward well-being," she explains.
The Penn community welcomes you
These newly minted Penn alumni also valued being part of a community of lifelong learners who bring a high level of insight and engagement to their studies. Mary reflects, "Everyone was brilliant. It was refreshing to be in the company of that kind of intelligence." She also notes, "Each course was such a melting pot, professionally and culturally, and everyone was able to shine a different light on the material. And even though we are so extremely different, we are all adult students who are moving forward in our education. It was really great to collaborate with peers who share that experience."
Daniela adds that she felt seen and supported by her advisors. "They truly build a relationship with the students. They know what you're up to academically without you having to tell them," she recalls. "They just love what they do and have a genuine interest in the well-being and success of the students."
Wherever you are, whatever you want to do, the BAAS degree is designed to help you tell your unique story. And with advisors specializing in academic progress, student success, and career development, our program team is standing by to help you find the best way forward.
To learn more about how the Bachelor of Applied Arts and Sciences degree can be tailored to your personal, professional, and academic goals, visit the Penn LPS Online features "Achieve your unique goals with flexible degree requirements and a custom Penn experience" and "Tell a compelling career story with the Bachelor of Applied Arts and Sciences ePortfolio."