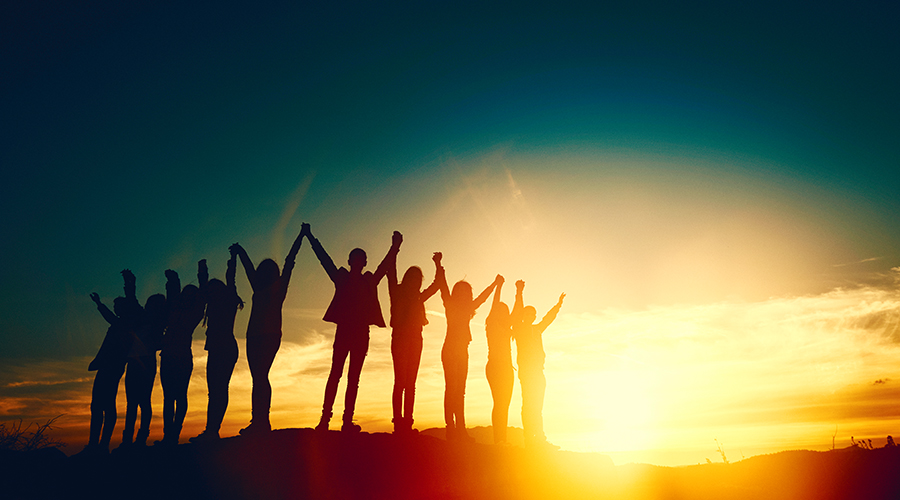 What is applied positive psychology?
Applied positive psychology is a discipline that examines the connections between brain, body, culture, and science to develop tools and practices that support human flourishing and well-being. Flourishing refers to your ability to do well in multiple facets of your life, including work, relationships, and family. Unlike happiness, which is a temporary feeling of joy, well-being involves using your positive character strengths such as resilience, confidence, and self-compassion to face and overcome adversity.
"I used to think that the topic of positive psychology was happiness…I now think that the topic of positive psychology is well-being, and that the gold standard for measuring well-being is flourishing, and that the goal of positive psychology is to increase flourishing."
- Dr. Martin E.P. Seligman
Flourish: A Visionary New Understanding of Happiness and Well-being
A leading expert in the field of positive psychology and director of the Positive Psychology Center at the University of Pennsylvania, Dr. Martin E.P. Seligman created the PERMA model which outlines five basic building blocks for well-being: Positive emotions, Engagement, Relationships, Meaning, and Accomplishment. Not only can the tenets of this model help you learn how to thrive in your personal life, they can also be applied professionally in virtually every industry to improve job performance and create a culture of positivity in the workplace. Read on to explore five rewarding careers wherein you can apply the teachings of positive psychology to help others change their lives in impactful ways.
5 Exciting careers in positive psychology
1. Career counselor
Would you enjoy making a difference by helping others find their purpose and their ideal career path? Career counselors work with high school and college students, military veterans, and professionals in transition to help them pinpoint actionable career goals, identify relevant educational or training options, and advance their personal and professional development. As a career counselor you may also use aptitude, achievement, and personality assessments to help clients identify career fields that align with their abilities and interests; provide resources and tools to enhance career development; support clients through challenges including lay-offs, termination, and other job-related stress; and counsel clients on job-search skills such as networking, interviewing, and resume-writing.
According to the Bureau of Labor Statistics (BLS), employment for career counselors is projected to grow faster than average at 11% by 2030. Some employers may require that job candidates for this position obtain a master's degree in counseling or career services to be considered. You may also need to earn state licensure to practice, depending on where you live. Professional certification via the Certified Career Counselor (CCC) credential is available through the National Career Development Association (NCDA) and can be an effective means of further demonstrating your expertise. Additionally, to succeed in this role, it's important that you have strong analytical and communication skills and the ability to empathize with your clients and their professional struggles.
2. Positive life coach
If you're interested in helping others look inward, overcome obstacles, set goals, and improve their lives, consider a career as a positive life coach. As a positive life coach, you may choose to specialize in professional or educational development, nutrition and exercise, relationships, spirituality—or take a more multifaceted approach to your work. What's important is that you choose a niche where you can market yourself as an authority figure. On a day-to-day basis, your duties as a life coach may include helping clients set short- and long-term objectives and holding them accountable to them; assisting others in developing their communication, leadership, time-management, mindfulness, and other skills; and providing advice and strategies based on your own experiences to help clients meet their goals.
The educational requirements for becoming a life coach are varied. Depending on their needs, some clients or employers may prefer that you specialize in career development or have a bachelor's degree in psychology, business, communication, or a related field. It may also be beneficial to complete an accredited training program that includes courses on coaching ethics and methods, taught by certified life coaches. The International Coach Federation (ICF) offers multiple levels of certification to advance your training, including Associate Certified Coach (ACC), Professional Certified Coach (PCC), and Master Certified Coach (MCC). To thrive as a life coach, you should be proficient in goal setting, verbal and written communication, and problem-solving skills so you can help your clients overcome obstacles to their personal or professional success.
3. Motivational speaker
If you have powerful life experiences that you would like to share to help inspire and encourage others, then you may be ideally suited to motivational speaking. To make a career out of speaking professionally, you'll need to be an excellent and persuasive communicator who is comfortable in front of large groups. Additionally, you should be willing to put in the time to hone skills for storytelling, adaptability, authenticity, compassion, time management, leadership, and confidence. As a motivational speaker, it's also critical that you continuously work on your public speaking strategy and messaging and focus on building your credibility as a subject matter expert. You will also need to do the research to understand your target audience, develop unique content that appeals to them, and ensure that you market your services effectively.
Although there's not necessarily a set credentialing path for becoming a motivational speaker, there are steps you can take to help increase your chances of success. An excellent starting point is to select and develop your area of expertise so that organizations will be convinced of your credibility. For example, if your focus is on positive psychology, not only should you be able to speak to how its tenets have been beneficial to your own well-being, you may also benefit from completing a certificate program in applied positive psychology to gain the background knowledge to back up your personal experiences. You may also want to take public speaking courses to help you develop and refine your voice, including grammar, tone, and style of delivery. Practice really does make perfect, so don't be afraid to start small before you build up to speaking in front of larger audiences.
4. Mental health counselor
We are living in turbulent times, so it's not surprising that people who suffer from mental illness, trauma, or stress are looking to qualified and compassionate mental health counselors to help them remain positive and resilient. Mental health counselors use their expertise to diagnose and treat mental, behavioral, and emotional disorders such as addiction, depression, generalized anxiety disorder, bipolar disorder, eating disorders, and suicidal ideation. In this role you may also collaborate with clients who are dealing with stressors such as family, work, or financial issues and employ strategies like cognitive behavioral, psychodynamic, or interpersonal therapy. As a counselor, you will be responsible for encouraging clients to share their emotions and experiences, helping people to identify life and therapy goals, assessing mental health issues and setting up treatment plans, and helping patients build coping skills to improve their overall well-being.
According to the BLS, employment of mental health counselors is anticipated to grow 23% by 2030, which is much faster than the average for all occupations. Educational requirements may vary depending on your employer, but a master's degree in mental health counseling, clinical social work, or psychology may be necessary. All states also require mental health counselors to obtain licensure after completing compulsory post-degree supervised clinical work. If you decide to pursue a career as a mental health counselor, you will need to be able to communicate effectively and listen attentively to your clients, have the ability to empathize with people going through difficult times, and be capable of remaining patient and calm when dealing with clients in distress.
5. Recreational therapist
Would you like to make a positive difference in the lives of people dealing with disability, injury, or illness? Recreational therapists use a variety of recreation-based treatments—including drama, music, dance, arts and crafts, sports, and community outings—to help maintain or improve the physical, social, and emotional health of their patients. As a recreational therapist, you will assess your patients' needs and interests and develop intervention programs to help reduce depression, anxiety, and stress; recover basic mental and physical abilities; and build confidence, coping, and social skills that promote independence. For example, if you have a client who is experiencing chronic stress, you may introduce sessions with a therapy dog to help relax their mind. Or if you have a patient who is paralyzed on one side of their body, you may encourage them to adapt to using their functional side by practicing painting or drawing.
As a recreational therapist you may work in a variety of settings including nursing homes, hospitals, or for government parks and recreation departments. Per BLS data, employment for this role is expected to grow 10% by 2030. To work as a recreational therapist, you will likely need to earn a bachelor's degree in a healthcare or related field such as recreational therapy. Earning an applied positive psychology certificate can be an excellent addition to your degree, as it provides tools and strategies to help you support the well-being of your patients. Employers may also request that you become certified by the National Council for Therapeutic Recreation Certification (NCTRC). If you are interested in this career path, it's essential that you cultivate strong leadership skills, listening skills, compassion, and resourcefulness to help you adapt activities to the ever-changing needs of your patients.
Applied Positive Psychology Certificate program at Penn LPS Online
In the Applied Positive Psychology Certificate program at Penn LPS Online, you'll be introduced to the theoretical and empirical foundations of the field of positive psychology and the science of well-being. As you explore research themes, including character strengths, positive emotions, accomplishment, and meaning, you'll learn tools and strategies to support personal, organizational, and community flourishing. This 4-course Ivy League program was created to help you become more successful as an individual, employee, and leader and has diverse professional applications in a wide range of fields. When you pursue the Certificate in Applied Positive Psychology at Penn LPS Online, you'll prepare to:
Increase your effectiveness and resilience as a leader
Partner with colleagues to build employee engagement
Leverage your strengths to support your personal development
Understand how to measure changes in organizational well-being
Ready to take positive action?
Watch a virtual information session now to learn more about the Certificate in Applied Positive Psychology. If you haven't yet done so, fill out an enrollment form to take the first step in your Ivy League education at Penn LPS Online. Or view our course guide to see the full list of offerings available.