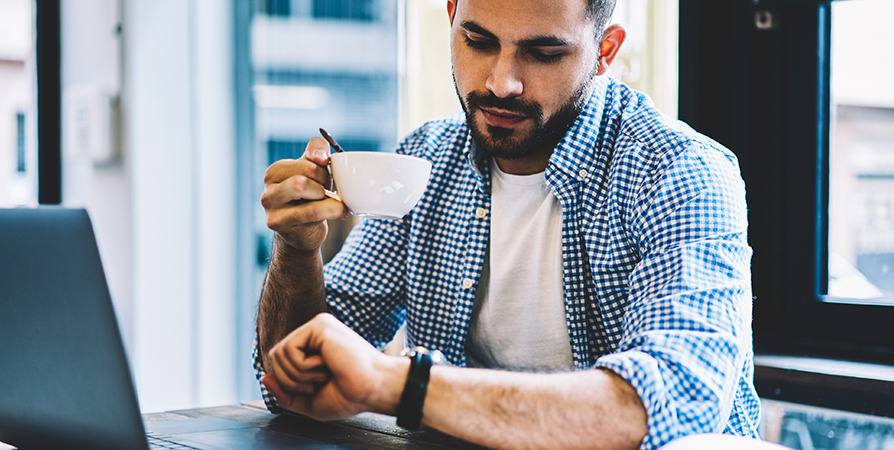 According to a 2019 report from the McKinsey Global Institute, lifelong learning programs play a key role in connecting workers with new opportunities, supporting career changers, and helping specialized practitioners adapt to evolving technologies. And higher education enrollments show that adult learners are jumping at the opportunity. 
But adult learners often have busy lives to match their big ambitions, balancing family life and full- or part-time employment with their academic pursuits. Balancing work and family with Ivy League courses takes perseverance and determination, as current Penn LPS Online students can tell you: in addition to the academic challenge, many Penn LPS Online courses are offered on an accelerated 8-week schedule rather than a standard 16-week university schedule. "Anytime you're returning to college as an adult, it's going to be a bit more of a challenge because you have different responsibilities then you did when you were 18 years old," says Briana Tyson, who is taking online courses toward her Bachelor of Applied Arts and Sciences (BAAS). Briana also works full-time as a senior research coordinator for the School of Engineering and Applied Science at Penn and a courtside server for the Philadelphia 76ers.
The flip side is that meeting that challenge can develop your organizational skills and demonstrate an aptitude for time management that appeals to many workplaces. "I think that going to college as a working adult delivers a good impression to employers," suggests Brittany Halbsgut, a human resources professional pursuing the Organizational Studies concentration of the online bachelor's degree. "The fact that I've been able to balance work and school at the same time and excel at both shows my employer that I am dedicated to doing well in all environments, committed to my personal and professional growth, and I can continue to perform under added pressure. I have a 4.0 right now, and that's something I'm really proud of, which shows up in my confidence at work too," she adds.
If you're starting your online learning journey during these uncertain times and wondering whether you can balance online courses with working full-time, Penn LPS Online students have great advice.
Read the syllabus
"The greatest tool that you're given is your syllabus," says Briana, "because it allows you to map out what is expected of you and allot the necessary time." Designed by course instructors and usually found in the Canvas site for your courses once you are registered, a syllabus typically explains all of the activities and assignments that are expected in a specific course as well as when they must be completed. Since courses may schedule a variety of learning experiences throughout the week—from assigned reading and written responses to lectures and discussions to quizzes and problem sets—most students return to the syllabus again and again throughout the semester to keep up with assignments and deadlines.
Reading the syllabus is the first step toward figuring out how to make time for course requirements alongside the rest of your life. "Plan and schedule your time," advises Cynthia Line, a clinical effectiveness advisor at Penn Medicine who is working toward a Certificate in Leadership and Communication. "An online class might be more convenient, but it is still a college-level course requiring a commitment to your own learning. You will need to budget time to read, to think, to draft, to re-write, and to finalize."
Make a work/life/school balance plan
In a typical 8-week Penn LPS Online course, students may spend 10-15 hours each week reviewing course materials and completing assignments. Students accustomed to a longer term may find the accelerated online courses more intense; many students find it productive to engage in coursework daily or over several days a week rather than trying to complete each week's assignments in a single block of time. For students who work typical business hours, like Cynthia, that might mean working on course requirements during lunch breaks or in the evenings and weekends. For others, the hours may vary. "I'm lucky that my job is flexible," says Andrew Ducko, a Bachelor of Applied Arts and Sciences student who is head hockey coach at the College of New Jersey as well as the manager of Loucks Ice Center at the Lawrenceville School.
Andrew Ducko uses what he calls an "old school" method to keep all of his weekly obligations in order: a written to-do list that itemizes his weekly responsibilities for his employers, to his family and home, and to his Penn LPS Online courses. "I write it all down and I scratch it off as I go," he explains. "That way I can compartmentalize everything in my mind." The practice of organizing his life, he says, has helped him mentor the high school and college students he coaches. "I'm always trying to teach my players about time management so they don't miss practice," he laughs, "and now I'm learning time management more than ever before. I'm getting into a routine."
"Time management is key," agrees software consultant Ryan McReynolds, who recently completed a Certificate in Leadership and Communication. "Some courses are reading intensive, but I never felt overwhelmed."
Ask questions
Online learning has never been as important as it is today. Students and instructors in different cities, time zones, or countries can have conversations across digital platforms with tools such as discussion boards and video conferencing. One of the best ways to position yourself for success as an online student is to remember that you are not alone. "Ask questions when you are intrigued! Ask questions when you are lost or confused!" says Cynthia. Brittany adds, "Ultimately, you're responsible for your own success. You can't be afraid to be the person that's knocking on the doors, sending emails, making calls."
"I also communicated with the professors a lot," says Briana. "My professors have provided guidance and feedback that helped me succeed because it gives me an understanding of what I am doing correctly or where I can continue to improve." Most instructors include information in the Canvas site about when and how to contact them with questions related to course material, but there are many other resources available to Penn LPS Online students. For example, many courses provide live tutoring and writing support via Brainfuse, a whiteboard-and-chat platform available through Canvas that can provide feedback and support in select subject areas. If you are considering whether to continue or drop a specific course, you can talk to your academic advisor or student success advisor for guidance. "If something feels confusing or not quite right, I want our degree students' first thought to be 'I should meet with Sarah,'" says Sarah Libros, the Student Success Advisor for BAAS students. In addition, technical help and support such as counseling and disability services are also available to Penn students.
Apart from practical matters of making sure you understand course material and requirements, Ryan considers in-class communication a key element of what makes the online learning experience enjoyable. "Make a point to connect with classmates," he advises. "Even after completing the program, I have connected with several of my classmates on LinkedIn, and I text with a few of them from time to time."
Have fun!
A recurring theme among engaged and ambitious students is that the key to balancing school, work, and family is trying to enjoy the process. "Take the time to really enjoy what you are learning and find excitement in it," advises Cynthia. "I truly look forward to my course work—it's such a bonus each day to spend time thinking and analyzing." Briana agrees: "What you get out of any course you sign up for is what you put into it. My advice is to really commit to these courses and the program. Learn from this incredible faculty, question everything, and immerse yourself in the lessons being taught."
"The possibilities of what you can accomplish with a University of Pennsylvania degree are endless," adds Briana. "It's just up to you to utilize it."
To learn more about the services Penn LPS Online can provide to make your academic journey a successful one, please visit the Student Resources page. For more insight from the Penn LPS Online team on the online education pathway for working adults, read the Penn LPS Online feature "The online option: college for adults who work."