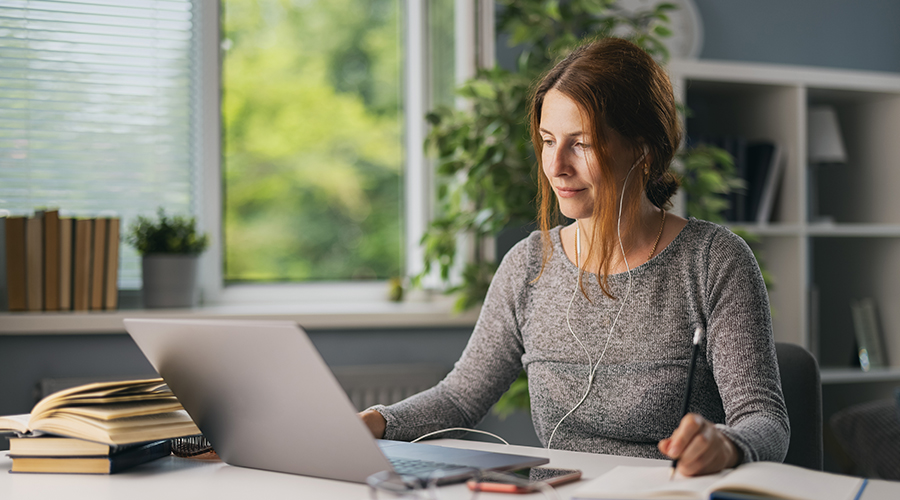 As many adults continue to work in hybrid or remote workplaces, it's no surprise that they are increasingly turning to online learning for personal and professional development. Returning to an online university is beneficial in terms of the flexibility and accessibility it provides. It's also an excellent way to enhance your skill set, explore your interests, and keep your resume competitive in today's constantly evolving job market.
Why online learning is a growing trend for adults
According to the World Economic Forum, labor market disruption due to accelerating technological change—including advances in digital encryption, AI, and nonhumanoid robots—is poised to create new job opportunities requiring new skills. And online learning could be vital to closing this critical skills gap.
According to data from the Forum's The Future of Jobs Report, 66% of employers surveyed said they expect to see a return on investment within a year of upskilling and reskilling employees. The report also found that there has been a five-fold increase in initiatives to provide online learning opportunities for employees and a four-fold increase in people independently pursuing online learning.
How to be a successful online student
If you're transitioning into online learning, you likely have questions about what you can do to increase your chances of success. Employing the six strategies below can help you thrive in your educational pursuits and your life as a whole.
1. Set realistic goals
Setting realistic academic goals is an excellent way to begin your online learning journey. Doing so can make it easier to pinpoint and reach critical milestones, stay on top of important deadlines, and hold yourself accountable. One way to ensure that you're setting practical goals is to make them specific, measurable, attainable, realistic, and timely. The more specific you make your goals, the more likely you will be able to accomplish them.
Be sure to make your goals concrete, achievable (barring extenuating circumstances), and very time specific. For instance, "I will complete my readings for X class every weekday between 12 p.m. and 1 p.m." is much more actionable than "I will complete my readings." Another specific and attainable goal is "I will study X subject every Sunday between 2 p.m. and 4 p.m." It's also important to revisit your goals frequently, update them when necessary, and set new objectives as you progress through your studies.
Whether your aim is to enhance your credentials by earning your degree, upskilling and pursuing a promotion, or building the competencies to pivot to a field you're passionate about, you undoubtedly have a long-term goal driving your return to college. Focusing on this objective and the resulting benefits can be helpful to serve as motivation whenever you deal with short-term challenges.
2. Create a study schedule
Once you've developed your goals, it's time to create a schedule to help you achieve them. The first step is choosing how you'd like to lay out your schedule, whether that's an actual calendar, an Outlook or Google Calendar, or an app on your smartphone. Then, fill in all your prior professional and personal commitments, including events, vacations, deadlines, and meetings. Effective time management is crucial for adult students since your family and work schedules are likely robust.
At Penn LPS Online, you can plan to commit 10-15 hours of engagement per class week for a typical 8-week course. At the beginning of your semester, explore the syllabi for all of your online courses and mark down major assignments and quizzes so you can keep track of your workload and avoid cramming or completing projects at the last minute. Then let your goals inform your weekly or daily schedule, and delegate specific time to watching lectures, completing the required reading, studying, working on projects, and participating in online discussions. If you can, set reminders in your calendar.
Although it may seem counterintuitive, it's also a good idea to schedule breaks into your routine. For example, if you're studying for two hours, include a 15-minute time-out and plan to take a quick walk outside, grab a coffee, or eat a healthy snack to give your brain a chance to absorb the information, help prevent burnout, and make your study session more productive. The worst thing you can do as a returning student is push yourself too hard and end up feeling overwhelmed and demoralized. So, give yourself a break!
3. Have a dedicated workspace
If you want to set yourself up for online learning success, you must have a dedicated space for studying that is quiet, comfortable, and organized. Where you choose to study depends on your current living situation, personal and professional schedule, and preferred learning environment. For example, if you find that you work better outside of your home, you can use a local library or coffee shop as a place to study on occasion.
Not everyone is able to have a home office, so you may have to improvise and turn your bedroom, a spare room, or the kitchen into your dedicated study space. What's important is letting your partner, children, or roommates know where and when you will be studying, so they do their best not to disturb you. White noise machines and noise-canceling headphones can also help block out the outside world while you work.
Once you've chosen your workspace, try to make it as comfortable as possible. Clutter can be distracting, so if you're using a desk, get it organized before you sit down to study. If you don't have a typical office setup, consider purchasing a small laptop stand or lap desk to make your space more conducive to work. And, if possible, turn off your phone or put it on silent when you're in your workspace, so you don't get sidetracked by emails, phone calls, or texts.
4. Be proactive in connecting with professors and peers
To get the most out of your online university experience, you must connect with your professors and participate fully in virtual discussions with your classmates. That means being confident enough to ask questions when they arise and taking advantage of virtual office hours with your instructors when you need assistance on a particular topic or assignment. Remember that you can't get clarification if you don't ask for it.
One of the significant benefits of online learning is that you don't have to commute or sit in a classroom. Although you won't have the typical experience of raising your hand to speak, at Penn LPS Online, you're still expected to participate meaningfully in your online courses via audio, typed text, and video.
Participation in the online classroom may involve the following:
Posting thoughtful responses to discussion topics
Creating and sharing multimedia
Contributing your perspectives and experiences to group activities and projects
Occasionally attending live scheduled meetings
The more you engage with your peers, instructors, and course materials, the more you will get out of your learning experience. And the more likely you will be to build a network of adult learners for support along the way.
5. Maintain a healthy balance
One of the biggest obstacles for adult learners is often figuring out how to balance education, work, and family responsibilities. But if you don't care for your relationships, professional obligations, and physical and mental health, you can't expect to flourish academically. While getting into a routine that effectively blends all these aspects of your life may take some time, it is absolutely doable. 
Hopefully, you will be supported by your friends, family, and coworkers as you enhance your education. But you will also have to make a conscious effort on your own to foster your well-being. Self-motivation, self-discipline, self-compassion, and the ability to prioritize will be essential to your success. It's also critical to recognize when you're falling victim to perfectionism so you can reframe your attitude in a more positive light.
Committing to a healthy lifestyle is also key to maintaining a good school/work/life balance. No matter how busy you are, try to eat healthfully, prioritize your sleep, and exercise regularly. If you find your stress levels are getting too intense, employ strategies such as meditation and breathing exercises, spending time in nature, practicing positive affirmations, talking with a friend or loved one, or working on a hobby you enjoy. And try not to be too hard on yourself.
6. Take advantage of support resources
At Penn LPS Online, you'll have access to world-class support to help you prepare for academic and professional success. When you enroll, you'll be assigned an academic advisor to help you develop and meet your goals. Your advisor can also assist you in choosing and registering for courses, clarifying university policies, addressing academic questions, and navigating program requirements or the transfer credit process.
If you're a Bachelor of Applied Arts and Sciences degree student at Penn LPS Online, you'll also have guidance from a career services advisor who can connect you to professional development and transition resources and personal branding and portfolio-building tools. You can also participate in virtual employer spotlight sessions from industry professionals, explore the Career Connections Discussion Board, and view on-demand career content via the Career Design Page on the Canvas Student Information site.
If you encounter technical issues, Penn LPS Online offers technical support via a toll-free number or live chat from our online helpdesk. You'll also have access to Brainfuse live tutoring in subject areas including business, computers and tech, English, math, and science. And if you submit papers to the Brainfuse Writing Lab, you will receive constructive feedback within 24 hours.
As mentioned above, taking care of your emotional well-being as you pursue your studies is extremely important. Penn's Counseling and Psychological Services (CAPs) offers free and confidential services to help you adjust to your transition back to college, manage personal challenges, build resilience, develop coping strategies, and experience personal and professional growth. So don't be afraid to reach out.
Learn more about online programs for adult learners
A Bachelor of Applied Arts and Sciences (BAAS) degree from Penn LPS Online meets you wherever you are. With individual Ivy League courses you can complete in as few as eight weeks and certificates designed to enhance your skills and your resume, you'll be able to tailor your educational experience to suit your aspirations.
Certificates at Penn LPS Online are short programs focused on a skill set or area of study with a practical, creative, or professional application. Choose from 13 options, including the Upskill Certificate, an ideal option if you're looking to become a more competitive job candidate or to revise or rebrand your skill set. And certificates are a great alternative if you're not ready to commit to earning a degree.
The BAAS degree program provides a flexible, high-impact liberal arts education with career enhancement in mind. Explore seven concentrations and choose the academic path that best aligns with your personal and professional goals—or design your own concentration through the Individualized Studies option.
Still have questions? Request information or learn more about the online student experience at Penn LPS Online. If you haven't already, apply today or view our course guide to see what's available in any upcoming term.