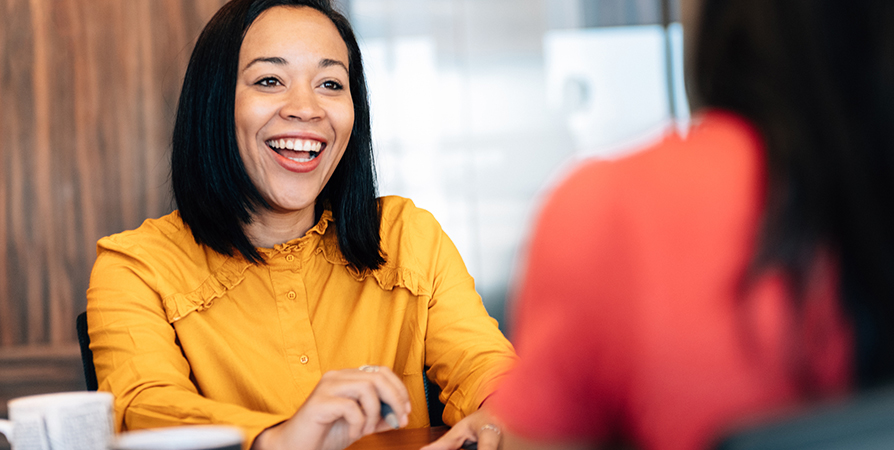 When most people think of college—including online college—they are thinking of degree programs: an undergraduate degree such as the Bachelor of Applied Arts and Sciences can provide a liberal arts education and a diploma from an accredited university, while master's degrees and other graduate-level programs encourage focused studies in a specialized field. But even a one- or two-year master's degree program can be an intensive time commitment for a busy adult with responsibilities outside of the classroom. "Some students simply do not have time for a degree," says Jaime Kelly, Director of Certificate and Non-Degree Programs at Penn's College of Liberal and Professional Studies. Kelly advises students before and after they enroll at Penn and helps guide them toward the options that best suit their goals and needs. "I have one student who travels all the time, so he wouldn't be able to physically come to campus," she adds. "Also, he is really looking for more knowledge rather than another degree."
Other students, whether or not they already have completed a degree, may simply want to try their hands at a new subject or skill set. "There is a lot of conversation happening right now about the idea of microcredentials," explains Kristin Sowden, Associate Director of Career Advising at Penn LPS Online. "A microcredential is a short-term, focused educational experience for people to dip into the waters of an area of interest."
For those students, a certificate program offers the best opportunity to specialize in a particular area of expertise without a steep investment of time. "Certificates have been around for a while," adds Sowden. "They're starting to garner more attention because of their succinctness and their focused ability to provide knowledge and skills for people who are seeking career advancement."
Penn LPS Online certificates are short programs of study which require four to six courses within a subject area with a practical, creative, or professional application. Designed to be flexible, comprehensive, and applied, the education provided by a Penn LPS Online certificate can equip you with concrete professional skills such as professional writing and data analytics as well as core competencies or "soft skills," including leadership, creativity, and collaboration.
With a variety of subject areas and an even greater variety of circumstances that lead individuals to a certificate path, there are as many different benefits of completing a certificate as there are students in certificate programs. Employers, as well as advisors like Kelly and Sowden, observe more and more job candidates with certificate credentials. "Increasingly, we're seeing employees and even students utilizing short courses to learn more rapidly as new types of knowledge emerge," says Matthew Lasmanis, Chief Technology and Innovation Officer at Sage Therapeutics and member of Penn LPS Online's advisory board. "I see these certificates as a vehicle to stay current."
What a certificate is—and is not
The courses you would take to complete a Penn LPS Online certificate are the same courses a Bachelor of Applied Arts and Sciences (BAAS) student might take as they complete their degree; in fact, certificate students often find themselves in a virtual classroom with bachelor's degree students and casual course-takers from a variety of educational backgrounds. The courses are challenging in line with the Penn tradition of educational excellence, and—like all Penn LPS Online courses—they are fully online and offered on accelerated terms. Penn LPS Online currently offers certificates in applied positive psychology, climate change, creative writing, data analytics, leadership and communication, neuroscience, organizational anthropology, and professional writing.
The differences between the degree and the certificates are primarily length and scope. A traditional bachelor's degree is completed in four years; the BAAS may be completed in that length of time or longer, depending on the student's schedule. Meanwhile, it is possible to complete a Penn LPS Online certificate in less than a year by taking one 8-week course each term.
A certificate is also designed to be narrowly focused on a specific subject—although, in the liberal arts tradition, a Penn LPS Online certificate typically explores different aspects and nuances of its subject. "Bachelor's degrees are particularly good for providing general foundational skills, like reading and writing and thinking and communicating," says Sowden. "Certificates tend to be skills-based, where you're learning a specific knowledge set that you can apply almost immediately depending on how quickly you get through that certificate." As an academic advisor, Kelly sometimes guides prospective students toward a certificate if they are considering a second bachelor's degree. "At Penn, we don't accept transfer credits from previously completed bachelor's degrees," she explains; that means that students who have already graduated college elsewhere would need to take more than 30 courses to earn a bachelor's degree from Penn. "If what you really want to do is show your focus in leadership or climate change studies, I would recommend doing a certificate—maybe even multiple certificates—and focusing your coursework on those subjects."
"There is also a difference between a certificate and professional certification, but it doesn't come up much with my students," Kelly continues. Professional certification or licensure is a process by which industry professionals can demonstrate that they have received the required training and experience to practice in their field; certifications are usually granted by professional associations or independent organizations. Penn LPS Online doesn't provide professional certification: you don't need a license to practice creative writing, of course, and the Certificate in Neuroscience is not designed to prepare certificate students for a career as a neuroscientist. Instead, the certificate programs offer a comprehensive and practical approach to those knowledge areas that students can apply in their unique personal and professional contexts. "I know that our students find value in the ability to put these credentials on their resume," adds Kelly.
How an online certificate can benefit your career
So how does a Penn LPS Online certificate enhance your resume and your career potential? "Think of it as a competitive advantage, an edge that helps distinguish you as a candidate in a particular field," suggests Sowden. "People who seek out certificates have a level of self-discipline and ambition that we might not see in a typical candidate. It shows that you're willing to go the extra mile."
As one of the employer advisory board members who shared their industry insights and leadership experience as Penn LPS Online developed certificates, Lasmanis sees a certificate as one piece of a bigger picture. "For me, it's not about any one certificate or one type of program, but how it fits within the tapestry of an individual's professional development and their vision for career growth," he says. As Vice President of Technology of his organization, Lasmanis needs to see his employees develop technological knowledge and skills that are specific to their jobs. He also wants to see them develop connections with other employees: mentoring relationships, leadership opportunities, teamwork, and collaboration. In addition to these two categories of professional development and learning that often take place at work, Lasmanis explains, there is also room for formal education from an external organization. In this framework, professional development is "a broader set of activities toward achieving those outcomes, some of which is on the job, some of which relies on interconnectivity with other folks, and some of which is actually formalized learning." Penn LPS Online certificates would fall into the third category of formalized learning.
The career-enhancing value of a certificate may not be specific to one career, says Kelly. As an example, she points to the Certificate in Data Analytics, which is one of the few certificates that requires courses to be completed in a specific sequence in order to develop proficiency in data software and applications. Completing this certificate is not designed as an entryway to a career in data analytics so much as a tool that can help professionals in many different contexts become more effective. "The ways that students plan to apply the Certificate in Data Analytics is so broad," says Kelly. "The students I work with in that program are studying art history, linguistics, and more—you could be studying anything and want to have data analytics as a skill."
"Your degree or certificate is only as good as what you make of it," she adds. "If you complete a certificate and have samples of your work and the credit, I think that is only going to make you a stronger job candidate."
What value a certificate can offer outside of the office
Beyond career-specific skills, the interdisciplinary approach of a liberal arts education enhances students' problem-solving, critical thinking, and creativity—all core skills for ambitious professionals. "From a soft skills point of view, what's increasingly critical for us is to develop leadership skills around agile thinking, leading through diverse technological change, and effective execution of our business strategy," says Lasmanis. Sowden agrees. "Completing a certificate demonstrates an interest in lifelong learning," she says. "The world and the work that we do is changing so rapidly. Lifelong learning shows you're willing to stay current."
Sowden primarily advises BAAS students on leveraging their bachelor's degree for professional advancement or career change but has become acquainted with Penn LPS Online course and certificate students through her bimonthly Lunch and Learn webinars. "We're working primarily with adult students who have been in the workforce, who are typically working full time, who are highly motivated, really focused, and just trying to figure out how to get to the next step," she says. "A certificate from a place like Penn is attractive to both students and employers because of the incredible work that's done at our university," she adds.
"Think of the Certificate in Applied Positive Psychology," says Sowden. "The positive psychology program at Penn is run by the founders of positive psychology. It's just incredible to have the opportunity to learn from people who are at the very top of their game in the field. And to have that impeccable quality brought right to your door? To be able to do it online on a schedule that fits your life? That's a once-in-a-lifetime opportunity."
Kelly notes that not all students come in with career enhancement in mind; for these learners, a focused program of study is valuable for its own sake. "With the certificates, there are people with a personal interest or enthusiasm, and there are people with a very clear vision of how the certificate is going to be utilized in their field," says Kelly. "I think both groups are very satisfied with what they get out of it."
To learn more about Penn LPS Online certificates and how they can help you meet your academic, personal, or professional goals, visit the Penn LPS Online Certificates page.