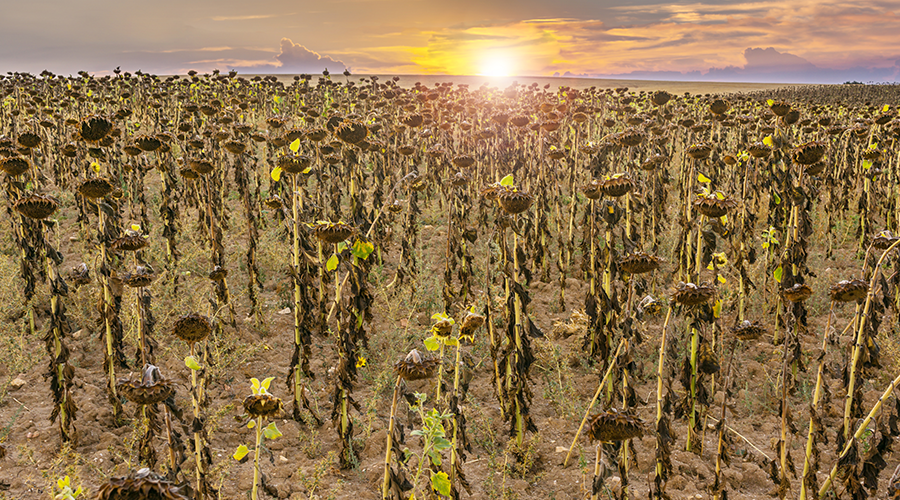 What is climate change?
Climate change primarily refers to long-term shifts in temperatures and weather patterns. Although some shifts in climate are natural, human activities—such as the burning of fossil fuels and deforestation—are significant drivers of climate change. Energy, industry, transportation, landfills, and agriculture all contribute to greenhouse gas emissions (including carbon dioxide and methane) that trap the sun's heat in the atmosphere and contribute to global warming—which threatens human, economic, and environmental well-being. Some examples of the consequences of climate change include intense droughts, forest fires, sea level rise, flooding, melting polar ice caps, catastrophic weather events, and a decline in biodiversity.
What a Certificate in Climate Change prepares you to do
When you commit to studying climate change, you gain the opportunity to develop the skills and policy insights that will allow you to make a positive impact on the environment and address the pressing impact of climate change. In the 4-course Certificate in Climate Change at Penn LPS Online, you'll obtain an understanding of the Earth's climate system and the ways it has changed over time. Through the lens of oceanic and atmospheric sciences, you'll learn about the natural and human activities that drive climate change and develop the rhetorical ability to effectively communicate your understanding with a diverse audience.
Read on to discover more about the skills and knowledge you will obtain in the Certificate in Climate Change at Penn LPS Online.
Learn atmospheric and ocean dynamics to understand fundamental climate processes and changes
In the Certificate in Climate Change at Penn LPS Online, you'll have a chance to deepen your insights into methods of scientific inquiry in the field. CLCH 1600: Oceanography provides an overview of marine geology, physical oceanography, and marine chemistry. This course explores topics including marine provinces, sediments, tides, renewable ocean energy, how plate tectonics shape and disrupt the ocean, and the relation between ocean circulation and climate change.
In CLCH 2200: Atmospheric Science you learn the fundamentals of how air moves, gaining insight into weather and climate change prediction and their impact on society. Primary course topics also include atmospheric composition, living organisms, ecosystems, and environmentally important issues such as greenhouse gases, acid rain, urban smog, and air toxics.
Analyze natural disasters and environmental threats both globally and regionally
Deforestation, wildfires, lead in water, the prevalence of plastics in the ocean, and other progressively more destructive natural disasters have been top-of-mind in recent years. In CLCH 3100: Global Environmental Issues, you will explore the underlying causes and potential solutions to eight such critical environmental concerns.
Through case studies taken from around the planet—including forest fires in the Amazon, the Indonesian mud flow disaster, changes in rainfall patterns, and the return of wolves to Yellowstone—you'll become familiarized with current knowledge, debate, human impacts, economic consequences, policies, and potential resolutions for these issues. And you'll have a chance to take a deep dive into one major environmental problem through a semester-long group project that culminates in a final paper.
Understand the history and gradations of climate change
In the Certificate in Climate Change at Penn LPS Online, you'll also explore the mechanisms that drive climate change and learn how to use natural environmental change as a benchmark to assess human impacts, recent climate change, and potential future changes. CLCH 2300: Climate Change looks into the cryosphere (frozen parts of the world) and builds upon previous coursework to help you gain a deeper understanding of the science behind the Earth's climate change. As you explore historical climate, you'll learn how scientists know what it was like in the past and how and why we believe certain changes have occurred.
You will also examine current evidence for climate change such as rising sea levels, loss of glacier mass, and deviations in weather systems—and examine potential environmental impacts—to help you critique different climate models and explore climate policy in the United States and around the world.
Hone communication skills to share understanding of climate change and its implications more effectively
It's clear that understanding both the science and policy implications of climate change is important. But it's also critical that you be able to communicate this knowledge clearly and successfully to the broader public who may not have a scientific background. That's where CLCH 3000: Communicating Science comes in. This course will inform you of strategies to refine your rhetorical skills and help you craft messages that relate research concepts and data to effectively engage different audiences and genres.
One such topic that you may learn how to speak about is disaster management, which refers to organized attempts to prepare for and recover from natural, technological, and terrorist hazards. In CLCH 2100:  Introduction to Disaster Management, you'll gain an overview of the theory, principles, and operations of disaster mitigation, preparedness, response, and recovery at the federal, state, local, and nongovernmental level. You'll also investigate the social, political, and economic consequences of these disasters.
Why is it important to learn about climate change?
It is vital to learn about climate change to stay informed on what it is, what the ramifications are, and how we can mitigate it—such as reducing the reliance on fossil fuels like coal and oil, slowing deforestation, and adopting sustainable agricultural practices. According to NASA, the consequences of exceeding a global average temperature increase of two degrees could have a devastating impact: 61 million more humans would be exposed to severe drought, up to 270 million more people would experience water shortages, the prevalence of deadly heat waves and extreme weather events would substantially increase, and almost 100% of coral reefs would die.
Climate change endangers animals. Sadly, rising global temperatures, changing weather patterns, and human development can all have an immensely destructive impact on wildlife. The increase in temperature affects animals' food sources, vegetation, and access to water, which can cause critical losses of habitat for animals such as African elephants, giant pandas, monarch butterflies, sea turtles, tigers, polar bears, and dolphins.
The sharp increase in climate and weather-related natural disasters such as wildfires, droughts, and hurricanes have also caused disastrous losses of habitat and lives of animals. For example, the 2019-20 bushfires in Australia are estimated to have killed or displaced three billion kangaroos, koalas, and other wildlife.
With changes in ecosystems also comes an uptick in human-wildlife conflict as people and animals, such as jaguars, branch out in search of resources and end up sharing more crowded spaces. Ultimately, all of these issues can lead to extinction if not effectively addressed. For instance, the North Atlantic whale is currently struggling to survive due to the effects of rising ocean temperatures and increasing conflicts with anglers and their nets and vessels.
Climate change threatens important ecosystems. Climate change also has an increasingly ruinous impact on important ecosystems and biomes, including rainforests, coral reefs, and polar ice caps. In the Amazon, the 1.4 billion acres of dense forest represent half of the world's remaining rainforest and 1 in 10 of all the known species on Earth. Over 1/3 of this precious habitat is threatened not only by climate change, but by deforestation, which in turn fuels the release of additional greenhouse gases.
The Coral Triangle contains nearly 600 different species of reef-building coral, six of the world's seven marine turtle species, and over 2,000 species of reef fish. Warmer air and ocean temperatures are also causing coral bleaching and increased carbon dioxide in the atmosphere is resulting in ocean acidification, both of which are threatening this vital marine area.
The Earth's polar regions are home to diverse landscapes containing everything from polar ice caps and tundra to the sea, which support endangered wildlife such as the polar bear. Unfortunately, according to NASA, Antarctica is losing ice mass at an average of 150 billion tons per year and Greenland is losing 280 billion tons per year, contributing to rising sea levels and loss of habitat for the animals that populate these areas.
Climate change damages human health and infrastructure. The reality is that if not mediated, climate change has the potential to hurt natural ecosystems and infrastructure, increase the frequency of natural disasters, and pose significant health risks through food shortages and increased temperatures and pollution. For example, the destruction of coral reefs not only impacts the marine ecosystem, it also affects food supplies in coastal areas.
According to the U.S. Global Change Research Program, the consequences of unchecked climate change include:
Increasing challenges to human health and safety, quality of life, and economic growth
Rising temperatures, drought, flooding, and wildfires will increasingly disrupt agricultural productivity in the US
The transmission of disease through insects, pests, food, and water that will increasingly threaten peoples' health
Challenges to livestock health and crop declines that will threaten rural livelihoods, food security, and price stability
Chronic high-tide flooding in coastal communities that will lead to serious financial impacts for homeowners and businesses
Stresses to aging infrastructure from heavy rain, flooding, extreme heat, and other events that will degrade performance with the potential for threats to national security, essential services, and human health
Climate change will affect future generations. The bottom line is that no matter who you are or where you live, you cannot escape the effects of climate change. Global warming, air pollution, acidification of the ocean, destructive weather, and human activities will also have an increasingly harmful impact on future generations. However, it is possible to educate others on the dangers of climate change—including what we as individuals can do to mitigate it—and to champion businesses, political leaders, and environmental groups who are willing to act by supporting environmental policies that make a real difference. By promoting awareness, encouraging sustainable practices, and fostering resilience in the face of climate challenges, we can pave the way for a more sustainable and secure future for all.
Learn more about climate change, today
The Certificate in Climate Change at Penn LPS Online arms you with the knowledge to understand Earth's climate system and the skills to more effectively communicate the consequences of the changing environment to businesses, communities, and the planet at large. Being able to comprehend, prepare, and mitigate the results of climate change is relevant to many fields including environmental research and science, land management, state and local community planning, government policymaking, and business in general. As an added bonus, the Ivy League online courses in this certificate program are scheduled to provide the flexibility to enhance your climate change knowledge as you move forward in your career.
Ready to get started? If you haven't yet done so, fill out an enrollment form to take the first step in your Ivy League education at Penn LPS Online. Or view our course guide to see the full list of offerings available.
Works consulted
https://www.mooc.org/blog/why-is-it-important-to-study-climate-change
https://www.wwf.org.uk/updates/10-reasons-why-climate-change-important
https://www.un.org/en/climatechange/what-is-climate-change
https://www.worldwildlife.org/threats/effects-of-climate-change
https://www.ifaw.org/journal/impact-climate-change-animals