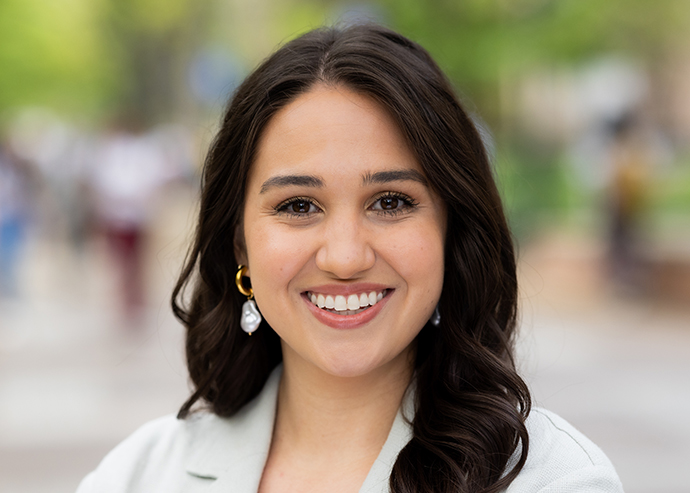 Gabrielle Solair
Junior Client Executive, Culture Shift Team, Inc.
Education:
Bachelor of Applied Arts and Sciences, University of Pennsylvania '23
Concentration: Individualized Studies focusing on leadership and professional writing
"I did not expect to love learning," says Gabrielle Solair (BAAS '23), "and since I'm a first gen student, I didn't have anybody in my corner who could really give me advice about school." Now that she is graduating with a Bachelor of Applied Arts and Sciences in Leadership and Professional Writing and a Dean's Scholar Award, Gabrielle reflects on her educational journey.  
As a teenager, Gabrielle began a career in the music industry: her family moved to Nashville, where she wrote songs, made demos for music catalogs, and released an EP. But when her rapid rise was interrupted by an emergency hospitalization, she had to take stock. "It was the first time in my life that I couldn't use my voice," she recalls. "I had to ask myself, okay, if I'm not doing music, what am I actually doing with my life?" Since she had volunteer experience and a strong interest in helping underserved communities, Gabrielle considered career options in the nonprofit sector—and realized she would need a college degree to make an impact in that field. As she took community college classes in business administration, she found that she enjoyed being in school. "Coming in as an adult, knowing I really needed a career pivot, and coming in with the mission to help people really fueled my love of learning," she reflects.
With her outstanding grades, Gabrielle was eligible for the Phi Theta Kappa honor society—and shortly found herself on the phone with Penn LPS Online's program team. "I didn't even know about the University of Pennsylvania," she laughs. "And I didn't realize until speaking with them that I was looking for a community that was intelligent, challenging, humble, kind, and that really put people first and made things accessible. I felt that I could actually come to Penn and be my authentic self."
Gabrielle's first course was DIGC 1200: Digital Literacy and Cultural Change, which not only provided her with digital resources and familiarity with diversity, equity, and inclusion terminology, but challenged her to solve complex problems creatively. "At first I was like, what did I sign myself up for?" she recalls, "But then my artistic side really kicked into overdrive. To tell students that we already possess the power to make cultural and societal change—that was a really empowering class." After her first class, Gabrielle felt so motivated that she reached out to a connection who worked for a consulting firm specializing in diversity, equity, and inclusion—and landed an internship on their multicultural marketing team.
At the firm, Gabrielle discovered experiences that complemented her academic journey, and vice versa. "These classes are geared for really any professional at any stage, no matter what sector or what industry. It's really hands-on in that you can take the information and apply it where you need it immediately," she says. For example, as Gabrielle began taking professional writing classes and discovering a new way to use her voice. "In my marketing role, I make important information and resources accessible for underserved communities. We have to do our research," she explains. "Learning how to approach an audience, connecting with people, finding ways to resonate with people—it was in the professional writing classes that I started making those connections." After she wrote and revised a press release with instructor feedback in PROW 1000: Fundamentals of Professional Writing, she shared the finished copy with her team at the firm. "Since then, I've been given more writing opportunities. I've become one of the core writers on the team," she adds. In leadership courses, Gabrielle explored examples of effective leadership practices in a wide range of contexts, which she says has helped her communication and collaboration with clients as well as other team members. "The theory of leadership is deeper than I ever imagined it could be," she says. "Everyone can learn to become a leader and learn their own leadership style."
"I'm really grateful to have both my work experience and the Penn experience at the same time—being able to talk about it with my peers, and learning what everybody else is doing professionally and how they're applying the courses to their work needs. That's been a really helpful part of my life," says Gabrielle. She keeps a folder of ideas for future social entrepreneurship and creative projects, inspired in part by her classmates, professors, and some close friends who are fellow Bread Upon the Waters recipients. "This is a for-life group," she says of the latter. "Even when I'm not on campus, I will always have a connection to these trail-blazing women. We're all very honest, open, and completely authentic with each other. We can share, get advice from other nontraditional students, tips for new opportunities, how to overcome imposter syndrome… They remind me of why I came to Penn in the first place."
Gabrielle saved her elective courses for the end of her educational journey. "They're all creative writing classes!" she says. "I've been working so hard, and I've had to put school first and work first. Now I've got to get back to my roots." Even while pursuing professional and educational growth, Gabrielle had begun writing a children's book; she thought creative writing class would help her finalize the manuscript. "Of course, once I dove into it, Penn unlocked this vault of secrets about what it means to be a creative writer, and different avenues you can take with it," she laughs. "So now I'm working on short stories and finding new ways to express myself and connect with communities. That's the amazing thing about Penn being so interdisciplinary: here are all the tools, here are places you can go, here's how you can continue that education after you've graduated. That's what I'm taking away: I'm going to go forge my own path now."
"I've learned that there are many ways to help people," concludes Gabrielle. "I was in a music bubble for a really long time—and that was great! I got to have amazing experiences and learn how to connect with audiences, but I didn't think I was capable of doing anything else. At Penn, I've learned that I'm capable of doing far more than I thought possible."
"And I'm going to pursue music again—see what kind of sounds I produce now that I have all this experience," she adds.