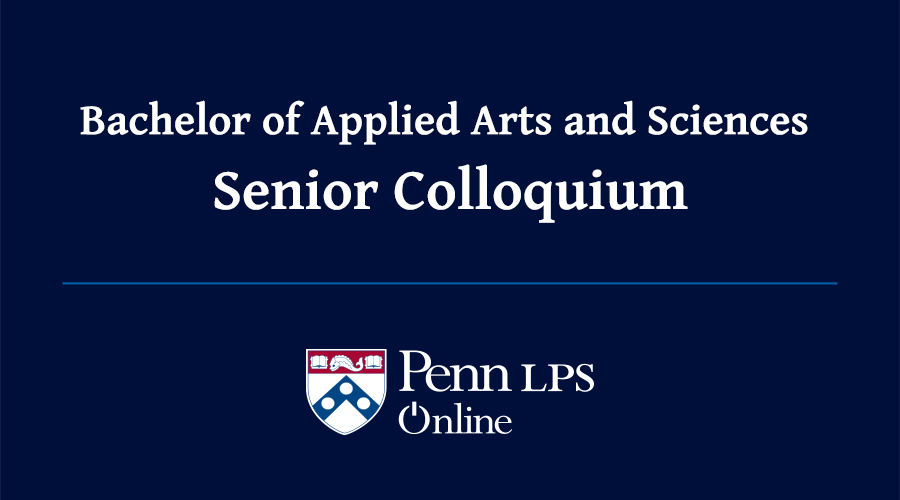 On Thursday, April 28, the Penn LPS Online community gathered to celebrate the success of several outstanding graduating Bachelor of Applied Arts and Sciences (BAAS) students at the first annual Senior Colloquium. Presented to an eager audience that included members of the Penn School of Arts and Sciences undergraduate team, the Senior Colloquium allows graduating BAAS students to share their individual journeys through this innovative online program during 5-minute presentations.
As part of the degree requirements, each student completed a Senior Portfolio, a milestone accomplishment that compiles artifacts of the student's core competencies along with professional documents such as a resume and LinkedIn profile, and a final synthesis of their academic experience. While each story was unique, a common theme was the value of the customizable and practical curriculum that let each student apply their personal experiences to their coursework while challenging them to discover new skills and interests, resulting in personal growth.
Among the presenters was Beth Jamieson (BAAS `22), Front of House Manager at the Annenberg Center for the Performing Arts. Beth began her undergraduate career at the University of the Arts and Drexel University, but delayed the completion of her degree to focus on family. Passionate about the performing arts, she became the Assistant Director for a nonprofit theater company and began working at Annenberg before deciding to return to school. With a Creative Studies degree concentration, Beth gained insight into other cultures, developed critical communication skills, and strengthened the personal and professional assets she had earned working in the arts. "Be open to new experiences," she urges fellow students; not only can you make connections and take advantage of opportunities through the program, you may also surprise yourself with what you are capable of.
Kirsten Calloway (BAAS `21) discovered her passion and her life's purpose during her studies at Penn. She had put a traditional path to an undergraduate education on hold to focus on raising her daughter, who graduated college herself in 2020. A few months later, Kirsten enrolled in the BAAS program. Through grit and determination, Kirsten unlocked her love of learning and designed a degree around cultivating her strengths and interests. She immediately fell in love with applied positive psychology courses, which informed the direction of her individualized studies concentration and set the course for her ongoing academic and career goals. Kirsten plans to continue studying positive psychology at the graduate and doctoral levels. "As a Black-White biracial adoptee, I feel called to study resilience in response to adversity to develop culturally informed character strengths-based interventions to support mixed-race individuals, interracial families, interracial adoptees, and the community, promoting resiliencies from strengths-based perspectives to improve self-esteem and social connectedness," says Kirsten, who plans to assist instructors for future applied positive psychology and social difference, diversity, equity, and inclusion courses. "It would be rewarding and fulfilling to help students succeed in learning techniques to increase well-being, cultivate strengths, and discover how to build resilience to overcome adversity," she adds. "Moreover, my commitment to increasing empathy and awareness of diversity, equity, inclusion, and belonging issues fuels my mission to equip others with the tools to create meaningful social change."
Kirsten is the 2022 recipient of the Association of Alumnae Continuing Education Award, given annually to the College of Liberal and Professional Studies student whose scholarship and personal qualities of leadership are regarded as being the most outstanding.
Congratulations to these accomplished students! Our Penn LPS Online team is thrilled to celebrate your achievements and excited to see where you go next. To learn more about this fully online Ivy League undergraduate degree, read What is a Bachelor of Applied Arts and Sciences Degree?
To learn more about this fully online Ivy League undergraduate degree, read What is a Bachelor of Applied Arts and Sciences Degree?