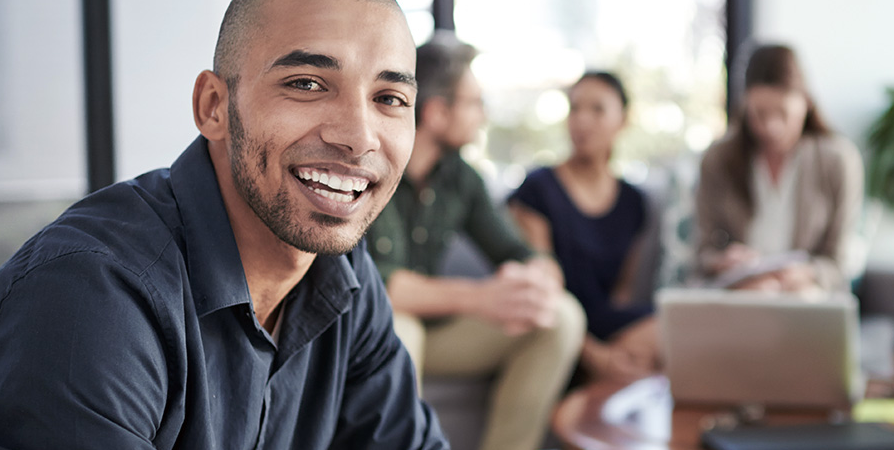 An Ivy League undergraduate education that can be pursued online—that's not a phrase you see very often. Until now.
This fall, Penn LPS Online is accepting applications for its Bachelor of Applied Arts and Sciences (BAAS) degree, a fully-accredited, undergraduate degree—that's online.
When the College of Liberal and Professional Studies at the University of Pennsylvania set out to build on their success in online education and create an online Bachelor of Applied Arts and Sciences degree, they knew they were embarking on something very different—and taking on a big challenge. There are many online degrees and online colleges out there, but given its history of stellar academics, any Penn online degree would have to carry on their long tradition of excellence.
An online degree the Penn way
There is no doubt that Penn already provides one of the world's best on-campus academic experiences. The university also has a track record for providing great online education; the College of Liberal and Professional Studies has been offering online classes for more than 20 years. However, extensive market research proved that there were other adult learners and nontraditional students ready and eager to access the Penn tradition and earn a degree—just not in a traditional classroom.
These students, many of them working adults looking to add to their skills or pivot to new careers, do not fit the same mold as traditional undergrads or even the nontraditional students that the College of Liberal and Professional Studies has been serving successfully for some time. These adult learners need an education in the applied skills that matter to employers, coupled with a challenging bachelor's degree and a strong foundation in the liberal arts—and the critical "soft" skills that come with it. Above all, these nontraditional learners need accessibility and flexibility: they need to be free of traditional classroom and schedule constraints in order to take classes. Many of these prospective students are already juggling a myriad of family and work responsibilities. For them, the time and expense of traveling to and from campus is not an option.
The specific needs of that adult learner audience drove the creation of Penn LPS Online, developed to further advance Penn's mission of making a relevant, high-quality education accessible and affordable for working adults. One of the key initiatives of Penn LPS Online is the Bachelor of Applied Arts and Sciences. According to Steven Fluharty, dean of Penn's School of Arts and Sciences and the Thomas S. Gates Jr. Professor of Psychology, Pharmacology, and Neuroscience, this online degree is "unique among our peers and places Penn at the forefront in creatively meeting the expanding need for adult education in the liberal arts."
The Bachelor of Applied Arts and Sciences degree
A Bachelor of Applied Arts and Sciences degree is a degree designed to combine preparation for a career path with the development of high-order thinking and problem-solving skills that are so relevant to today's job market. "It's truly a 21st-century degree," says Kris Rabberman, Assistant Vice Dean and Director of Academic Affairs for Professional and Liberal Education in the School of Arts and Sciences at the University of Pennsylvania.
Most prospective students are familiar with the Bachelor of Arts or Bachelor of Sciences degree earned in a traditional four-year college setting, but a Bachelor of Applied Arts and Sciences remains unfamiliar ground for many. "That's because there are relatively few BAAS degree programs in the US," says Rabberman "Many existing BAAS programs have a relatively narrow focus on professional skills. What sets the Penn LPS Online BAAS degree apart is that it blends the skills and knowledge from an arts and sciences foundation with the specific skills and knowledge that employers look for."
Penn LPS Online's own research showed that employers are looking for three top skills: critical thinking, leadership, and communication skills. As a result, building these skills is at the core of the Penn LPS Online BAAS degree, whatever degree concentration an individual student chooses to pursue. "The curriculum has been developed to emphasize skills and knowledge that are in demand in the workplace: writing, qualitative and quantitative skills, understanding of different cultures and eras, ethical and scientific reasoning skills—all these skills are woven through the BAAS curriculum," says Rabberman.
Because the online Bachelor of Applied Arts and Sciences degree isstill based on an arts and sciences foundation, some courses and requirements look similar to those in a BA degree, but there are also important differences. "In the BAAS, students complete multidisciplinary concentrations instead of majors," says Rabberman. "In addition—through an e-portfolio requirement, advising related to career planning, and experiential learning projects in the curriculum—the BAAS degree provides students with the skills to make meaningful connections between their program of study and their professional and personal goals."
Some of the BAAS coursework makes those connections quite evident—for instance, classes in professional writing focus on very specific and clear skill sets. Other courses in the BAAS program in fields such as literature and religious studies look much like traditional liberal arts courses and nurture the high-level, critical thinking skills that are the hallmarks of a liberal arts education. "These courses provide students with the ability to understand and analyze complex scenarios, and that's important in being able to solve complex problems in any professional setting."
Moreover, the e-portfolio requirement for the Bachelor of Applied Arts and Sciences program is designed to give students a competitive edge. The university's research showed that 75% of employers strongly value e-portfolios during the hiring process. "The e-portfolio requirement provides students with meaningful opportunities throughout their studies to reflect on connections between what they are learning in the classroom and what they are doing professionally, which in turn prepares them to make these connections for future employers in job interviews" explains Rabberman.
The online delivery and flexible format of the degree makes the Penn LPS Online BAAS particularly well-suited for adult learners. Courses are offered in either accelerated 8-week terms or full terms, making scheduling easier. Learning is no longer constrained by the clock: as long as a student has access to a computer and an internet connection, class is in session. "Adults who need to travel for work can log on and complete coursework from anywhere that has an internet connection. Learners juggling other responsibilities at home can log on in the evening or on weekends or whatever time fits their unique schedule," says Rabberman.
Concentrations: the BAAS experience
Similar to the way a declared major focuses a student's academic experience within a traditional four-year degree program, the Bachelor of Applied Arts and Sciences concentration options allow adult learners to tailor an educational experience that meets their specific personal and career goals.
Students can choose to focus their studies in concentrations ranging from creative studies to the sciences, literature, and organizational studies. Courses within each concentration can be taken in any order (with some exceptions for prerequisites) and many concentrations are interdisciplinary, allowing students to explore their intellectual interests from a variety of different perspectives.
Expanding the playing field: making the Ivy League accessible
One of the major goals of the Penn LPS Online Bachelor of Applied Arts and Sciences degree is to expand the reach of a Penn Arts and Sciences education, proving that an elite education does not have to be impossible to achieve.
The BAAS program offers options for admission, recognizing that potential, especially in adult learners, is not always reflected in traditional ways. If you have ambition and a commitment to succeed, a Penn education is within reach. "We offer two pathways to admission," says Rabberman. "One is based on an application with transcripts of prior college study, letters of recommendation, and essays. The only test score we require is TOEFL scores for students whose first language is not English."
The program also offers a unique alternative pathway for students, designed around the concept of "prove your way in." "Students with little to no college experience who would not be admissible through the traditional application pathway can prove their way into the program," says Rabberman. "In this pathway into the degree, students take four designated gateway courses. After completing these courses successfully, students can then matriculate into the degree, and the four courses transfer in as foundational requirements." In shifting the focus to proving potential instead of just relying on past achievement, the Penn LPS Online BAAS program is both leveling and expanding the playing field, rewriting the definition of who can access and pursue an Ivy League degree.
Penn LPS Online is now accepting applications for the Bachelor of Applied Arts and Sciences degree for the Organizational Studies, Creative Studies,  Physical and Life Sciences (the only concentration that requires some residential coursework), and Literature, Culture, and Tradition concentrations, with classes beginning in fall 2019. For additional information on how to apply, course concentrations, and other Penn LPS Online offerings, please visit our website and the BAAS program page. You can also get your questions answered and learn more about the online education experience during our Bachelor of Applied Arts and Sciences virtual information sessions; session dates and times are listed on our events page on the website.