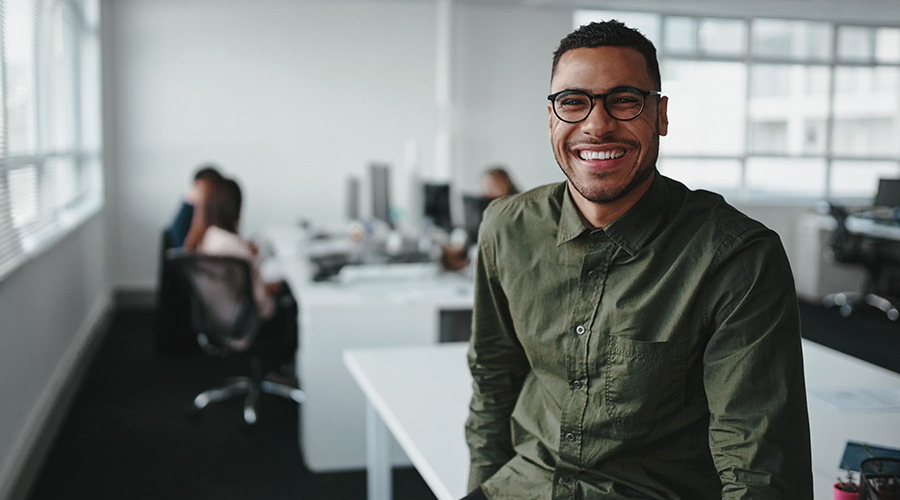 What is a certificate?
Earning an Ivy League certificate from Penn LPS Online can have an immediate positive impact on your personal and professional life. Certificates are short programs designed to enhance your skills within a specific area of study so you can advance your career, transition to a new field, or explore personal interests. At Penn LPS Online, courses in the certificate programs are designed to help you develop a skill set with a practical, creative, or professional application. These credentials are ideal if you're looking for a way to enhance your education without spending the time and money involved in completing a bachelor's degree—or if you already have a degree.
How can a certificate enhance my career?
When you enroll in a certificate program, not only will you expand your expertise, you will also show current or future employers that you're committed to personal and professional development. And by continuing your education and expanding your skills and knowledge, you may also gain a competitive advantage in your field.
Read on to explore the many ways that earning a certificate can help you enhance your career and your life.
Enrich your earning potential. An obvious benefit to growing your skill set with a Penn LPS Online certificate is that it could help improve your earning potential by increasing the likelihood that an employer will invest in your salary. According to the Bureau of Labor Statistics (BLS), the median weekly earnings for workers who have earned some college credit is $899, compared with $809 for those with just a high school diploma.1 And, if you've already earned a bachelor's degree but you're looking to obtain additional specialized training to justify a promotion or enhance your qualifications for a new, higher-paying position, a certificate program could help.
For example, technological fluency is integral to effective communication and is a skill that is highly sought after by today's employers. In the Certificate in Digital Strategies and Culture at Penn LPS Online, you will develop skills as a thoughtful consumer, designer, and creator of multimedia information content. As you learn innovative approaches for solving complex problems—including how to interpret and analyze data—you'll also gain skills for designing and managing engaging digital content and proficiency in using and reading coding languages. All of these abilities can increase your perceived value as an employee.
Improve your job security. With record-breaking rates of inflation impacting so many people across the globe, it makes sense that you would want to take steps to help reduce the likelihood that you will lose your job while increasing the likelihood you will attract employers if the worst-case scenario does arise. According to BLS data, the unemployment rate for those with just a high school diploma is 6.2% but it's only 5.5% for those with some college credit.1 For many organizations, a desirable employee is exemplified by someone who is committed to continuously upgrading their knowledge, skills, and credentials in their respective field. What better way to illustrate this quality than by upgrading your professional expertise and earning a certificate?
In today's diverse workplaces, the ability to effectively manage complex interpersonal relationships in teams, corporations, and other organizations is a critical skill. In the Certificate in Organizational Anthropology at Penn LPS Online, you'll learn research-based strategies to develop and reinforce organizational culture and create stronger-functioning and better-performing groups. With this credential, you'll examine social and cultural influences on teams and apply theory to foster diversity and inclusivity. You'll learn to identify the factors that support effective communication in virtual environments to help promote better collaboration.
Become more competitive in the workforce. The more you can equip yourself with knowledge and training that gives you an edge over other job candidates, the better. And earning the right certificate from Penn LPS Online can help you stay up to date on career skills, strategies, and trends in your field to differentiate yourself from other professionals. By enhancing your credentials, you also demonstrate to potential employers your commitment to continuing education and willingness to take the necessary steps to remain relevant and proactive in your industry. Additionally, when you earn your certificate at an Ivy League institution, it may demonstrate a deeper level of credibility and prestige in the eyes of hiring managers or your supervisor.
If you're looking for a certificate program that can build or revise in-demand skill sets to help you move your career forward, the Upskill Certificate at Penn LPS Online could be your answer. That's because you have the flexibility to customize this certificate to align with your career ambitions and the specific abilities you want to hone—which may include improving your verbal and written communication skills, developing your distinct leadership style, learning how to use quantitative and qualitative data to solve problems, or increasing your understanding of workplace dynamics.
Increase your job satisfaction. If achieving job satisfaction feels like an elusive undertaking, you're not alone. There are many different factors that play a part in feeling satisfied in your career, including achieving a sense of autonomy in your role, having opportunities for advancement, working in an environment that is flexible and equitable, experiencing positive and healthy relationships with colleagues and managers, and being fairly compensated with salary, benefits, and vacation time. But another key factor to consider is feeling that your work has meaning and aligns with your passions or interests (often one complements the other). Completing a certificate can help you seek job opportunities that incorporate skills or subjects you enjoy.
For example, if you work in marketing and have always loved writing but haven't had a chance to pursue it, then the Certificate in Creative Writing program is a way to indulge your passion while building valuable skills that you can use in your career. This collaborative workshop-style program is designed to help you explore new concepts, develop new writing tools, and release your creativity. Through hands-on courses in fiction, poetry, innovative nonfiction, and screenwriting, you'll have the opportunity to work on and revise your own original writing with feedback from your peers and instructors. And you'll explore creative writing as a form of critical thinking as you become an expert in the strengths and subtleties of language.
How can a certificate enhance my life?
Now that you've explored the many career benefits of earning a certificate at Penn LPS Online, it's time to consider how enhancing your education can also benefit your personal life. Going back to school as an adult can feel daunting, particularly with the family and work responsibilities you're likely already balancing. The good news is that earning your certificate online can provide the flexibility to integrate your studies more seamlessly into your busy life. It's also important to keep in mind that investing in your learning means investing in your personal development, well-being, and happiness. That makes it all the more worthwhile.
Boost your self-confidence. When you set a goal to proactively build your skills and knowledge and do what it takes to make that happen, a wonderful side-effect is that it can increase your self-confidence. In addition to obtaining valuable skills—including time management, critical thinking, teamwork, and communication—earning your certificate can be empowering because it equips you to rise to challenges, overcome adversity, and believe in your capabilities and worth. If you're interested in pursuing a credential that can help you make more informed decisions and succeed in your day-to-day life, you may want to look into the Certificate in Data Analytics at Penn LPS Online. Not only will you learn how to analyze and use data to solve real-world problems and understand advanced predictive modeling, but you'll also discover how to design experiments and A/B tests to troubleshoot solutions.
Become a positive role model. Whether you are a parent, an aunt or uncle, a manager, or an employee, when you enhance your education, it will emphasize to others the importance and value that you place on learning. That can prove to be inspirational in your inner circle, your social circle, and beyond. You never know how your commitment to self-improvement through returning to school will be the impetus for others to take a leap and focus on bettering themselves through education, too. If making a positive impact is a priority for you, you may want to consider the Certificate in Applied Positive Psychology at Penn LPS Online. In this program, you'll learn proven tools and strategies that support personal, organizational, and community well-being. As you explore the theories, research, and activities that support human flourishing, you'll also focus on ways to apply them to your loved ones and yourself.
Develop your character. There's no question that earning your certificate takes motivation, dedication, and determination to succeed. But it's important to note that throughout your educational experience at Penn LPS Online, you'll also have the opportunity to develop positive interpersonal, intellectual, and emotional traits that can be invaluable to your personal life. These include, but are not limited to, empathy, reliability, innovation, conscientiousness, resilience, and optimism. For example, the Certificate in Social Difference, Diversity, Equity, and Inclusion is designed to equip you with the tools to evaluate complex social issues such as systemic racism, sexism, queerphobia, and xenophobia; understand the tacit norms and unconscious biases that reinforce inequality and marginalization; and implement strategies to effect meaningful change that supports equity, inclusion, and equality in your work and community.
Build your leadership skills. Although it's easy to view the value of leadership through a professional lens, being a strong leader can also help you be more successful in your everyday life. At the heart of it, leadership is about inspiring others (including yourself) to accomplish something great. Whether that involves helping your friend to leave an unhealthy relationship, encouraging your daughter to try out for varsity soccer, or working up the courage to ask for a promotion, effective leadership can be transformative. In the Certificate in Leadership and Communication at Penn LPS Online, you'll obtain a set of professional, communication, and critical thinking skills to help you leverage your strengths and meet your goals. As you identify and develop your distinct leadership skills and traits, explore the nuances of ethical leadership, and learn how to use data to make decisions, you'll also learn how to communicate more effectively in personal and professional contexts.
Are you ready to enhance your career and your life?
The certificate programs at Penn LPS Online offer flexible, accelerated, 8-week course schedules that are ideally suited for working professionals. Whether you already have a high school diploma, previous college credit, or a degree, you'll benefit from an Ivy League experience that meets you on your schedule, wherever you are. If you complete your basic certificate but are eager to learn more, you can also choose to add additional courses and further enhance your qualifications with an advanced certificate. Regardless of the program that you choose to pursue, you can be satisfied in knowing that you're taking a step toward living up to your full potential.
Enrollment for certificates is open year-round. If you want to know more, watch this virtual information session to learn more about the certificates, the online learning experience, and the open enrollment process at Penn LPS Online.
Sources
1https://www.bls.gov/emp/chart-unemployment-earnings-education.htm