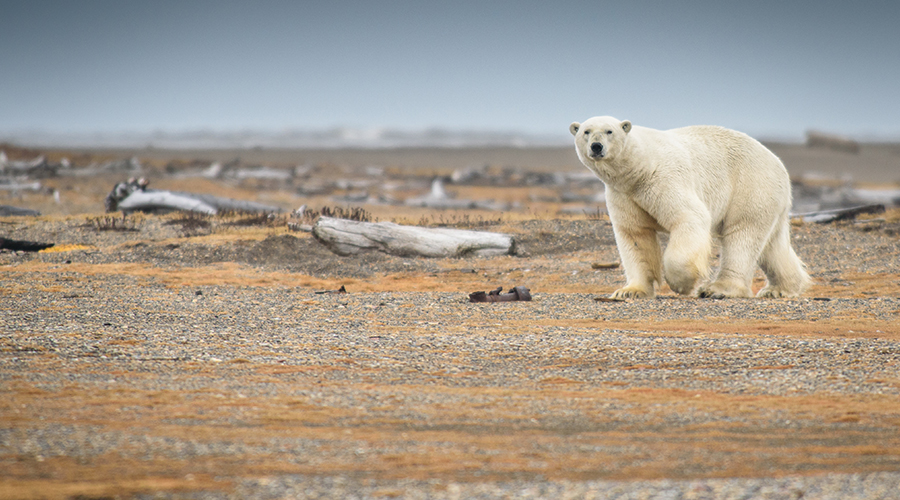 Although climate change can be a controversial topic, it remains an important issue that poses a threat to human, economic, and environmental well-being across the globe. Whether you're looking to pursue a career that is related to sustainability, you want to gain the knowledge to help your organization become "more green," or you're simply interested in learning more about the science, the Certificate in Climate Change at Penn LPS Online sets you up for success.
In this 4-course online program, you gain an understanding of the Earth's climate system and explore the natural and human drivers of environmental change over time. Additionally, the Certificate in Climate Change prepares you to learn basic atmospheric and oceanic dynamics so you can understand fundamental climate processes, use benchmarks to assess humans' impact on climate change, and discover how to analyze global and regional long-term climate variability.
At Penn LPS Online you don't have to worry about juggling work and family responsibilities with a certificate program. Developed with accessibility and flexibility in mind, the multimedia course sites in the Canvas learning management system make it easy to access your materials, complete your assignments, and interact with your peers and instructors where and when it works best for you. You can complete the entire Certificate in Climate Change in less than a year by enrolling in just one course per term.
Read on for 5 compelling reasons to earn your Certificate in Climate Change at Penn LPS Online:
1. Broaden your career opportunities
A major benefit to enrolling in the Certificate in Climate Change at Penn LPS Online is that it serves as an excellent introduction to the field, particularly if you're considering an environmental science (or related) degree but you're not ready to commit fully. Climate change impacts many businesses on a global scale, and gaining a nuanced understanding of it provides a competitive advantage that helps differentiate you from other candidates in the job market.
The skills that you obtain in this program—such as the ability to understand, prepare, and mitigate the consequences of climate change—can be applied in career paths like environmental research and science, land conservation and management, state and local community planning, and government policymaking. Should you decide to further your education with a related degree program, you may have opportunities to pursue exciting career options such as:
Environmental specialist: Use your expertise in natural sciences to protect the environment and human health by cleaning up polluted areas, advising government policymakers, or collaborating with companies to reduce waste.
Environmental protection technician: Monitor the environment and investigate sources of soil and groundwater pollution contamination that could have adverse effects on public health. The BLS reports that by 2030, jobs for the position will grow 11%, which is faster than the average for all occupations.1
Natural sciences manager: Oversee the work of scientists, including biologists, chemists, and physicists, and manage activities related to research and development, quality control, and production.
For all three of the positions mentioned, 25% of professionals work in management, scientific, and technical consulting services. The remaining workers are employed by state and local government (excluding education and hospitals), testing laboratories, engineering services, and the federal government.2
2. Obtain an overview of the science of climate change
If you want to gain an introductory understanding of oceanography, atmospheric science, and the processes behind climate change so you can affect real-world policy actions, then this is the Penn LPS Online certificate program for you.
In CLCH 1600: Oceanography, you obtain an overview of the major areas of oceanography including marine geology, marine chemistry, and physical oceanography. The course also explores themes including marine provinces, plate tectonics and ocean disruptions, seawater chemistry, marine sediments, renewable ocean energy, and air-sea interactions and ocean circulation as they relate to climate change.
Atmospheric science encompasses many factors, including the prediction of weather and climate change and the resulting impacts. In CLCH 2200: Atmospheric Science, you explore the fundamentals of atmospheric science including the nature and composition of the atmosphere, its interactions with the rest of the Earth, and chemical processes that control the prevalence of atmospheric air pollutants such as greenhouses gases, acid rain, and urban smog.
The course CLCH 2300: Climate Change investigates the science behind climate change. You examine the cryosphere (the areas of the world where water is completely frozen), what we know about past climate, and how and why scientists believe that it has altered. You also critique different climate models as you explore current evidence for climate change including rising sea levels, disappearing glacier mass, and changing weather systems.
And in CLCH 3100: Global Environmental Issues, you explore the underlying causes of eight environmental issues comprising wildfires, deforestation, plastics in the ocean, and destructive natural disasters. By examining case studies such as the forest fires in the Amazon or the Indonesian mudflow disaster, you become familiar with the current data, economic consequences, human impacts, and potential policy solutions for these problems.
3. Enhance your communication skills
The ability to communicate effectively is valued by employers across virtually every industry. But what if you could differentiate yourself even further by refining your skills to effectively share your understanding of science and its implications on policy? The course CLCH 3000: Communicating Science is an elective in the Certificate in Climate Change at Penn LPS Online that can help you do that—not only for climate science, but in other data-driven and research-oriented fields.
In any profession, it's advantageous to be able to disseminate data in a way that is palatable, concise, and easily understood. This is particularly important if you plan to pursue a green career that involves a role in government, nonprofit, startups, or consulting agencies— or, if your goal is to become an entrepreneur who develops your own sustainable business model.
In this course, you learn how to refine your communication skills to better relate scientific concepts and quantitative data through targeted messaging that serves different audiences, including your colleagues, your clients, or the general public. Prior to enrolling, we recommend that you first complete CLCH 1600: Oceanography, CLCH 2200: Atmospheric Science, and CLCH 2300: Climate Change to provide you with the introductory scientific background to best serve you in this course.
4. Learn the science from the experts
Another key benefit to earning your Certificate in Climate Change is that you learn from distinguished instructors who are experts in their respective fields. For example, Dr. Yvette Bordeaux, director of the Professional Masters Programs in Earth and Environmental Science, teaches courses on climate change and global environmental issues at Penn LPS Online. Yvette's work examines 400+ million years old organisms to determine ocean circulation patterns, water quality, and climate history in regions throughout the world. Her accolades include the Provost's Award for exceptional teaching and the UPCEA Mid-Atlantic Chapter Alexander Charters Outstanding Educator Award.
Maria-Antonia Andrews, associate director of Undergraduate Programs in Earth and Environmental Science, is the instructor for the atmospheric science course in the Certificate in Climate Science at Penn LPS Online. Her professional experience includes applications of analytical air, soil, and water chemistry, as well as multiple aspects of environmental consulting. She also currently serves as a faculty advisor for Penn Engineers Without Borders, where she works with students to help improve sanitation and access to water in rural Guatemala.
Dr. Jane Dmochowski, senior lecturer in Earth and Environmental Science, instructs the oceanography course for the Certificate in Climate Change. Her past research in earth science spans everything from paleomagnetism, earthquakes, marine seismology, and plate tectonics to global seismology. Jane's current research is focused on using remote sensing imagery to investigate how climate change affects vegetation.
Finally, senior instructional technology project leader in the School of Arts and Sciences (SAS) and lecturer in SAS and LPS, Dr. Elizabeth C. Scheyder, is at the helm of the science communication course at Penn LPS Online. Her credentials include a BSE in systems, an MEng in industrial engineering, an MSEd in teaching English to speakers of other languages, and a PhD in educational linguistics. In 2009, Elizabeth was named a Turning Technologies Distinguished Educator for her work with TurningPoint audience response systems. She is also a professional licensed engineer.
5. Create change today for a better world tomorrow
When you commit to earning the Certificate in Climate Change at Penn LPS Online, you help contribute to an open dialogue on how to effectively address environmental issues like pollution, deforestation, natural resource depletion, rising sea levels, and global warming. As such, you also participate in the process of finding greener solutions and supporting policies that help create a safer and more sustainable environment for future generations.
Not only can you help advance your career when you complete this certificate, you also build the knowledge and rhetorical ability to help convince others of the importance of addressing climate change before its effects are irreversible. You will be able to share this passion and knowledge with everyone in your personal and professional life, whether that involves friends, family, and neighbors—or employers, clients, and members of Congress. If you're interested in embarking on a path towards making meaningful change in the world, this is the route to take.
Ready to make a difference?
Learn more about what climate change is and what we can do about it. You can also start your online application at Penn LPS Online now or browse the course guide to see what's available in any upcoming term.
Sources
1https://www.bls.gov/ooh/life-physical-and-social-science/environmental-science-and-protection-technicians.htm#tab-1
2https://www.bls.gov/ooh/life-physical-and-social-science/environmental-scientists-and-specialists.htm#tab-3