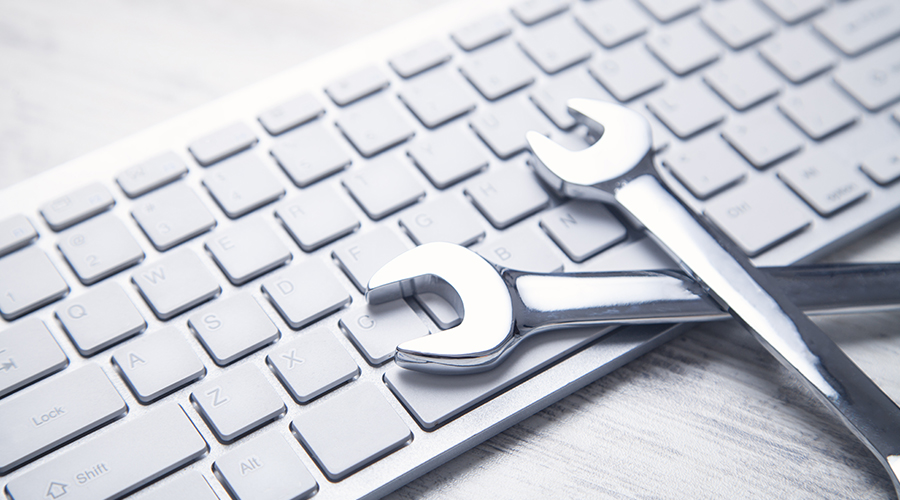 Since the emergence of COVID-19 in 2020, the modern workforce has seen a dramatic shift from physical office spaces to fully remote or hybrid work environments. Many employers were surprised to find that when their employees enjoyed greater flexibility, including the ability—or in this case, the necessity—to work from home, their productivity levels remained high. According to 2021 survey results from PwC, more than half of 1,200 workers said they would prefer to work from home at least three days a week, while 68% of 133 executives felt employees should be in the office at least three days a week to maintain a strong company culture.
Hybrid environments can provide an ideal balance between remote and in-person work to help meet the needs of both employees and organizations. When employees have more control over their schedules and a better work-life balance, they tend to experience greater morale, job satisfaction, and engagement. High-performing employees can result in real gains for employers in terms of efficiency, productivity, and profit. However, successful virtual and hybrid work cultures require a strong foundation that includes effective organization, clear communication, and robust technology—and that's where virtual collaboration tools come in.
Read on to explore 10 collaboration tools for virtual teams that help consultants, startups, and large organizations manage projects, communicate with team members and clients, and boost productivity.
1. Slack
Slack is a virtual collaboration tool that touts itself as a "digital HQ" to enhance teamwork, communication, and organization. Users can chat privately in real time, send audio or video clips, or create live "huddle" conversations. Slack channels allow people across departments, locations, and time zones (or other companies) to connect, monitor progress, and ensure that all parties are aligned on projects. Because the conversations and files in Slack channels are fully searchable, individuals or teams can get quick answers and make decisions without necessitating needless meetings or conversations. Routine workflow tasks such as sharing updates or getting approvals can also be automated to save time and streamline organizational processes.
2. Zoom
During the rise of virtual and hybrid work environments due to the pandemic, Zoom became the popular standard for video conferencing tools. The company has added new features to create a unified communication and collaboration platform that allows for virtual meetings, team chats, phone calls, online whiteboards, workspace reservations, and conversation intelligence insights to enhance productivity. Zoom offers tiered pricing plans to meet the needs of different users. The free option, which includes 40 minutes of video conferencing per meeting up to 100 attendees, is ideal for freelancers; the Enterprise plan, which includes 30 hours per meeting and 1000 attendees, is well-suited for the needs of larger organizations.
3. Trello
Another well-known collaboration tool for virtual teams, Trello is also one of the most widely used project management systems. This productivity system allows users to set up boards to keep projects organized, lists to build custom workflows, and cards that include assignment details, assigned team members, and due dates. Not only can Trello be used for project and task management, but it can also as serve as an editorial calendar, brainstorming tool, automated meeting planner, or customer relationship management (CRM) tool for sales teams. Trello can integrate with other collaboration software, including Slack, Google Drive, Microsoft Teams, and Confluence.
4. Google Drive
If you have a Gmail address, you're likely already familiar with Google Drive. This digital file management service allows remote employees or clients across multiple locations to safely share files and folders and collaborate from any mobile device, tablet, or desktop computer. Once users are given access to documents, videos, and photos stored on the drive, they can be given permission to view, edit, or leave comments. Cloud-native Google Drive offers built-in protection against spam, malware, and ransomware and allows for collaboration in Microsoft Office .docs without the need to convert file formats. As such, it's an ideal option for virtual consultants or small start-ups who can take advantage of the free plan.
5. Asana
According to its website, Asana is the #1 software in project and product management. This collaboration tool is designed to make it easy for marketing, operations, IT, product, and sales teams to track their work against company goals. Users can create lists to organize, assign and prioritize tasks, create work map timelines for scheduling, and track and define each stage of projects through boards. Depending on the pricing plan, team members can take advantage of automation to reduce bottlenecks and inefficiencies, a workflow builder to streamline processes in one single place, and real-time data on project progress and productivity. Asana also easily integrates with over 200 apps and tools, including Microsoft Teams, Slack, Adobe Creative Cloud, and Vimeo.
6. Microsoft Teams
Microsoft Teams offers a comprehensive platform that includes video conferencing and webinars for virtual meetings or events, team calls and voicemail, one-on-one or group chat functions, and collaboration tools, including channels, file storage, and sharing and editing through Microsoft Word, Excel, and PowerPoint. Exact features vary by pricing plan, but the free version is ideal for users who already have a license or subscription for Microsoft 365. The Business Premium plan, which includes advanced security, access and data control, and cyberthreat protection, is ideal for companies looking to safeguard sensitive client information. Teams also integrates with a wide variety of project management and virtual collaboration tools, including Asana, Trello, and Salesforce.
7. Jira
Jira is an in-depth work management suite that supports project planning, collaboration, and development—and includes several different products tailored to specific audiences. For example, Jira Software was created to help software development teams plan, track bugs, QA test, and deliver products. Jira Work Management is a collaboration tool designed to break down silos for portfolio managers, executives, product managers, and product delivery teams. Meanwhile, Jira Service Management enables IT, Dev, and Ops teams to respond to customer requests quickly and easily, service incidents, and make changes. Jira Service Management is well-suited to business, marketing, human resources, and finance professionals who require project management and workflow approvals for non-technical team projects.
8. Dropbox
Dropbox was one of the first virtual collaboration tools for file sharing and cloud storage, and it now boasts over 700 million registered users. A key benefit to this product is the ability to safely store backups, photo libraries, and thousands of documents all in one place. Dropbox Basic is a great choice for consultants who are just starting out, as it offers 2 GB of cloud storage that can be accessed and shared from any device for free. For businesses that work with multiple clients and employees, Dropbox Professional includes a suite of productivity and sharing tools and 3,000 GB of space. Finally, Dropbox Sign makes it easy to prepare, send, e-sign, and track documents with legally binding signatures.
9. Monday.com
Monday.com is a work operating system that allows hybrid teams to track their productivity and manage timelines from a unified visual platform. Business owners and managers can build custom virtual collaboration tools—without coding—that align with their needs, including project management, CRM and sales, software development, marketing, operations, creative and design, HR and recruitment, or IT. Capabilities include downloading pre-designed templates, automating data entry and workflows, assigning new tasks to team members, and viewing projects in calendar mode to ensure timelines are on track. Monday.com integrates with over 40 different types of collaboration software, including Microsoft Teams, Slack, Google Drive, and Salesforce.
10. Nectar
Nectar is an employee recognition and rewards platform designed to enhance collaboration, promote core company values, and create strong virtual and hybrid work cultures. A lack of recognition is a key driver of employer turnover, and Nectar allows managers and HR teams to recognize hard work, drive employee engagement, and boost morale. Users can send a "shoutout" or give points to team members, which can be redeemed for rewards, including company-branded products, charitable donations, and digital gift cards. Nectar also integrates with human resources information systems (HRIS) to automatically flag and celebrate employee birthdays and work anniversaries. Users can create custom team challenges, such as employee wellness initiatives, continued learning courses, or other team-building activities to get employees involved.
Enhance your virtual collaboration and interpersonal skills at Penn LPS Online
If you're interested in learning skills to help you excel in remote and hybrid work environments, an excellent place to start is ORGC 2010: Virtual Collaboration. In this Ivy League course, you'll investigate the relationship between tools, technologies, and human factors associated with the cultural and social frameworks that support effective collaboration in this digitally interconnected world. You'll hear from guests who share the experiences and best practices that have helped their virtual teams and operations to thrive.
Whether you're working in a virtual, hybrid, or in-person environment, the ability to effectively manage interpersonal relationships and promote collaboration is highly valued by today's employers. In the Certificate in Organizational Anthropology at Penn LPS Online, you'll increase your understanding of how teams, corporations, and organizations create and reinforce culture to produce better functioning groups. Starting with anthropological research, you'll explore different theories of organizational culture and learn strategies for influencing change in digital workplaces. This four-course program prepares you to:
Explore the local, regional, national, and global effects that modern corporations have on their surrounding environments
Examine underlying social and cultural influences on diverse teams, and learn how to foster diversity and create inclusive work cultures
Identify the factors that support effective communication in virtual workplaces, and apply social science research to enhance collaborative relationships
If you want to enhance your interpersonal skills and your qualifications by earning your degree, then look no further than the Organizational Studies concentration for the Bachelor of Applied Arts and Sciences (BAAS) program. Through integrated practical courses in writing, speaking, and group dynamics, you'll develop the expertise to build and work effectively in diverse teams in physical and virtual professional environments. You'll learn how to identify communication goals, understand your audience, and adapt your messaging to optimize your outcome. The BAAS in Organizational Studies prepares you to:
Apply approaches that support your personal and professional development
Implement positive psychology strategies into personal and professional settings
Develop empathic and analytical skills to build upon other viewpoints and boost employee engagement
Obtain effective rhetorical strategies and skills to persuade audiences through visual, written, and multimedia communication
Understand how to make complex information accessible through effective visualization and messaging on social media and other platforms
Recognize underlying social and cultural influences on diverse teams and learn how to apply theory to create inclusive cultures
The ability to understand cultural dynamics within organizations and communicate clearly and concisely across teams can be applied to various roles, including management consultant, reporter and correspondent, communications officer, human resource manager, and project manager. The skills you learn in the BAAS in Organizational Studies can also be valuable if you aspire to become an entrepreneur or use your new-found expertise to pursue a leadership position with your current organization.

If you haven't already, apply to Penn LPS Online today and enroll in the Certificate in Organizational Anthropology or the Concentration in Organizational Studies for the Bachelor of Applied Arts and Sciences degree. You can also enroll in individual courses, such as ORGC 2010: Virtual Collaboration, or view our course guide to see what's available in any upcoming term.