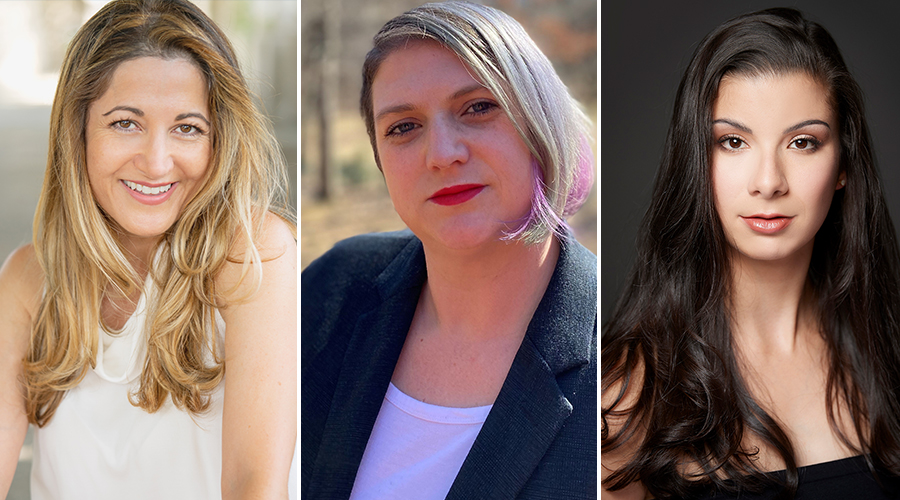 Bachelor of Applied Arts and Sciences (BAAS) students all take their own unique path to Penn. Most are working adults from a variety of professional backgrounds; some are new in their careers, while others are preparing to advance or pivot to a new field. What they all have in common is their curiosity, passion for learning, and ambition. "Finishing my bachelor's degree was a personal goal," says Rebecca McDow (BAAS `21, Literature, Culture, and Tradition). Rebecca joined the Army right out of high school, and went on to build a career in the Department of Justice and start a family. After pursuing her bachelor's degree at Penn, she says, "I'm now the first college graduate in my family."
Chelar Vale (BAAS `22, Creative Studies) also prioritized her family and her career in the entertainment industry before completing her college education, but she knew she was ready to return when she took her son to his college orientation. "I was on that journey with him thinking, 'I want to be a student again!'" recalls Chelar. "It inspired me to go back and get my bachelor's degree." Halle Sherman (BAAS `22, Physical and Life Sciences) was nineteen and early in her ballet career when she began her undergraduate career, but her demanding schedule meant that a flexible schedule and innovative approach to college was important. "When I got the job that I wanted, I knew the next thing I wanted to do was go to Penn," she recalls.
Read on to learn more about these three remarkable BAAS graduates, and discover how this innovative online degree helped them achieve their academic dreams. 
Experience the advantages of being an adult learner
The Bachelor of Applied Arts and Sciences welcomes students from a variety of life stages—from recent high school graduates to adults with years of working experience. For Chelar, having experience in both creative and administrative fields was actually an advantage as she met the challenges of an Ivy League classroom.  "It's been a completely different experience returning to college for me," she reflects. "Having learned and evolved through the years, my comprehension of the curriculum is much more profound than when I was young." Using video conferencing software and online discussion boards, Chelar was able to connect and learn alongside students from all walks of life. "Being a student has nothing to do with age," she adds. "We're no different than the exceptional young kids entering college immediately after high school. And I've learned it's never too late to take that leap and go after something you have passion for."
Though Rebecca had some hesitancy returning as an older student, she quickly realized her classmates were largely also working professionals coming back to school, and that brought value. "Adult learners ask different questions than students who are coming right out of high school, and we tend to want to make the education match the real-world experiences we've had at work or in life in general," she reflects. "And so, the conversations we had in class were a lot deeper than I think it would have been had we all been straight out of high school."
Dive into robust, interactive online learning–on your schedule
Adult students juggling careers and personal responsibilities can't always accommodate an on-campus experience. Penn LPS Online is designed to bring the Penn tradition of educational excellence to all learners, offering immersive, interactive experiences and dynamic multimedia assignments. "I prefer Zoom classes over sitting in a classroom, because we're all looking right at each other," says Chelar. "You can't be on your phone or focusing on something else. It's very engaging, and you can get so much out of it."
Halle began her studies at Penn as an on-campus student, but then she moved to another state–which limited her course schedule to the summer terms. The online Bachelor of Applied Arts and Sciences gave her the opportunity to continue her education without commuting to campus. "I thought, this is exactly what I need," she reflects. "I was homeschooled, so I knew it would be a familiar format—all the expectations and the deadlines and the interactions, without having to be all together in one place. And I could accomplish everything I wanted much faster." The flexibility allowed her to balance schoolwork with her demanding schedule as a company dancer with Huntsville Ballet and an educator for a program called Discover Dance. Typically in the studio six days a week, Halle completed her coursework on her days off or during short breaks between daytime practice and evening rehearsals.
As for Rebecca, she knew she wanted an online program that offered the flexibility to fit her personal and professional life. From the quality of support to the course delivery to the breadth of classes offered, Rebecca was impressed. "I found the online program to be just as robust as an in-person program. You're able to build relationships with your professors just as much as you could in a physical classroom," she says. "My advisor was always available. She helped me plan out my courses and made sure that I had everything I needed. I never felt like I was alone or lost in the education process; I always knew what the next step was."
When she encountered a challenging statistics course, Rebecca took advantage of online tutoring services. And Penn's user-friendly online learning platform, Canvas, helped her smoothly navigate each class. "I liked the course interface because it was clear where everything was—your syllabus, your to-dos, assignment due dates; overall it was just easy to use and rather intuitive."
Become a part of a vibrant intellectual community
If you're a Bachelor of Applied Arts and Sciences student, you're a Penn student. When Chelar was weighing her options for completing her bachelor's degree, it was important to her that adult learners would be treated the same as traditional on-campus undergraduates. She recalls asking the Penn LPS Online program team how her diploma would look (it says "University of Pennsylvania") and whether she could walk in a graduation ceremony (definitely!). "I think it's important! Graduation is a celebration of all the work that you did," says Chelar.
"I had a great experience at Penn," Rebecca recalls. The Penn LPS Online students, she found, supported one another. "For each class, it felt like we were a group and we could reach out to each other and help each other."
"I've grown up with and through Penn," concludes Halle. "I walk on campus and I feel at home. Even though I haven't been attending classes on campus, I fit right in, because I can take away the knowledge Penn has given me and take it somewhere else. The confidence that I've gained in my personal and professional life have translated into confidence throughout my education."
Wherever you are, whatever you want to do, the BAAS degree is designed to help you realize your personal, professional, and academic dreams. Our classrooms are richer for the insight, experience, and passion that our students bring from all over the world.
For more stories from the Bachelor of Applied Arts and Sciences Class of 2022, visit the Penn LPS Online feature "Bachelor of Applied Arts and Sciences students shine in the first annual Senior Colloquium," and meet some of our past BAAS graduates in the feature "How our recent graduates put their applied bachelor's degrees to work."