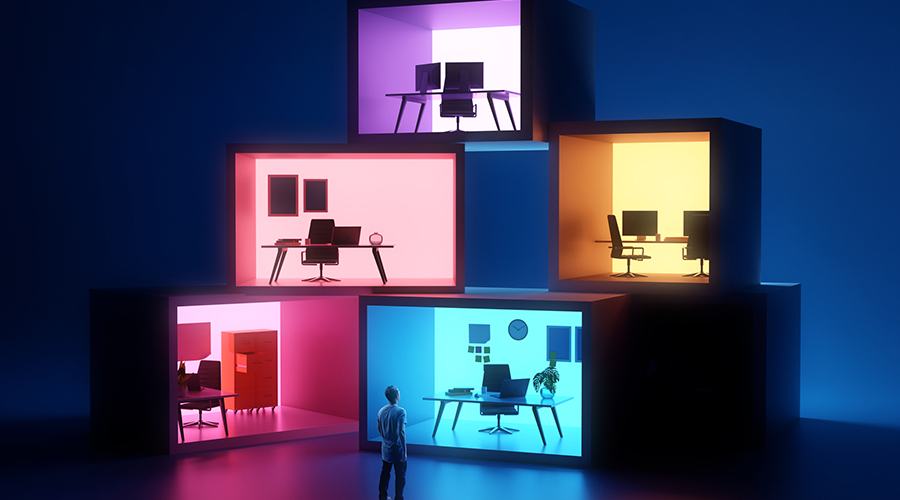 Are you ready to take the leap and pursue a career as a writer? If so, adding a Certificate in Professional Writing from Penn LPS Online to your bachelor's degree—or earning the certificate independently—could be an ideal strategy to employ. This Ivy League program is designed to enrich your business writing and communication abilities with proven strategies to help you excel in your career. And according to data from the Bureau of Labor Statistics (BLS), media and communications jobs are expected to grow by 14% by 2030, which is much higher than the average for all occupations.1
The courses that comprise the Certificate in Professional Writing provide you with an accelerated understanding of the art of communication—as well as time-tested tips to make you an expert in grammar, concision, and clarity. Whether you're an experienced writer ready to take your career to the next level or you're new to the field and eager to enhance your skills, you'll benefit from professional expertise and extensive feedback on your writing. You'll also learn how to integrate your personal or corporate brand's story into communications and explore innovative means to identify and appeal to your target audiences.
Read on to explore six exciting careers you can pursue once you obtain the Certificate in Professional Writing from Penn LPS Online.
1. Author
Pursuing a career as an author provides an opportunity to leverage your creativity, follow your passion, and implement the rhetorical skills you'll learn in the Certificate in Professional Writing. Whether you decide to author poetry, prose, short stories, novels, plays, or movie and television scripts depends on your interests, talents, and opportunities. For example, you may start off authoring short stories that you submit to literary magazines, then venture into becoming a novelist who explores romance, thrillers, or science fiction; or you may use your knowledge of specific genres to specialize in nonfiction and delve into history, biographies, journalism, travel, or self-help.
Approximately 68% of authors are self-employed, and in-house jobs are often concentrated in major media markets such as New York, California, and Washington, DC, though this is changing due to the increasing prevalence of remote-work options.2 If you choose self-employment, you may sell your work to book and magazine publishers, news organizations, marketing agencies, or music, movie, theater, and television producers.
Becoming an author requires a lot of imagination, confidence in your abilities, and patience, but it's a career path that can be extremely rewarding. If this sounds appealing to you, PROW 1000: Fundamentals of Professional Writing in the Certificate in Professional Writing at Penn LPS Online is the perfect place to start. In this course, you'll work on targeted exercises to improve your grammar, clarity, precision, and persuasiveness. A great follow-up is PROW 1020: The Elements of Style: Grammar, Usage, and Mechanics, which explores how to harness your power as a writer by using grammar and mechanics to compose effortless prose that makes it impossible for the reader to put down your work.
2. Technical writer
After earning your Professional Writing Certificate, consider pursuing a role as a technical writer. Also called technical communicators, these writers create how-to guides, instruction manuals, FAQ pages, and other works to detail complex technical information in a way that is easily understandable. These documents are generally written to help consumers, technical support staff, and other users within a particular company or industry. As a technical writer, you may also be responsible for incorporating animations, illustrations, videos, or graphs into projects to help users better comprehend the material.
Depending on your employer, as a technical writer, you may work with computer hardware engineers and support specialists or software developers to help conduct usability studies to improve product design during development and testing. You may also help write grant proposals for research scientists and institutions. According to the BLS, job openings for technical writers are expected to grow 12% by 2030, which is faster than the average for all occupations.3
If you're interested in technical writing, consider PROW 2010: Designing Effective Presentations. This course introduces you to the primary applications used to build engaging, persuasive presentations—including Keynote, PowerPoint, and Google Slides—as you refine your writing practice. You'll become familiar with basic presentation formats, including pre-recorded narration, live group delivery, and corporate website slides that provide detailed product or organizational information. Throughout this class, you'll discover how to tailor your presentations to suit your target audience, understand and implement information hierarchies, and explore the design elements of building decks, including space, grids, fonts, images, and animation.
3. Copywriter
If you have an interest in marketing, and a way with words, consider pursuing a copywriting career after you complete your certificate. The goal of a copywriter's work is to create communications that influence behavior, which includes generating leads, increasing sales, and building brand awareness for a business or organization. This may manifest in the form of website copy, advertisements, video and audio scripts, marketing emails, product descriptions, articles, or social media posts. To be a successful copywriter, you need to be able to capture different tones of voice in your writing to align with differing brands.
According to the BLS, the demand for media and communication writers (which includes copywriters) is projected to increase by 11% between 2020 and 2030, faster than the average for all occupations.4 As a copywriter you may pursue in-house roles with companies or marketing agencies or choose to be self-employed as a freelancer. You may also specialize in writing for a specific industry or niche—or in an aspect of copywriting such as business-to-business (B2B), business-to-consumer (B2C), direct response, product, email marketing, or search-engine-optimization (SEO).
Being able to effectively tell the story of a brand, product, or organization is integral to effective copywriting. In PROW 3010: The Power of Storytelling, you learn how to use storytelling as a powerful rhetorical strategy to generate emotional appeal in your target audience. You will also explore how to employ the art of storytelling to convey complex information, as a research tool for evidence gathering, to communicate brand identity, and as a mode of persuasion.
4. Freelance blogger
If you're interested in expressing your creativity by writing about a topic or field that you're passionate about, a career as a freelance blogger could be a good fit. Depending on your experience and interests, you may decide to specialize in writing about subjects like travel, lifestyle, fashion, fitness, entertainment, business, sports, or technology. However, whatever you choose to blog about, it is imperative that you present a unique perspective in your work to differentiate your writing and attract readers, subscribers, or clients.
Once you've identified your niche, you'll need to research your target audience so that you can develop content that appeals to them in an engaging way. One of the most difficult parts of freelance blogging can be continuously producing unique, relevant, and impactful posts. Some strategies you can employ to help increase the chances your blog will be successful include:
Monitoring the latest headlines and trends for ideas
Creating and sticking to an editorial calendar
Ensuring that your blog is properly tagged and optimized for search
Repurposing your content into other forms such as video or podcasts
Promoting your blogs on social media
Partnering with other bloggers or with advertisers
To make a career out of blogging, you may take on clients who want to enlist your services for their own content sites. In PROW 4010: Composing a Professional Identity, you'll focus on building the skills to successfully market your talents and abilities. This writing-intensive course covers key means of constructing your career identity including cover letters, resumes, LinkedIn and other social media profiles, and online portfolios. As you develop a polished professional profile in the classroom, you will also enhance your rhetorical fluency as it pertains to job searching, networking, and advancing your career.
5. Fundraising consultant
Are you passionate about advocacy? Use the skills you build in the Certificate in Professional Writing to help raise funds for nonprofit organizations such as educational institutions, social service groups, religious organizations, and political campaigns. Fundraisers are tasked with engaging and growing a network of charitable donors to raise money for a particular cause or business. This may involve planning and overseeing strategy for campaigns and events, researching past and potential donors, and helping to create promotional materials that increase awareness of an organization's goals, work, and financial needs.
In some cases, fundraising consultants may also be responsible for writing speeches, talking points, or press releases on behalf of key executives in nonprofits, businesses, or political groups. Speechwriters must be capable of creating communications that motivate, engage, and persuade potential donors or supporters on an emotional level. According to the BLS, employment of fundraisers is expected to grow 16% by 2030, which is much faster than the average for all occupations. This amounts to 12,000 projected yearly job openings over the next decade.5
If you're interested in fundraising, explore PROW 2000: Writing with Data. In this course, you will improve your data literacy and learn how to use data to create targeted marketing campaigns, such as those that you would implement as a fundraiser. You'll also learn how to produce and analyze data visualizations, including illustrations, graphs, and tables to help advance social and political causes. As you gain the skills to present data in a way that is more understandable, you'll also build rhetorical skills to articulate the story they tell in a meaningful way.
6. Social media manager
If you're looking for a career where you can put your social media savvy and your writing abilities to good use, consider social media management. In this role, you'll collaborate with your employer's marketing team to create strategies that promote advertising, product launches, and events to build a community of followers, enhance brand loyalty, and generate sales. A significant part of being a social media manager also involves creating compelling content and images to increase user engagement and adapting them across social media platforms like Instagram, Facebook, TikTok, Twitter, and LinkedIn.
As a social media manager, you will likely employ A/B testing and analyze the results to adapt and optimize content across platforms. As the spokesperson for a company or brand's social channels, you may also be responsible for monitoring and responding to follower comments to generate discussions, supporting promotional strategies like paid advertising and influencer marketing initiatives, and creating a social media schedule or calendar.
According to ONET, the projected growth for social media specialists is 15%, which is much faster than average.6 PROW 4000: Writing for Social Media is a course where you can explore how social media campaigns are implemented to build organizational or brand identities to attract customers, interest groups, and followers. You'll also develop the skills to compose strong messaging, build compelling brand stories, and cultivate user loyalty through social media. By the end of this class, you'll have composed a multiplatform portfolio of content to present to potential employers and clients.
Ready to take your writing skills to the next level?
Get started today by browsing the course requirements for the Certificate in Professional Writing at Penn LPS Online, or view our course calendar to see the full range of what's available any upcoming term.
Sources
1 https://www.bls.gov/ooh/media-and-communication/home.htm
2 https://www.bls.gov/ooh/media-and-communication/writers-and-authors.htm#tab-3
3  https://www.bls.gov/ooh/media-and-communication/technical-writers.htm#tab-1
4 https://www.bls.gov/ooh/media-and-communication/writers-and-authors.htm#tab-6
5  https://www.bls.gov/ooh/business-and-financial/fundraisers.htm#tab-1
6  https://www.onetonline.org/link/summary/13-1161.01