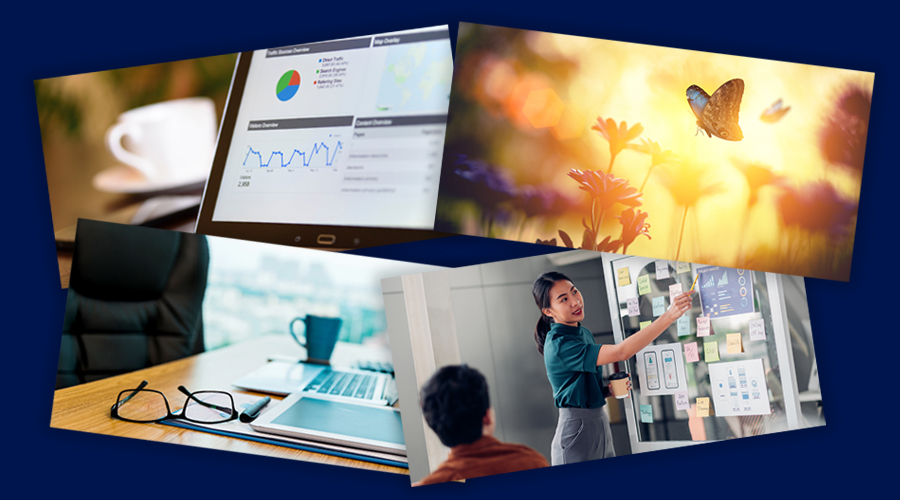 Whether you're interested in enhancing your personal or professional skills, looking to advance or pivot in your career, or you simply want to pursue continued education, earning multiple certificates at Penn LPS Online can be an effective way to reach your goal. Penn LPS Online Ivy League certificates are short programs that include four to six courses focused on a specific skill set or subject area with a practical, creative, or professional application.
A certificate can also be a great option if you're not ready to commit to earning a bachelor's degree—or if you're interested in gaining base knowledge in a new area of interest without investing an extensive amount of time. Penn LPS Online certificate courses are the same ones offered to students enrolled in the Bachelor of Applied Arts and Sciences (BAAS) program. So, you'll have a chance to interact in the virtual classroom with peers who have a range of educational and professional backgrounds.
There is a wide variety of specializations to choose from with Penn LPS Online certificates:
Here are five reasons why earning multiple certificates at Penn LPS Online can be beneficial to your personal and professional development.
1. Get a competitive advantage
A major benefit of pursuing multiple certificates is the ability to gain a unique competitive advantage that can enhance your resume and set you apart from other professionals in your field. In fact, a Pew Research study found that more than half of working adults said it will be essential for them to gain additional training and build new skills throughout their career to keep up with the evolving workplace.1

By earning more than one certificate, you show potential employers that you're committed to enhancing your expertise and that you have the discipline and ambition required to do so. Regardless of the industry you're in, making a concerted effort to ensure your skills and knowledge are current through specialized coursework can be an excellent way to help you excel in your current role or open up new opportunities.
 "I wanted to show that I could write creatively, and I wanted something I could put on my CV—the certificate is something to be proud of."
– Felicia Grable, Penn LPS Online Certificate in Creative Writing '20
When you complete a basic certificate at Penn LPS Online you also have the option to add additional courses to earn advanced credentials, giving you an additional layer of specialization. When you combine this expertise with the added prestige of earning your credentials at an Ivy League institution, you may find that your credibility and marketability to potential employers also increases.
2. Gain skills and knowledge in complementary disciplines
Another key benefit to earning multiple certificates is that it gives you the opportunity to build skills and knowledge in complementary subject areas that align with your career goals. And a certificate is a credential that can offer an immediate impact on your professional life. A survey of working adults without four-year degrees conducted by Strata Education Network, Gallup, and Lumina Foundation2 found:
Respondents who've obtained a certificate report higher levels of marketability, employment, and income (although salary outcomes vary across fields)
Certificate-holders view themselves as more attractive job candidates
Respondents who've earned a certificate are more likely to recommend this credential to their peers than those who've taken an alternate educational path
A pairing of certificates from Penn LPS Online that could make a positive impact across a variety of fields—including marketing, business, management, communications, and research and development—is the Certificate in Data Analytics and Certificate in Professional Writing. In the former, you'll learn how to make data-driven decisions and create data-informed strategy. In the latter, you'll gain a deep understanding of how to write for business in a way that is persuasive, concise, and clear.
The beauty of combining these two certificates is that when you take strong data analysis skills—including the ability to design experiments and A/B tests to solve problems—with excellent communication skills—including the expertise to incorporate a persuasive brand story into written, visual, and multimedia messaging—you end up with a unique and appealing skill set. This complementary expertise could be invaluable when applying for roles including:   
Business analyst
Market researcher
Digital marketer
Product manager
Quality assurance professional
Editor
Fundraising/development consultant
Strategic communications professional
Grant writer
3. Increase your job opportunities
Whether your goal is to advance in your current industry or to transition into a new field, earning multiple certificates could provide additional qualifications to help expand your professional opportunities. The key is to choose programs that allow you to add levels of in-demand specialization to your existing practical experience or to choose certificates that provide the base skills and knowledge in your new career path to help you get your foot in the door.
If you're looking to build relevant skill sets as you progress toward your next career goal, you may want to consider the Upskill Certificate at Penn LPS Online. In this four-course certificate program, you can choose Ivy League courses that specifically align with your professional ambitions as you:
Practice and apply critical thinking skills
Discover how to use quantitative and qualitative data in decision-making
Develop rhetorical strategies and written communication skills to persuade specific audiences
Identify, develop, and apply effective leadership traits and skills
For those who want to upskill or re-skill, this credential corresponds well with the eleven other certificate offerings at Penn LPS Online. For example, if you work in human resources or project management, combining the Upskill Certificate with the Organizational Anthropology Certificate—which helps you learn how to manage relationships within team structures—could be a great fit to help you more effectively appeal to potential employers.
If you're looking to advance up the corporate ladder across virtually any field, combining the Upskill Certificate with a credential in applied positive psychology could be an excellent way to distinguish yourself from other executives. The strategies for well-being explored in the Penn LPS Online Applied Positive Psychology Certificate are designed to help you increase your effectiveness as an employee and a leader; partner with others to build employee engagement; and take a strengths-based approach to your personal and professional development.
4. Choose a flexible alternative to a degree program
Courses in Penn LPS Online certificate programs are offered on an accelerated 8-week schedule. And you can work with your advisor to plan a course of study that allows you to work toward two certificates simultaneously. This approach can be particularly beneficial if you have specific academic goals in mind, such as building expertise in organizational anthropology, but you're unable to put in the time or monetary commitment involved in earning a bachelor's or master's degree.
The key differences between the BAAS degree at Penn LPS Online and the certificates are in the length and scope of studies. In most cases, a bachelor's degree can be completed in four years, but it's possible to complete a Penn LPS Online certificate in less than a year by enrolling in one 8-week course per term. Although certificates are inherently designed to focus narrowly on a specific subject, a Penn LPS Online certificate carries the added benefit of exploring different aspects and nuances in accordance with a liberal arts tradition.
For adult students, balancing work and family while earning multiple certificates can seem like a challenging task. But at Penn LPS Online you'll receive a high-quality Ivy League academic experience with the convenience and flexibility online learning affords. That means you can fit your studies in where and when it works best for you. You'll learn from faculty who are experts in their fields and committed to your success. With dynamic multimedia assignments, discussions, and group work, you'll also have a chance to connect and collaborate with your peers and instructors—in some cases via live Zoom meetings—and get the most out of your virtual classroom experience.
5. Make lifelong learning a priority
Committing to lifelong learning is an empowering way to take control of your personal and professional development. And what better method to solidify that commitment and position yourself for success than by earning multiple certificates from Penn LPS Online? Continuing your education can help you stay intellectually curious, build your confidence, and help you gain a strong sense of purpose. Because certificates are focused on specific areas of expertise, enrolling in multiple programs is also an excellent opportunity to explore the subject areas that you're passionate about in ways that may not have been possible in previous studies.
"One of the most enjoyable parts of my job is working with data and presenting it in a meaningful way for different program directors and administrators. The Certificate in Data Analytics drove home for me that your analysis can only be as good as the data you have and the amount of data you have. The courses definitely enhanced my skills and gave me a great foundation to build on."
– Susan Hassett, Penn LPS Online Certificate in Data Analytics '20
In a continuously evolving labor market, one of the best strategies that you can take is to evolve with it. In addition to the focused career-specific skills that you may learn in certificate programs at Penn LPS online, there's also an opportunity to enhance the types of "soft skills" that potential employers value. This includes decision-making, creativity, critical thinking, collaboration, communication, and leadership skills, which are applicable across the workforce.
At the end of the day, when you commit to lifelong learning, not only are you showing professional prospects that you're dedicated to staying at the top of your game, but you're also investing in your own happiness and personal growth.
To learn more about Penn LPS Online certificates and how they can help you meet your academic, personal, or professional goals, visit the Penn LPS Online Certificates page.
Sources
Additional Sources