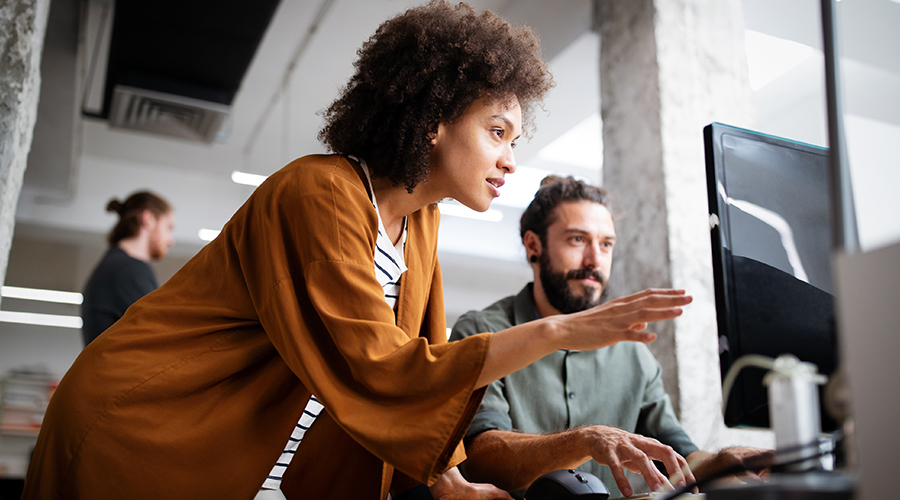 In an increasingly data-driven world, organizations in virtually every industry are making decisions and crafting their strategy based on the analysis of relevant data sets. That's why now more than ever there is a demand for qualified data analysts who can identify and use data to help companies make more informed choices on which markets to enter, what investments to make, and how to optimize their businesses to increase profits.
Not only do data analytics professionals need to have strong quantitative and analytical skills to be successful, but they must also possess the communication skills to effectively explain complex ideas to colleagues and leadership. There are many facets to the field of data analytics. If you're interested in pursuing this exciting career path, a great starting point is to identify which types of roles appeal most to your strengths, interests, and goals.
Read on to decide which data-driven career appeals most to you and learn how the Certificate in Data Analytics at Penn LPS Online can enhance your bachelor's or master's degree and prepare you for this engaging field.
1. Data analyst
Data analysts play a pivotal part in helping organizational leaders understand data-driven insights to drive strategic business decisions. Typical duties for analysts may include extracting and manipulating sets of data, creating reports on their results, monitoring key performance indicators (KPIs), and identifying inefficiencies. To do so effectively requires technical skills including knowledge of database languages such as R, Python or SQL, data visualization software such as Tableau or Qlik, and strong mathematical and statistical skills.
As more and more organizations rely on data to inform the services they offer, the customers they target, and the tactics they employ, it's not surprising that by 2030 employment of data analysts is expected to grow 15% or more, according to ONET.1
If you're eager to delve into this exciting, in-demand field, a great place to start is with DATA 1010: Introduction to Data Analytics at Penn LPS Online. This course introduces key concepts in data analytics using the R programming language and teaches you how to use quantitative data to help identify problems, make decisions, and realize real-world solutions. At Penn LPS Online, data analytics courses must be taken sequentially to build your skills and knowledge over time; DATA 1010 is designed to set you up for success in future study and professional applications.
2. Data scientist
If you're interested in a career that takes data analytics to the next level, then the path of a data scientist may be for you. While data analysts examine and analyze information, data scientists find, clean, and organize unstructured data to create the framework that supports analysis. This is a more technical role that includes designing statistical models, algorithms, and data modeling processes and then interpreting the results to create actionable plans to meet business challenges. As such, data scientists often collaborate closely with stakeholders to understand their objectives and recommend cost-effective procedures and strategies to help realize them.
If you can see yourself pursuing this role, DATA 4010: Advanced Topics in Data Analytics can give you a preview of your career in data. In the culminating course of the data analytics series, you learn how to perform predictive data modeling, which is one of the most sought-after skills in data science. With data modeling abilities, you can help companies plan future investments, nonprofits organize fundraising efforts, and politicians decide geographic areas to target. This course starts with a focus on regression analysis before moving on to high-level topics in R such as mapping, textual analysis, web scraping, and more advanced data visualization skills.
3. Business intelligence analyst or developer
If you'd like to combine complementary interests in data analysis and business strategy, consider a career as a business intelligence analyst. Responsibilities in this role include organizing and analyzing data—or using information uncovered by a data analyst—to identify trends, patterns, or problems that need to be solved. Business intelligence analysts also need to turn their findings into concrete tactics or solutions and present these to C-level management. Because this role is highly technical, some companies may require a bachelor's degree in computer science or math, or an advanced degree such as an MBA for entry.
A related position to consider is that of a business intelligence developer, which involves designing strategies to help business users quickly identify the data they need to make more informed decisions. To do so, developers use existing business intelligence tools or create their own analytic applications to help improve end-user experience and understanding. They may also help repair or restore computer programs used for intelligence purposes.
4. Logistics analyst
Supply chain issues have been top of mind in recent years, with the pandemic causing an increase in product shortages. Logistics analysts—or logisticians—use data to evaluate and optimize an organization's supply chain processes from procurement and allocation through delivery. They also leverage this information to determine potential profit-loss issues and develop cost-saving solutions to improve efficiency at every step of the supply chain.
In addition to analyzing data and proposing strategies for improvement and cost-reduction, logisticians may also oversee activities including purchasing, transportation, inventory, and warehousing; use software systems to track and manage the movement of products; and foster business relationships with clients and suppliers.
According to the Bureau of Labor Statistics (BLS), logistics analysts held approximately 191,000 jobs in the US in 2020. The largest employers were the manufacturing sector (24%), the federal government (18%), professional, scientific, and technical services (17%), management of companies and enterprises (9%), and wholesale trade (8%).2
5. Business systems analyst
Eager to combine a passion for technology with a competence for data analysis? Business systems analysts study a company's computer systems and processes, and leverage data to initiate design improvements, lower expenses, and help make IT run more efficiently. These analysts may also research new systems to determine if they will optimize IT, analyze costs and benefits of upgrades to help managers decide whether to make changes, oversee the installation and configuration of new hardware and software, and work with programmers or engineers to help build systems and solve problems as they unfold.
Business systems analysts may use a variety of techniques to design computer systems, such as data modeling, allowing them to oversee data flows and processes. Analysts also initiate in-depth tests and analyze trends to help an organization's business leaders understand how and why certain initiatives can help improve the way their computer systems operate. If you're interested in becoming a business system analyst, it's important to develop strong business, problem-solving, communication, organizational, and technical skills.
6. Marketing analyst
If you have a background in marketing and an interest in learning more about market research, than a career as a marketing analyst could be an ideal fit. Marketing analysts help organizations understand which products or services people want, who will purchase them, and at what cost. As such, they analyze data sets related to consumer demographics including market research, purchasing trends, and buyer preferences that they gather through interviews, surveys, focus groups, and other methods.
Analysts then use this information to create strategies that help their companies better engage with and grow their customer base through targeted marketing initiatives. They may also research competitors and analyze their prices, sales, and marketing tactics to determine product demand, new market opportunities, and pricing strategies. Marketing analysts need to be effective communicators who are confident in translating findings into digestible reports and presentations for leadership.
According to the BLS, employment of market analysts is expected to grow 22% by 2030, which is much faster than average.3 DATA 3100: Introduction to Statistical Methods is a course at Penn LPS Online where you will learn how to conduct quantitative social science and data science research and gain knowledge in statistics, sampling, probability, and the fundamentals of research design. You'll also obtain the wherewithal to implement data analysis using R, which can be invaluable to this career path.
7. Management analyst
If your ideal role involves gathering information and solving problems as a consultant, you may want to think about becoming a management analyst. This type of analyst gathers data through interviews with personnel, onsite observations, and reviews of financial, expenditure, and employment reports. They then use their findings to recommend ways to cut costs, increase revenues, and improve efficiency within organizations. Management analysts may specialize in areas such as inventory control or industries such as healthcare or technology. Because many management analysts work on contract, you will likely need to write proposals and bids for jobs to obtain clients.
In DATA 2100: Intermediate Data Analytics, you will learn two fundamental skills in data science that can be applied on the job as a management analyst: survey and experimental research. In addition to covering all aspects of the survey research process from designing good questionnaires to weighting and analyzing data, you'll also gain an understanding of how to design a randomized experiment and enhance your skills in R.
Ready to build your data analytic skills?
After exploring these seven careers in data analytics, you should have a sense of the skills and knowledge you'll need to obtain to help you analyze information and make data-informed decisions. The Certificate in Data Analytics at Penn LPS Online is designed to provide a strong foundation and entry point into the field and enhance your current bachelor's or master's degree. Learn how to understand predictive modeling and machine learning, implement and analyze regression models and surveys, design experiments and A/B tests, manage and analyze big data sets, and build statistical programming skill and data analysis in R.
"The Certificate in Data Analytics taught me how to clean, organize, and analyze data in R with just a few lines of code, which is so much faster than the processes I had been using in Excel. I never thought of myself as a computer person, but I really enjoyed the coding aspect of these courses—I found that I'm relatively good at it!"
— Susan Hassett, Enrollment Systems Analyst, Certificate of Data Analytics, Penn LPS Online
The flexible scheduling options in this Ivy League Data Analytics Certificate make it easy to continue to work as you enhance your qualifications. You'll learn online from engaging and responsive instructors who are experts in the field. You don't need prior training in math, statistics, or programming to thrive in this program. However, curiosity and willingness to learn are essential requirements. Fill out your application at Penn LPS Online today and take the first step towards pursuing an exciting career in data analytics!
Works Cited
1 https://www.onetonline.org/link/summary/15-2051.01
2 https://www.bls.gov/ooh/business-and-financial/logisticians.htm#tab-3
3 https://www.bls.gov/ooh/business-and-financial/market-research-analysts.htm