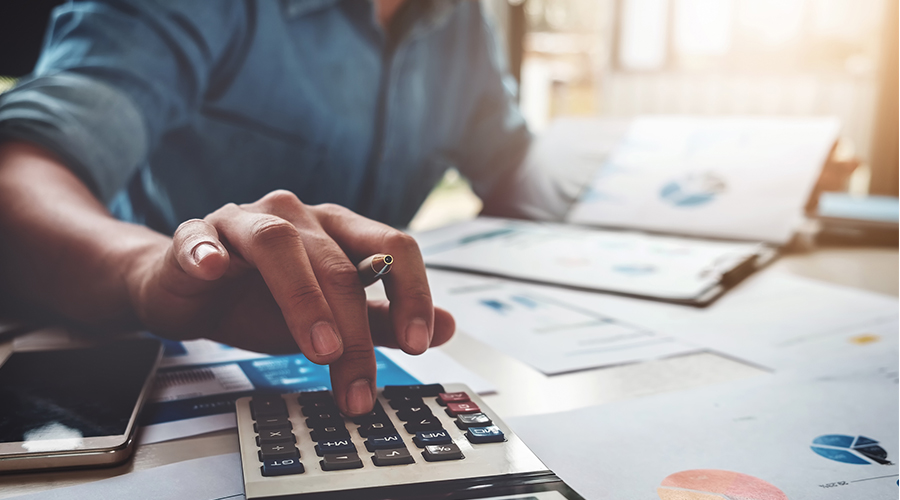 With a plethora of information surrounding us, now more than ever, we could all use strategies to help cut through the noise. However, the majority of us may not consider mathematics the primary solution to the answers we're looking for.
Mathematical sciences require critical thinking and the ability to investigate real-world issues to achieve practical solutions. These high-order reasoning skills are essential in tasks as simple as personal budgeting—or as complex as preparing for a life-changing career move.
With a focus on topics such as logic, probability, game theory, the history and philosophy of mathematics, and their relevance to contemporary science and society, MTHS 2000: Mathematics All Around You pushes students to consider "why" math works rather than simply "how."
This unique Penn LPS Online course is the brainchild of Nakia Rimmer, Associate Director of Undergraduate Mathematics and Senior Lecturer at the University of Pennsylvania. He explains, "We wanted to give students a sort of chance to display or increase their quantitative skills, but ease into it. There is no algebra required at all. We actually do some arithmetic, but we focus more on the underpinnings: What is behind the scenes, and why does this math matter to you? Thus, the title."
An accelerated 8-week course, Mathematics All Around You fulfills the quantitative analysis requirement for the Penn LPS Online Bachelor of Applied Arts and Science (BAAS) program and is ideally suited to working professionals and other nontraditional students. The class is primarily asynchronous—with twice-weekly live video lectures that are recorded for those who prefer online learning. "I don't demand that students have their cameras on. But I want them to know that they have a place where they can come and talk about mathematics. They're not all on their own. They have a live person available to bounce ideas off of," says Rimmer.
Rimmer's goal is to create virtual discussions that empower students to explore how math relates to themselves and the world at large. "We even study the origins of numbers. How did ancient Egyptians write numbers? How did we arrive at the current number system? What's with the Roman numerals? So, it's fun. The students get engaged with the history. And at the same time, they learn."
Making a passion for math accessible to all
"My mom used to tell me I was always good with numbers. I would tell her I could see numbers in my head. Early on, I had a love for just math in general, for calculations. But it never really came naturally to me. I wasn't a savant or anything like that," laughs Rimmer.
It wasn't until high school that his proficiency for the subject was finally recognized by an instructor who placed Rimmer into an advanced math class. "That teacher basically saw something in me that I didn't see in myself. And now I use that as motivation. I make sure that I'm aware of my students and their abilities—or lack of ability."
After earning his master's degree in applied mathematics from the University of Pennsylvania, Rimmer gained additional certification and began instructing AP calculus at the prestigious Julia R. Masterman Laboratory and Demonstration School in Philadelphia. It was there that he realized that teaching math was his calling.
The topics for the first two units of Mathematics All Around You are set, but Rimmer asks students to come to a consensus on what they would like to learn in the final unit. This gives them an opportunity to explore ideas that are aligned with their interests—whether they lean towards geometry or toward "some more theoretical subjects like graph theory."
What is graph theory? "So, we're all connected," notes Rimmer. "We're all in some big network, especially with social media. In mathematics, we can model that. We can say this person is a dot, and their connection is a line. If you actually took a graph of your Facebook friends or Instagram followers you can see little sort of sub-networks: This is my group of high school friends, and these are my group of friends I had in college, and these are my fraternity brothers. So students with an interest in information science may opt to learn more about graph theory in the final unit."
The subject of game theory, and how it can be used to evaluate their own choices, is also a favorite in the class. He explains, "It's become a very popular thing to be able to say, 'I'm going to make this decision, but I'm going to do it logically with sound mathematics. I'll be able to make an equation and say I have optimized my outcome by making decision A, followed by decision B—and really making a tree diagram.'"
Not only do his students find the subject interesting, they also have an opportunity to enhance quantitative literacy skills—such as formulating, interpreting, and problem-solving—that can be applied to their careers, education, and even interpersonal relationships.
Putting math to work in the real world
"At one point early on in their mathematics career," says Rimmer, "students were taught to think through a problem mathematically and maybe write something down. Somehow, that skill of thinking through even just a calculation has been lost."
Mathematics All Around You brings that kind of thinking back by touching on simple hacks of "mental mathematics"—such as how to easily calculate a 20% discount or quickly recognize that a set can be grouped by a specific number. These kinds of life hacks offer real value in day-to-day living. The curriculum also delves into prime numbers and how they serve as the groundwork for the encryption of credit card information and UPC codes. Therefore, students get a glimpse of how math is constantly working behind the scenes in intangible ways that they may not have previously considered.
"I can try to reach students wherever they're at," says Rimmer. "If I have an artist, I try to reach them by talking about colors. I tell them, on the internet, the system of naming a color uses a form of the binary system. Or if I have a person who is interested in law, I try to reach them with logic."
For example, in the first unit, students create math proofs—without numbers—by stacking true or false statements to build persuasive arguments. "You have a thesis," Rimmer says. "You have an idea that you're trying to get across. And you want to convince someone of your point. Or you want to have someone be able to read what you're writing and have them come to a conclusion. The interplay between the words, the foundation of that is logic."
When a writer creates a story, an account manager pitches to a client, or a lawyer presents in court—they are all communicating within a framework that has a basis in mathematics. In fact, a former student recently emailed Rimmer to say that the brief time spent on logical arguments in his class really helped when it came time to complete the LSAT.
"Math is the language of science," says Rimmer. "Even in nature, you look at a flower and you're thinking, 'Wow, that's a beautiful thing,' but, no, there's math behind that flower. The way the seeds are coupled together in a sunflower, there is a number system behind it. There's a series of numbers called the Fibonacci numbers." Rimmer provides students with concrete examples and encourages them to become more aware of seemingly chaotic circumstances where math is busy working behind the scenes.
Prepare to master foundational math skills
Rimmer emphasizes the value found in coming up with solutions that stem from a place of comprehension—rather than memorization: "It raises your self-confidence to know that you can do the same thing that a computer is doing, or you know what that computer is doing because you understand the foundation, the underpinnings behind it. So, it helps your mental health. It helps your self-esteem to know that you can do this."
This can be particularly impactful for students who have wrongly internalized the idea that they are poor at math because of previous struggles—or may not have had the right teacher.
Before coming to Penn LPS Online, Rimmer taught at a community college. While there, his heart grew for learners who were pivoting their careers and saw math as a stumbling block. He hopes that students will complete Mathematics All Around You with a greater appreciation for both the subject matter and their own capabilities.
Rimmer also makes himself readily available to anyone who has questions or needs additional support: "If someone is thinking about taking this class and they're hesitant about it, and somebody might've said something to them, 'You can't learn this,' I want them to know that they can. As long as you put your mind to it, you can do it. And if I can help in any way, I will. And hopefully through putting in the work, they will arrive at a place where they're better than they were before. That's my goal."
For information about other foundational Bachelor of Applied Arts and Sciences degree requirements, visit the Penn LPS Online feature "What is a Bachelor of Applied Arts and Sciences degree?"