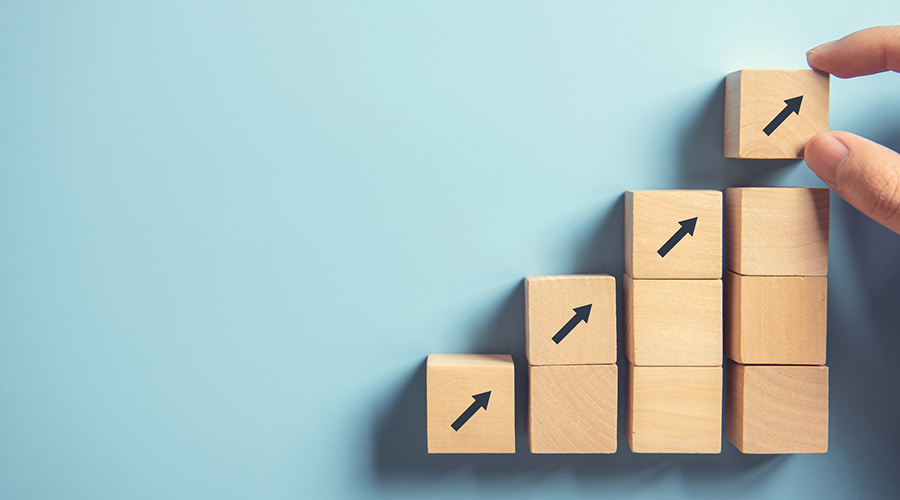 Upskilling in the workplace involves promoting continuous learning by offering training and development opportunities to expand the skills, knowledge, and competencies of your current employees. Not only does upskilling give your team the chance to build expertise and help them advance their personal and professional growth, it can also enhance employee engagement, satisfaction, and performance—factors critical to the future success of your business.
Penn LPS Online offers a 4-course Ivy League Upskill Certificate designed to help working adults build in-demand professional skill sets in a work- and family-friendly format. Among the many powerful outcomes of this program include the ability to practice and apply critical thinking skills in the workplace, use empathetic skills to build upon other perspectives, and employ rhetorical strategies to persuade through written and verbal communication.
Read on to explore seven key benefits to encouraging employees to upskill by earning a certificate from Penn LPS Online.
7 Benefits of upskilling your employees
1. Increase employee retention
When you have talented employees, it's essential that you keep them, and the reality is if you're not willing to invest in the career development of your team, you risk them leaving for organizations that will. If your employees are not offered the opportunity to learn, grow, and advance, then they will fail to envision a future with your company. However, when you invest in upskilling initiatives, not only do you increase the value of your employees to your business, you also demonstrate your commitment to ensuring that team members have an opportunity to rise up the ranks. If you want to improve employee retention, you have to show people you care about their goals—and that you're eager to serve as an ally in their career development.
2. Fill skill gaps within your company
In today's job market there is a gap between vacant positions that require new skills and candidates that are qualified and willing to fill them. That's why some leading corporations are committing millions of dollars to upskilling programs that promote customer satisfaction and worker training and development.1 Among the competencies that many companies are looking to build in their employees are leadership, team-working, critical thinking, communication, and data-analysis. To that end, it makes sense to invest in filling the skills gaps in your business by giving your workforce the opportunity to earn an Upskill Certificate, rather than investing precious time and funds hiring new employees. It's a win for everyone when you can show your employees they are appreciated and help improve their opportunities for internal advancement.
3. Avoid the costs of hiring new staff
When employees leave your business, the costs associated with replacing them can take a huge chunk out of your budget that might better be served elsewhere. The cost of hiring new staff includes the time and money spent in recruiting, screening, training, salary and benefits, as well as the process of integrating new team members into your company and culture. According to a recent study by Training Magazine, in 2020-21 companies invested $92.3 billion and an average of 64 hours per employee on training.2 It can take months after a hire for your organization to break even on your investment. That's why it makes much more sense to invest in upskilling programs that build upon the strengths and abilities of your current employees and help lower the chances you will lose the valuable talent you already have.
 4. Create and encourage a culture of learning
In today's challenging labor market, it's critical to create a supportive culture of learning within your company. When you make upskilling a priority, you show your employees that you encourage and value learning and progression, which helps combat turnover. Determining which type of training programs work best for your business will likely require some trial and error. Ideally, you will gather input from your team about the types of knowledge and skills they are looking to build. The more you can customize the learning experience and content, the better. It's beneficial to include courses focused on practical, immediately applicable skills—such as those in the Upskill Certificate at Penn LPS Online—to help engage your workforce and motivate them to get the most out of their experience. Mentoring programs can also be an excellent way to help your team members identify new areas of specialization and gain insight into how they take actionable steps towards pursuing them.
5. Gain a competitive advantage
Your employees' skills and knowledge can give you an advantage that positions your company as a leader in the market and helps you outperform your competitors. When employees leave your company, they take their relevant abilities and experience to another organization. That's why it's so essential to ensure that each member of your team is happy in their respective roles and believes firmly in what your organization is doing. Not only do satisfied employees do a better job, their work can also lead to higher customer satisfaction and loyalty. Upskilling can help keep your employees on top of the latest industry needs and trends, making them more likely to be proactive in providing new insights and market opportunities that ultimately benefit your clients. And if your clients are happy and believe in your organization's mission, they may send more valuable referrals your way.
6. Attract new talent
While upskilling can serve as a powerful means to retain your workforce, it can also help you attract new talent. According to research from SHRM, 83% of human resource professionals reported difficulty recruiting suitable job candidates.3 The COVID-19 pandemic made many people take a hard look at their careers and consider what they are looking for in their jobs and from their employers. If you want to attract top-tier talent, simply offering competitive salary and benefits may not be enough. Many of today's employees are looking for increased flexibility and autonomy—such as hybrid or remote working options—and for a company culture that welcomes diversity, a growth mindset, and career development opportunities. So, if you want to attract candidates who are not only qualified but ambitious and eager to learn, you may want to consider advertising your training initiatives and opportunities in the recruiting and hiring process.
7. Enhance employee motivation, satisfaction, and productivity
What leader wouldn't jump at the opportunity to boost morale and job performance? Employees who benefit from training and development opportunities are more likely to be satisfied in their roles and optimistic about their future with your company. There's no denying that most people are motivated by salary and benefits, but if you're looking to truly engage and motivate your workforce in a meaningful way, you may want to consider strategies to help your team members feel their work matters, that they have a sense of autonomy, and that they see an opportunity for growth within your organization. When you offer employees the chance to upskill, you can help them to feel valued, build their loyalty and, ultimately, see an increase in productivity that benefits your bottom line.
Why you should consider upskilling
We've covered why upskilling your workforce is so beneficial, but you may also want to consider upskilling yourself to ensure you remain on the top of your game. With a focus on career readiness, the Upskill Certificate program at Penn LPS Online allows you to customize your program by choosing courses that complement your personal and professional development goals.
Whether you're looking to become more competitive in the job market or you feel it's time to revise or rebrand your skill set, you'll have the opportunity to enhance your communication skills, develop your leadership skills, and build your problem-solving skills. With flexible online courses, you can do it all from the comfort of your own home, on your own schedule, and without the hassle of a commute.
If you enroll in one or more of the following three courses from the Upskill credential, you will lead your employees by example, and obtain the knowledge and expertise to help grow your business:
This intensive introductory course explores competing leadership concepts and theories to help you hone your unique management skills, strengths, and style. Each week, you'll explore a different foundational element of leadership with topics including everything from self-assessment to problem-solving and crisis communications. You'll also analyze effective public leaders and create the groundwork for a five-year leadership and communication career plan.
There's no question that data-driven decision-making abilities are a must-have for business leaders and employees alike. This course will introduce you to key concepts in data analytics across a wide range of applications using the R programming language. By the end of this class, you'll have a clear understanding of how to use quantitative data sets in real-world problem identification, decision-making, and problem-solving. Prerequisites in statistics and math are not required.
Now more than ever, it's important to be able to collaborate effectively in a virtual teams and virtual organizations. Whether you're communicating with remote clients, colleagues, or employees, you'll learn how to navigate, learn, collaborate, and lead in today's complex and technologically interconnected world. As you explore important concepts regrading virtual collaboration, you'll also hear from expert guest speakers who share their own stories and best practices for running successful virtual operations.
Ready to get started?
The Upskill Certificate at Penn LPS online offers interdisciplinary courses in leadership and communication, organizational culture, professional writing, data analytics, and more to support you in your career and your life. The relevant skills and knowledge that you build can immediately be applied in the workplace in virtually every industry. And with schedules designed for working adults, it's easy to enhance your skills while pursuing your career.
Watch this video to learn more about the many benefits of enrolling in Upskill Certificate at Penn LPS Online. If you haven't already, take the first step towards earning your Upskill credential and enroll through Penn LPS Online today.
Sources
1 https://www.aboutamazon.com/working-at-amazon/upskilling-2025/upskilling-2025
2 https://trainingmag.com/2021-training-industry-report/
3 https://www.shrm.org/hr-today/trends-and-forecasting/research-and-surveys/Pages/Skills-Gap-2019.aspx