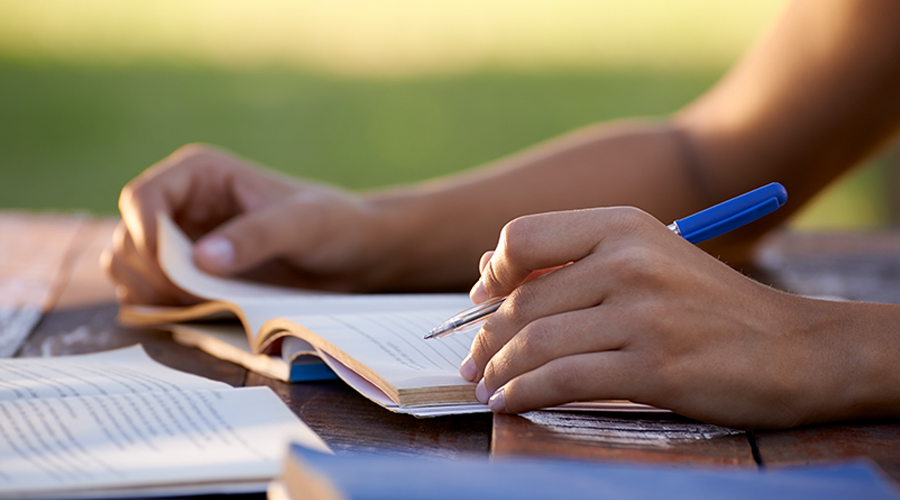 Selecting a specialization can be a daunting task for liberal arts students—and that stress is compounded during turbulent times. With so many intriguing disciplines to consider, wouldn't it be great to combine your interests and design your own major?
With the Individualized Studies concentration through the Bachelor of Applied Arts and Sciences (BAAS) program at Penn LPS Online, you can blend complementary subject areas and develop a customized learning experience that aligns with your personal and professional goals.
Sarah Libros, Student Success Advisor with Penn LPS Online, works directly with students who are looking to meld multiple areas of expertise within a bachelor's degree in Individualized Studies. According to Libros, some students come in with a really specific picture of what they want to study. With others, it is something their advisor ends up recommending based on the student's interests.
The beauty of Individualized Studies is that it gives students the flexibility to create an educational plan—with input from academic advisors—that allows them to explore complex topics and perspectives that may not be paired in established concentrations. This is especially appealing to students who have a particular career outcome in mind and/or a clear understanding of the competencies that may provide a competitive advantage in their intended fields.
According to Libros, creating a personalized concentration can also be a good fit for incoming students who are looking to maximize their transferrable credits. She explains that for students coming in with a lot of credits, it can be a way to maximize the credits going toward their concentration. Many transfer students have transferable credits that don't fit neatly into an established degree program, and the Individualized Studies program allows them the flexibility to make them work.
How to pursue an Individualized Studies degree concentration
The first step for students who are interested in developing an Individualized Studies concentration is to speak with their BAAS academic advisor. The advising process is essential to help students delve more deeply into their unique career goals, solidify the specialized skills they want to develop, and ensure that the disciplines they pair will result in expertise of real value once they graduate.
According to Libros, what these advising sessions look like depends on the mindset of each student. While some people come in with a clear picture of the curricular areas that they want to combine, others are undecided or still figuring out whether an Individualized Studies concentration is the right fit.
She explains, "In those cases, there's more discussion about the specific course blocks that are most important to them—anything that they're thinking about in terms of some of the traditional concentrations." They'll then discuss long-term goals and how the student could potentially link course blocks to create an individualized studies major that best serves them.
"The important thing about the process is that it's always a conversation. If there's something that doesn't quite seem right with a student's plan, then we'll follow up and make recommendations so that they can home in and make sure that it's the way it needs to be structured," Libros adds.
After receiving input from their advisors, students submit a short proposal to the BAAS faculty committee for review. The proposal should include the following information:
The three course blocks—and the specific classes—the student wants to use in their individualized concentration
The learning outcomes for these unique combinations
An explanation of why merging these topics will create a unique and useful perspective
Students also propose a title for their course of study which, if approved, is included alongside the Individualized Studies concentration listing on their transcript. This self-designed title makes it easier for students to effectively communicate what they studied—and the skills they developed—to prospective employers on LinkedIn, when networking, or in job interviews.
Benefits of Individualized Studies at Penn LPS Online
Whether you're looking to enhance your credentials to advance in your current role or preparing to pursue a new career path, there are myriad benefits to the self-designed concentration at Penn LPS Online.
The Individualized Studies concentration gives you the freedom to create an educational plan that builds on your past credit or experience and provides targeted expertise that aligns with your career goals. This flexibility, combined with an online learning format that makes it easier to balance work, life, and school commitments, makes individualized studies an ideal fit for adult, nontraditional, and transfer students alike.
In addition to the ability to tailor your concentration to align with your interests, the Penn LPS Online Individualized Studies degree concentration offers comprehensive advising support for incoming students. Because an individualized concentration is not as straightforward as a traditional concentration, advisors play a critical role in helping you develop a curriculum that provides the mix of courses you need to be successful academically and professionally.
For some students, the advising process begins before they enroll. That's because Penn LPS Online recruitment specialists are well versed in the ins and outs of Individualized Studies and can serve as a great resource for those who are interested. Once you register and are in the process of designing your concentration, your academic advisor is available to provide guidance and answer any questions that arise.
To that end, Libros says, "I do give the option, when I work with students, to send me their Individualized Studies proposal first, because some people would like to have more unofficial eyes on it before they submit it."
Another key benefit that sets Individualized Studies at Penn LPS Online apart is that students who complete certain course blocks are awarded a certificate in addition to their bachelor's degree. Earning a certificate is advantageous because it adds an additional layer of credential to your resume. Not only does a certificate highlight your area of specialization, it can also potentially make you more marketable to new or current employers.
The full list of certificates that may be awarded to eligible Individualized Studies students includes:
Libros says that some of the most popular subject areas that she sees Penn LPS Online students combine into concentrations include professional writing, data analytics, and applied positive psychology. As they look to meld relevant interdisciplinary topics, students have an opportunity to exercise their intellectual curiosity and discover connections they may have not previously considered. The ideal result is a concentration that creates a symbiotic relationship between your interests, goals, and learning outcomes.
Below is an example of an approved BAAS Individualized Studies concentration, which is broken down by course block and classes:
Professional Writing, Data Analytics, and Neuroscience
Neuroscience
NEUR 1000: Introduction to Neuroscience
NEUR 2000: Behavioral Neuroscience
NEUR 2800: Autonomic Pharmacology
NEUR 4000: Psychopharmacology
Data Analytics
DATA 1010: Introduction to Data Analytics
DATA 2100: Intermediate Data Analytics
STAT 4300 (Transfer credit)
STAT4310 (Transfer credit)
Professional Writing
PROW 1000: Fundamentals of Professional Writing
PROW 1020: The Elements of Style: Grammar, Usage, and Mechanics
PROW 3010: The Power of Storytelling
PROW 4000: Writing for Social Media
From this brief example, it's easy to see why combining a strong base of knowledge in neuroscience with data analytics and professional writing skills works well together from both an academic and professional standpoint.  Whether in health care or another industry, a well-rounded candidate who can synthesize and communicate data and knowledge is understandably appealing to prospective employers.
Ready to take control of your education?
If you've decided that you're ready to pursue an Individualized Studies concentration, Libros offers some words of wisdom as you enter this exciting next chapter. "My top advice would be that you don't need to do it alone. Reach out to your advisor and have that conversation…Being able to bounce ideas off somebody, write out some options, and see what different paths would look like will make everything much easier to navigate."
For students who are still on the fence about earning a degree with an Individualized Studies concentration at Penn LPS Online, Libros reiterates the value of the personalized guidance that you'll receive along every step of your academic journey. "I see a lot of online programs where people feel like they're being pushed through as a number. But I find that we're able to have this smaller, community feel and still be able to provide a lot more one-on-one support than many other online programs do."
For more information on whether an Individualized Studies major could be a good fit, visit the Penn LPS Online feature "The Individualized Studies Concentration: How it works and if it makes sense for you."