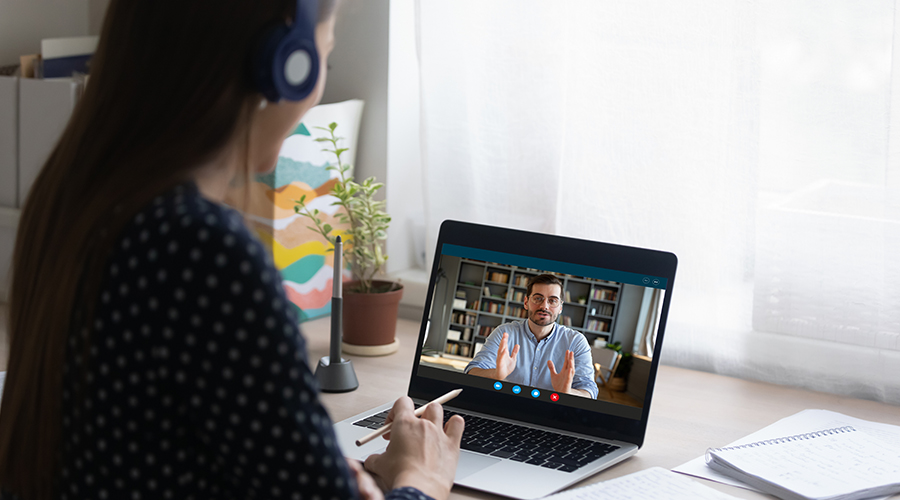 The myriad benefits of online learning are ideally suited for working adults. The Penn LPS Online Bachelor of Applied Arts and Sciences (BAAS) program and standalone certificate programs were conceived with the needs of working professionals and other nontraditional students in mind. Not only can you tailor your Ivy League education to meet your personal and professional goals—you'll also enjoy the flexibility of completing your studies where and when it works for you and your lifestyle. In addition to providing a high-quality liberal arts education, the online courses in the BAAS and certificate programs at Penn LPS Online are designed to enhance your skills and knowledge for career advancement, job transition, or the pursuit of your intellectual interests.
Read on to explore five compelling advantages to earning your bachelor's degree or certificate at Penn LPS Online.
1. Enjoy a personalized learning environment
If you're a working professional, the flexibility afforded by online learning can be critical to successfully earning your bachelor's degree or certificate. Balancing a full or part-time job, raising a family, and returning to university can be a formidable task if you're not enrolled in a program that allows you to seamlessly integrate your studies into your busy life.
At Penn LPS Online, the BAAS degree and credentials are designed to help you expand your professional knowledge, foster your creativity, and strengthen your resume—on your terms. This means that if you work 9-5, you can devote a part of your evenings to your coursework. Or, if you're at your mental peak in the mornings, then you can use that time to focus on course readings and assignments.
Not only can you personalize your Ivy League learning experience at Penn LPS Online, you can also take advantage of customized options within the BAAS and certificate offerings. The Individualized Studies concentration gives you the flexibility to combine multiple disciplines and tailor your concentration to align with your unique interests and goals. Depending on your ambitions, you can build your education plan from classes from your choice of three subject areas, including applied positive psychology, climate change, creative writing, data analytics, global studies, leadership and communication, and more
The Upskill Certificate at Penn LPS Online is a great option if your goal is to build in-demand professional skills to help propel your career to the next level. What sets the Upskill credential apart is a focus on professional preparation that allows you to revise or rebrand your expertise in a way that is immediately impactful. And you can customize your certificate to align with the competencies that you would like to work on, whether that's sharpening your critical thinking skills, developing your leadership traits, or building your data analytics skills.
2. Complete your online bachelor's degree at your convenience
The impetus behind Penn LPS Online was to make an Ivy League education inclusive and accessible to working adults. If you're searching for a flexible, engaging, and interactive format in which to earn your degree or certificate, then look no further than the Canvas online learning management platform at Penn LPS Online. Meticulously designed for accessibility and highly visual, the course sites make it easy to stay organized and on top of your class requirements without having to deal with the hassle of a campus commute.
You get to decide where you want your classroom to be for the day—whether that's your home office, your favorite coffee shop, or a park with Wi-Fi access. When you can create your own ideal learning environment, you may also find that it's easier to concentrate because you're not distracted by the noise and activity associated with an on-campus classroom.
To that end, a major advantage to online learning is the flexibility it provides when it comes to your geographic location. It means you don't have to relocate, go through the stress and expense of moving, end your valuable personal and professional relationships, or disrupt your family life to attend a high-quality Ivy League institution. Consequently, earning your degree online can be better for your mental health and general well-being.
Finally, the courses at Penn LPS Online are designed to keep you engaged and interested in your studies. With dynamic multimedia assignments, group projects, presentations, and discussions with your peers and instructors, the Canvas learning platform provides numerous opportunities for you to collaborate with students and instructors in your virtual classroom.  In addition to recorded lectures, readings, video, and podcasts, select courses also include live Zoom meetings where you have an opportunity to communicate in real-time and put faces to the names of your peers.
3. Save time and money
One of the largest roadblocks for working adults considering a return to university is the sizeable investment in time and money. However, online learning allows you to enhance your education without the higher tuition rates, pricey textbooks, and food and transportation-related costs (gas, vehicle maintenance, and parking) associated with campus-based programs. Not only that, earning your degree online affords you the opportunity to fit your studies within your employment or family schedule so you don't have to reduce your work hours or deal with the costs of hiring additional childcare.
Penn LPS Online is committed to making an Ivy League education affordable for students from a wide range of backgrounds. In addition to reduced tuition rates on courses, the interest-free Penn Payment Plan allows you to spread out education expenses over four months for the fall and spring semesters. Penn LPS Online also offers competitive scholarship opportunities for eligible part-time non-traditional BAAS students, which are based on academic merit, financial need, and other criteria specified by individual scholarship fund requirements. Although federal financial aid is not currently available for students enrolling in individual courses or certificates, if you plan on enrolling in the BAAS program you can apply for financial aid before you start class.
There are two primary categories for online learning environments. Synchronous learning involves real-time, live communication via audio, Zoom meetings, and text-based chat. Although some Penn LPS Online courses require scheduled synchronous class time, the majority are asynchronous—which allows you to engage with course materials or complete assignments at the time of day that's most convenient. This flexibility can be a huge advantage when your day is filled with personal and professional obligations, and you need to find the time to fit your studies in when you can. And with accelerated 8-week course terms, you have the opportunity to complete classes in less time than you would with a traditional schedule.
4. Improve your online communication skills
With the massive uptick in remote work environments as a result of COVID-19, the ability to communicate effectively online is a skill that is highly valued by employers. Earning your bachelor's degree or certificate at Penn LPS Online can help you enhance your communication skills through the repeated practice of interacting with peers, instructors, and multimedia course materials. The ability to participate—and hone your communication skills—in virtual discussions can be particularly helpful if you're trying to overcome social anxiety or reticence to share your ideas in a public setting. And the increased confidence gained as you enhance these skills can be beneficial both on the job and in your personal life.
There are a variety of courses and certificate options at Penn LPS Online that can help you develop your digital communication skills. Below are three such examples:
ORGC 2010: Virtual Collaboration: Discover how to navigate, learn, collaborate, and lead successfully in virtual teams and organizations across the globe.
PROW 4000: Writing for Social Media: Explore how to use social media to create engaging messaging, build an online reputation, and cultivate loyalty.
Certificate in Digital Strategies and Culture: Learn how to support interpersonal communication with digital platform fluency; develop strategies for participation across virtual environments; build and maintain partnerships with digital tools; and design, deliver, and manage content for online audiences.
5. Apply what you learn to advance your career
Beyond the benefits of flexibility, accessibility, and affordability, earning your degree or certificate online can provide you with the practical skills and knowledge to help meet your career goals. The reality is that continued professional development is essential for success in today's job market. Enrolling in an online program is an efficient way to obtain new skills and abilities during the evening that can be applied on the job during the day.
Whether your goal is to qualify for a raise or to move into a management-level position—or to gain the expertise to help you transition into a new field—the BAAS degree at Penn LPS Online is designed to help you make a big impact on your career.
There are eight concentrations to choose from in the BAAS program, one of which is Organizational Studies. Through applied courses in writing, speaking, and group dynamics, this concentration helps you build critical and interpersonal skills that are prized by employers across multiple industries. But the ability to appreciate the cultural dynamics of an organization, understand your audience, and adapt your messaging and strategy is particularly ideal if your desired career path is in management consulting, communications, project management, or human resources.
In addition to the outcomes mentioned above, the Organizational Studies concentration prepares you to:
Work effectively in diverse teams whether in physical or virtual workplaces
Draft communications for clarity, precision, and power
Apply strategies that support your personal and professional development
Develop empathetic and analytical skills to build upon the viewpoints of others
Comprehend anthropological research on the culture of teams and organizations
If you're looking for an alternative credential to completing a bachelor's degree program, Penn LPS Online certificates are a great option. These short programs are designed to help you enhance your resume with practical skills and knowledge in a focused subject area including—but not limited to—applied positive psychology, creative writing, data analytics, leadership and communication, and global and regional studies.
For example, the online Certificate in Neuroscience is a 4-course program wherein you explore multi-disciplinary approaches to understanding the nervous system as the biological basis of behavior. Online classes cover topics in neuroendocrinology, neurochemistry, and pharmacology to help you obtain deep insight into behavior—and focus on subjects including social behavior, mental health, perception, and the effect of drugs on central nervous system functioning. And the skills obtained in the neuroscience certificate are applicable across a variety of fields including research, healthcare, pharmaceuticals, education, and in clinical settings.
Whether you're interested in pursuing a BAAS degree or a certificate program at Penn LPS Online, you'll enjoy the support of a community that's committed to helping you achieve academic and professional success while broadening your personal horizons and intellectual passions. Ready to get started? View the Penn LPS Online course guide to see the full range of online learning options available in any upcoming term.