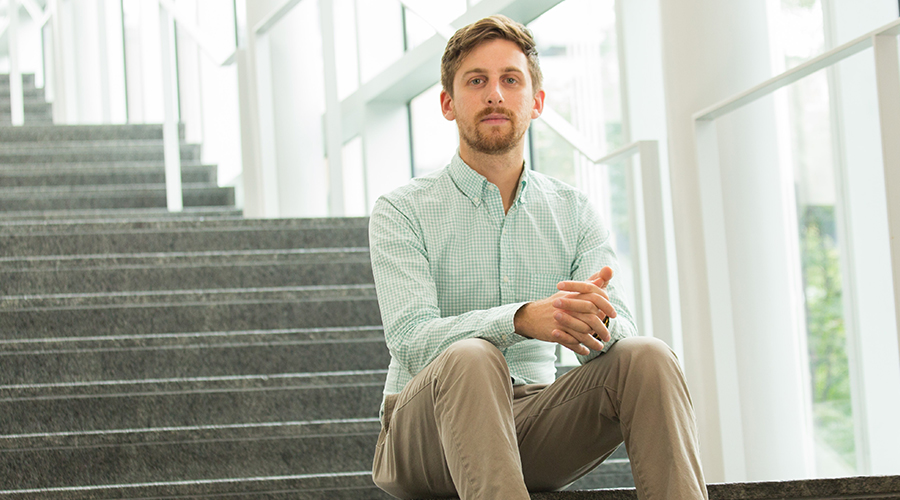 Choosing your undergraduate degree concentration is an important decision that can have a major impact on both your education and your future professional path. That's why it is critical that you carefully weigh your options. Ideally, selecting the right concentration may allow you to advance your career, boost your earning potential, and explore your personal passions.
According to the National Center for Education Statistics, of over 2 million bachelor's degrees attained in the US from 2018-19, the most popular areas of specialization included business, health professions, social sciences and history, biological and biomedical sciences, engineering, and psychology. If you're an adult learner who has returned to university, you may already have an intended field in mind—you just need to find the concentration that best aligns with it.
At Penn LPS Online, the concentrations for the Bachelor of Applied Arts and Sciences (BAAS) allow you to customize your undergraduate degree to align with your professional and intellectual ambitions. Because the concentrations range from introductory to higher-level courses, you will build your knowledge and skill set throughout the semester. Depending on the concentration you select, you may have the opportunity to explore an interdisciplinary perspective wherein you can develop a flexible approach to problem-solving in your area of interest and beyond.
There are eight concentrations to choose from for the Penn LPS Online BAAS program:
Read on to discover five steps you can take to help you choose the ideal concentration at Penn LPS Online.
1. Do your research on coursework and career outcomes
The first step to choosing the right concentration is rather intuitive: Do your research. Start by clearly articulating your goals—both academic and professional—and delve into the curriculum for the concentrations that most closely relate to them.
At Penn LPS Online, you can browse each concentration to get information including descriptions, course requirements, learning outcomes, corresponding certificates, and careers related to each area of interest. You can also explore each individual course to get detailed course descriptions, schedules, and background on instructors.
Your research should help give you a comprehensive understanding of the theoretical knowledge, practical skills, and possible professional outcomes that you can expect in each concentration. For example, if your career goals include building the expertise and know-how to advance into a leadership role in your field, the Leadership and Communication concentration may be an ideal fit that will prepare you to:
Identify and curate your unique leadership traits and skills
Develop and hone your communication skills and ability to persuade specific audiences
Learn how to use quantitative data to make decisions and solve problems at work
Explore how to apply positive psychology in different professional settings, including business, education, healthcare, and the nonprofit sector
Create a five-year leadership plan customized to your strengths and objectives
Once you've reviewed the different concentrations and narrowed down your options you will be in a great place to move on to the next step. If you find that you still need additional information, you can also review the Penn LPS Online course guide to perform advanced searches and browse courses related to each concentration.
2. Let your strengths, experiences, and interests be your guide
When choosing a concentration for your BAAS degree, it's important to take stock of your strengths, interests, and professional experiences. This may involve asking yourself some hard questions to identify your aptitudes—as well as the skills or tasks with which you may struggle. If problem-solving is one of your strengths, but your written communication skills could use some improvement, then the Leadership and Communication concentration could be a great way to capitalize on an asset while you work to improve a weakness.
It's also helpful to consider past career-related experiences that can guide you in the right direction. For example, if you've effectively used data to make better decisions in your work-related responsibilities—and you have a personal interest in psychology—it's worth looking into the Data Analytics and Psychological Sciences concentration as a means of leveraging your talents while engaging your interests.
Finally, take the time to think about subject areas that you've enjoyed in the past and your personal hobbies or passions. Choosing a concentration that incorporates them can help you thrive both academically and professionally. For example, if you love literature and want to gain the analytical and communications skills to pursue a career in public relations, marketing, publishing, journalism, or the nonprofit sector, then the Literature, Culture, and Tradition concentration may help satisfy your goals.
3. Speak to your academic advisor
One of the greatest sources of knowledge at your disposal when choosing your concentration is your Penn LPS Online academic advisor. Your advisor has the program knowledge and expertise to help you select courses, address questions as you weigh the pros and cons of each concentration, and help you to navigate the BAAS degree requirements and the transfer credit process.
Because your advisor has a breadth of experience guiding other Penn LPS Online students, they may be able to provide examples of how your peers chose their concentrations. You can also ask your advisor to refer you to any current or former Penn LPS Online students who chose the subject areas you are considering so you can get some firsthand feedback.
It can also be beneficial to speak with the instructors who teach courses in the Penn LPS Online concentrations that you are considering, as they can be invaluable resources in regard to both learning and career outcomes. So don't hesitate to reach out!
4. Speak with professionals and peers in your fields of interest
In addition to connecting with other Penn LPS Online students, faculty, and staff, look at your own personal and professional networks—which may include friends, family, fellow classmates, co-workers, and even employers. Explain that you're hoping to speak with any contacts they have who work in your intended field. The best way for you to reach out, whether by phone, email, or a social media platform such as LinkedIn, will likely depend on your relationship with that person. If it feels daunting to ask others for help, keep in mind that many people enjoy sharing their professional knowledge and experiences and may be more than willing to assist you if they can.
It's also a good idea to attend virtual or in-person networking events with prospective employers who may be able to give you insight into the types of skills, knowledge, and training they look for in potential employees. If you're not currently involved in any professional associations related to your industry of interest, then consider joining. Doing so can help generate networking opportunities and provide additional career-related resources.
5. Trust your instincts
Once you have reached this final step, you will have done all the research, self-assessment, and outreach required to decide on the best concentration for you. At this point, it may be time to pause, take a step back, and reflect on your own.
If at this stage you still aren't sure which concentration is the right fit, another route to go is to design your own through the Individualized Studies option. This concentration allows you to tailor your studies to develop the skills and knowledge that align with your unique career and life ambitions. With input from your academic advisor, you can combine courses from complementary disciplines for a highly personalized BAAS degree.
At the end of the day, only you can determine which concentration is the greatest fit—so it's important to have faith that you will ultimately make the right decision.
Ready to find your concentration?
With world-class resources at your disposal, including academic advising, technical support, online tutoring, and career advising (if you're a current BAAS student), Penn LPS Online offers a team of professionals committed to helping you succeed.
If you're eager to choose your area of expertise, browse the eight comprehensive BAAS concentrations now to start your research, or view our course calendar to see the full range of what's available in the upcoming term.