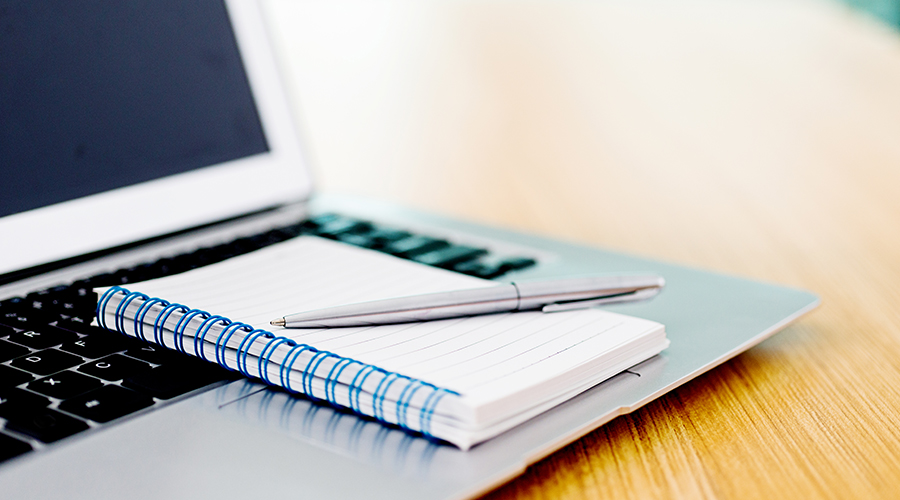 What is professional writing?
Professional writing may include any workplace interaction where you employ the subtle art of communication to meet a specific business goal. While employees in many fields put their writing skills to work, some may specialize in professional writing as a career. Depending on the industry, client, and project, the professional writer's role may be to build brand awareness, enhance an organization's reputation, sell a service or product, or explain complex concepts in an easily understood manner.
To be successful as a professional writer, you must be skilled in concision, clarity, and grammar, trained in various writing styles, and adept at creating copy that engages various audiences.
The professional writing assignments you may work on will depend on whether you work for a business, organization, agency, or yourself. Regardless of the path you choose, typical deliverables include everything from articles, press releases, and social media copy to product guides, white papers, and grant proposals.
What is the difference between professional writing and creative writing?
The primary differences between professional and creative writing involve intent and form.
Professional writing is used in business to convey information clearly and effectively—such as marketing copy—with a specific objective in mind. Creative writing is a form of artistic expression that employs literary devices such as imagery, symbolism, and metaphor to tell a story through novels, plays, poetry, scripts, or songs.
Despite these differences, success in both fields requires strong writing and communication skills, critical thinking, creativity, and the ability to affect the reader in a meaningful way with your work.
What are some top professional writing jobs?
One of the benefits of becoming a professional writer is the many potential career options across a wide range of industries, including education, government, health care, law, marketing, media, and nonprofit.
Explore six noteworthy roles in professional writing below and remember that the majority require a bachelor's degree for entry.
1. Freelance journalist
If you're interested in a flexible and fast-paced career updating the public on local, national, and international current events, you may want to consider freelance journalism. Freelance journalists record, report, write, and edit their own stories or features to publish through media outlets or their own platforms. On a day-to-day basis as a freelance journalist, you may investigate article ideas, interview primary and secondary sources, research assigned topics, create scripts for news anchors to read on TV or radio, or write features for newspapers, magazines, or websites.
According to the Bureau of Labor Statistics (BLS), freelance multimedia journalists are becoming more prevalent.1 It's important to note that if you choose to be self-employed, you must dedicate time to researching and pitching stories to editors, marketing your content to news organizations, and building your professional network.
If you want to learn how to build a portfolio for freelance job searches and professional advancement, then PROW 4010: Composing a Professional Identity at Penn LPS Online is an ideal course to pursue. You'll develop a foundational cover letter and resume, a LinkedIn profile, and a web portfolio to highlight your expertise as you develop rhetorical fluency in professional identity construction, learn how to identify and research potential employers, and enhance your networking skills.
2. Copywriter
A copywriter's role is to write engaging content that educates and influences an audience to act—such as buying a product or service—or to build awareness and loyalty for a brand or organization. If you want to pursue this career path, you should have a way with words, a creative mindset, and a deep understanding of your target audience. It's also beneficial to have a proficient understanding of marketing.
As a copywriter, you may find employment with a marketing or advertising agency, a corporation or nonprofit, or be self-employed. Depending on your employer, your projects may include direct mail pieces, emails, newsletters, press releases, billboards, media campaigns, landing page copy, or social media ads. Either way, the expectation will be that you can deliver succinct, purposeful, and compelling copy.
An essential course for all aspiring copywriters, PROW 4000: Writing for Social Media explores how to create and use social media campaigns to build business or brand identities for customers, interest groups, and followers. Learn how to use social media to create strong messaging, build a reputation, and cultivate loyalty on Facebook, Twitter, and Instagram. By the end of the semester, you'll have a multiplatform portfolio of social content to highlight your skills.
3. Copy editor
If you're a stickler for grammar, syntax, and punctuation, working in copyediting could be a great fit. To be an effective copy editor, it's crucial to have excellent attention to detail, a strong understanding of how to enhance flow and clarity, and the ability to rework writing to refine tone and voice. As a copy editor, you may work for a newspaper, magazine, book publisher, print or online media company, agency, business, or nonprofit organization.
A copy editor's primary responsibilities will likely include ensuring copy adherence to in-house or brand style guides, editing writing to improve readability and brevity, collaborating with writers in article research and development, perfecting headlines and subheadings, and proofreading to correct grammatical, spelling, or punctuation errors. A rewarding aspect of copy editing is using your writing knowledge and expertise to take someone else's content and make it the best it can be.
In PROW 1020: The Elements of Style: Grammar, Usage, and Mechanics at Penn LPS Online, you'll learn the ins and outs of what makes excellent writing seem effortless. Through customized grammar and mechanics exercises, you'll discover how the arrangement of words, sentence length, and rhythm can combine to appeal to and engage readers. And you'll obtain concrete strategies you can implement in your future copyediting career.
4. Public relations specialist
Public relations specialists are gurus at cultivating and maintaining positive public images for their employers. The primary goal of public relations efforts is to create positive media attention that raises brand or organizational awareness, enhances loyalty, and encourages support for a client's products, services, or overall message. To accomplish this, PR specialists write press releases and reach out to media outlets such as radio, television, newspapers, and online publications to generate stories.
According to the BLS, employment of PR specialists is expected to grow 8% by 2031, which is faster than the average of all occupations.2 As a public relations professional, your daily duties may include preparing press materials and responding to requests from the media, drafting speeches and arranging interviews for clients, helping to maintain an organization's image and identity, and evaluating advertising, promotion, and social media programs to ensure they align with public relations efforts.
PROW 3010: The Power of Storytelling can help you enhance your communication and persuasion skills if you want to break into public relations. In industries from business and science to medicine and nonprofits, the art of storytelling as a rhetorical strategy for generating emotional appeal and action is highly valued. In this class, you'll learn how storytelling can be used to convey complex and memorable information, gather evidence, and effectively persuade different audiences to meet your goals.
5. Technical writer
If you like the idea of translating multifaceted technical concepts into easily digestible materials, you may enjoy a career in technical writing. Technical writers create how-to guides, instruction manuals, journal articles, white papers, and other supporting documents to help readers more easily understand complex topics. Depending on your experience and interests, you may work as a medical writer to communicate scientific and clinical data, a legal writer to translate litigation documents or other legal concepts, or an IT writer to instruct users on operating software.
The job growth outlook for this field is bright. As per ONET, employment of technical writers is expected to grow by 10-15 % by 2030, which is faster than the average.3 If you become a technical writer, your duties may include writing about topics such as medical procedures, computer applications, environmental regulations, and engineering and manufacturing processes. You will create product operating or assembly instructions, FAQs, and user manuals, edit instructions for simplicity and readability, and incorporate charts, infographics, graphics, and video into your work. 
If you're interested in technical writing, enrolling in PROW 1000: Fundamentals of Professional Writing and PROW 2000: Writing with Data is a great start. The former introduces students to critically analyzing writing to make it a purposeful act of communication and includes strategies for improving grammar, mechanics, precision, and persuasiveness. The latter teaches you how to use and create data visualization tools, such as illustrations, technical diagrams, and graphs to convey information more accurately.
6. Grant writer
What if you could pursue a career in technical writing that could positively impact the world? Grant writing involves researching, creating, and submitting proposals to help nonprofit organizations, research scientists, or other institutions receive funding. Part of the appeal of becoming a grant writer is that if you have a specific cause you're passionate about, such as nature conservation, cancer research, or humanitarian aid, you can seek employment writing grants for an organization that supports it.
A significant part of this job involves identifying grants that align with the organization's objectives. Not only must you extensively research the client that you're working for, but you will also need to spend time scanning databases and donor websites to find the right fit. Typical grant proposals include a cover letter, project narrative, and supporting information that describes why the organization is qualified, outlines how the funds will be used, and makes a case for why the grant seeker is worthy of support. Because so many organizations compete for the same grants, it's critical that you have the skills to communicate a factual and compelling story that convinces potential donors to invest in your cause.
If you want to build skills applicable to grant writing, look no further than PROW 2010: Designing Effective Presentations. In this course, you'll learn how to develop powerful messaging and translate it into a deck that effectively engages, informs, and persuades your audience.
Learn more about professional writing
Ready to enhance your business writing and communication skills with proven rhetorical approaches? The four-course Certificate in Professional Writing at Penn LPS Online is designed to help you bolster your writing capabilities, expand and refine your repertoire, and learn cutting-edge writing concepts with practical applications. Through extensive feedback on your writing, you'll explore how to communicate your personal or corporate story more effectively and learn how to identify and appeal to multiple target audiences.
The Professional Writing Certificate prepares you to:
Assess audience and purpose for communication to achieve specific goals
Analyze different audiences, scenarios, and contexts to shape your messaging effectively
Draft and revise copy for clarity, power, and precision
Develop empathic and analytic skills to enhance your writing
Explore how to engage the senses to increase the effectiveness of social media messaging
Understand how to use effective visualization to make complex information easily accessible
---
Invest in your future writing career by enrolling in the Certificate in Professional Writing today. Or view the Penn LPS Online course guide to see the full range of online courses available in any upcoming term.
Sources
1 https://www.bls.gov/ooh/media-and-communication/reporters-correspondents-and-broadcast-news-analysts.htm#tab-2
2  https://www.bls.gov/ooh/media-and-communication/public-relations-specialists.htm
3  https://www.onetonline.org/link/summary/27-3042.00