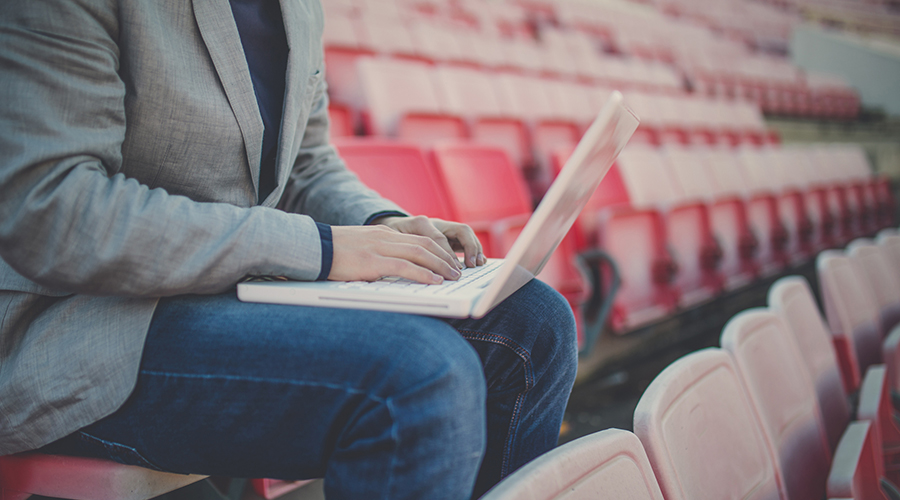 Do you have a mind for business and a love of athletics? Sports marketing is an intriguing industry that offers a variety of career paths to choose from, depending on your experience and interests. Working in sports marketing typically involves providing advertising and public relations services for specific teams, players, or sporting events, but there are definitely more facets to this fast-paced field.
If you've already earned your bachelor's degree and you're looking to upskill your credentials, you may want to consider the Certificate in Digital Strategies and Culture at Penn LPS Online. In this four-course Ivy League program, you'll learn strategies to help improve your technological fluency, build your critical thinking and data analysis skills, and create and manage content for digital audiences—and you'll have the flexibility to fit your studies into your busy work and home schedule.
Read on to explore six engaging careers in sports marketing and learn how the Certificate in Digital Strategies and Culture is relevant to these roles.
1. Social media manager
If you're a social media maven with a passion for all things sports-related, it's worth considering a career as a social media manager for a team or individual athlete. Social media managers are responsible for strategizing and implementing the social media marketing for their clients across channels such as Facebook, Twitter, Instagram, and TikTok. As such, they serve as the voice of the brand and provide guidance for building and engaging followers on social media. Additional duties may include creating a schedule for posts and game promotions, overseeing the creation of video and photo shoots that highlight the sports organization or players, writing social media copy, monitoring metrics, and reporting on results.
If you're interested in social media management in sports, one of the courses in the Digital Strategies and Culture program that you should consider is PROW 4000: Writing for Social Media. You'll learn how to effectively execute social media campaigns to build organizational or brand identities, and you'll discover how to combine language, image, and sound to create engaging messaging, develop a reputation, and promote follower loyalty. By the end of this class, you will also create a portfolio of social content that can highlight your expertise to potential employers or clients in the sports world.
2. Public relations manager
Public relations managers in sports marketing serve a vital role in directing the creation of promotional materials to enhance the public image of individual athletes or entire sports teams. PR managers are tasked with identifying target audiences, such as sports fans or potential sponsors, and deciding the best way to reach them. They may also serve as the spokesperson for press conferences and media inquiries or assist coaches, owners, players, or team representatives so they can communicate more effectively with the public. In addition to being great communicators, PR managers need to be skilled in writing press releases and other promotional materials.
According to ONET, overall employment for PR managers is projected to grow 10-15% by 2030, which is faster than average. As an aspiring public relations manager in sports marketing, the odds are that you will need to communicate and work with colleagues across the country—and potentially the world. ORGC 2010: Virtual Collaboration is a course at Penn LPS Online that can help prepare you to collaborate with virtual teams more effectively. Learn how to successfully navigate, cooperate, and lead in the digital workplace, and gain real-world insights from guest speakers who share the experiences and strategies that helped their organizations thrive in today's interconnected digital landscape.
3. Advertising or brand manager
If you're interested in media strategy and PR, another career path to consider is advertising or brand management for sports teams, players, merchandisers, or vendors. Sports advertising managers plan the creation of materials for advertising campaigns to generate interest. They also purchase advertising space from media, including newspapers, radio, billboards, and television networks like ESPN or MSNBC Sports. Similarly, brand managers in the sports industry create a strategy to help develop a profitable brand for their clients. This often involves designing promotional campaigns and marketing materials to increase ticket sales for sports games or individual and team merchandise sales.
Both advertising and brand managers may also initiate market research studies, analyze the findings, and present potential market opportunities to the team or venue stakeholders. According to the Bureau of Labor Statistics (BLS), overall employment for brand managers is projected to grow 10% by 2030. In the Digital Strategies and Culture Certificate at Penn LPS Online, you'll obtain a variety of valuable skills relevant to advertising and brand management. You will enhance your problem-solving and data-analysis abilities in this program, and also gain skills to help you cultivate strategic partnerships and manage content for diverse digital audiences.
4. Videographer
Does recording sports games, practices, and other events for a living sound like your dream job? Sports videographers must be skilled in operating camera and recording equipment while moving along venues such as courts, fields, or ice rinks. They may also be tasked with using software to edit their recordings for use in PR, advertising, and marketing materials for sports teams or players. Per the BLS, employment of videographers is projected to grow 29% by 2030, which is much faster than the average for all occupations. This is the equivalent of approximately 8,600 new job openings each year through the rest of the decade. Sports videographers may choose to do contract work or seek employment with specific teams or organizations.
If you're interested in pursuing a career as a sports marketing videographer, DIGC 1600: A History of Digital Culture will likely be of interest. In this course, you'll explore how contemporary digital culture has evolved from a blending of technologies and, sometimes, invisible cultural practices across time. Through interdisciplinary, science-based case studies of technological innovation, you'll examine the political and social impacts of digital culture and explore how you create and comprehend techno-cultural objects. As such, you'll have an opportunity to consider how your work may impact culture in your future career as a sports videographer.
5. Sports merchandising coordinator
What if you could combine your sales expertise with your passion for sports? Sports merchandising coordinators are responsible for ensuring that merchandise, such as team and league jerseys, t-shirts, hats, and other collectibles, are displayed effectively in stores or on websites; observing and reporting on inventory levels; and monitoring sales performance of these products. Merchandising coordinators may also work with suppliers to negotiate prices, review customer feedback to anticipate sales trends and stock demand, and use data to set profitable price points in collaboration with executives and marketers.
There are a variety of areas to explore within the sports merchandising industry. If sales are your strong suit, you may seek out roles as a representative with college athletic departments, professional sports organizations, and equipment or apparel manufacturers. If you're interested in determining which sports collectibles will sell best, then purchasing may be your niche. Or you may focus on the marketing side of sports merchandising, such as analyzing consumer buyer habits, identifying new market opportunities, and helping to initiate product launches. In the Certificate in Digital Strategies and Culture at Penn LPS Online, you'll learn how to interpret and analyze data to find innovative solutions to complex problems, which is advantageous to a career in sports merchandising.
6. Sportswriter
Are you a writer or journalist who wants to branch out into the sports industry? Sportswriters create engaging, informative, and compelling content related to football, basketball, hockey, or other sporting events. Sportswriters may work for websites, print media, television networks, radio stations—or on their own as freelancers. Some sports journalists focus on writing for a specific sport, while others report on multiple sports within the geographic region they cover. To be successful as a sportswriter, it's imperative that, in addition being a skilled writer, you are well-versed in game and player statistics and standings so you can effectively make commentary with authority.
PROW 4010: Composing a Professional Identity from the Digital Strategies and Culture certificate can help you build your professional identity as a sportswriter to attract clients or employers. Learn strategies and rhetorical fluency to advance your career by identifying potential job opportunities, networking effectively, and cultivating mentors. This course is writing-intensive and combines theory, analysis, and practice through guided writing exercises and peer and professor feedback. You'll also develop a professional profile, including a polished cover letter, resume, LinkedIn profile, and a web portfolio that you can use to showcase your sports writing skills.
Why is it important for professionals to upskill?
Upskilling refers to the process of learning new skills that add value to your professional profile. It's undeniable that the COVID-19 pandemic, and the accelerated rise of the digital economy, has had a major impact on how we live and work. To remain competitive in today's job landscape, it's essential to continuously upgrade soft skills such as time management and communication, as well as hard skills such as data analysis or computer programming.
In addition to exploring the Certificate in Digital Strategies and Culture to enhance your digital fluency, you may also want to consider the Upskill Certificate at Penn LPS Online. This program was designed to help you revise or rebrand your professional skill set to boost your resume, whether you pursue a career in sports marketing or another field. You can customize your certificate by choosing courses to enhance specific in-demand skills aligned with your career ambitions, such as written communication, data analytics, or leadership.
Ready to take the first step?
Penn LPS Online allows you to design an Ivy League educational experience tailored to your personal and professional goals. Our online courses, certificates, and degree offer the flexibility to learn new skills, pursue your intellectual interests, and enhance your credentials on a schedule that works for you. Apply or enroll today—fill out our online form to get started.