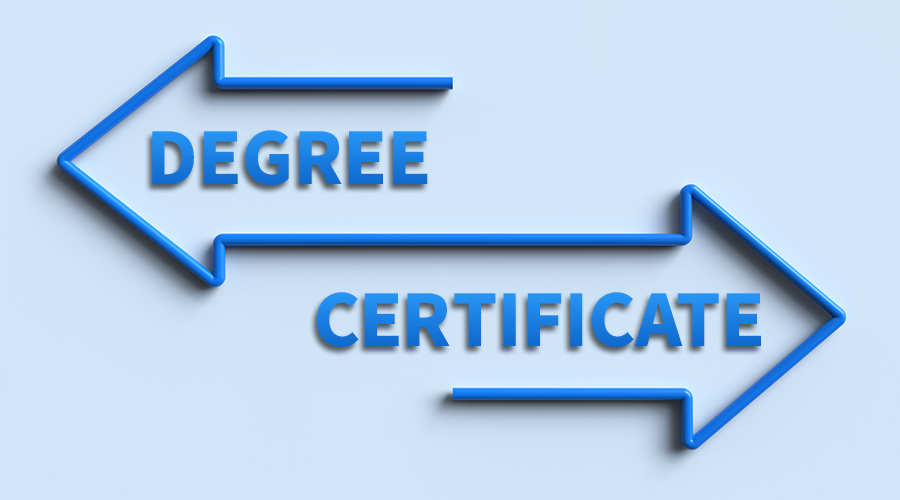 If you want to return to university but are unsure of which credential to pursue, you are not alone. When researching your options, it can be difficult to determine which one best aligns with your intellectual and professional goals. At Penn LPS Online, both the Bachelor of Applied Arts and Sciences (BAAS) degree and certificate programs were designed to make an Ivy League education accessible, affordable, and conducive to advancing your career. It doesn't matter if you have some college credit, a high school diploma, or a GED, as both credentials meet you where you are—and can be completed on a schedule that works with your lifestyle and your responsibilities.
Whether you want to enhance your resume or explore an area of personal interest, in the BAAS program, you can tailor your degree to your ambitions by selecting one of eight concentrations in subjects such as creative studies, data analytics and social sciences, individualized studies, literature, culture, and tradition, and organizational studies. Or, if you're looking for a less time-intensive alternative to earning a bachelor's degree, you can also choose from 13 certificates in subject areas ranging from applied positive psychology and global and regional studies to neuroscience and digital strategies and culture.
Ask yourself the four questions below to help you to look inward and determine whether a degree or certificate program at Penn LPS Online makes the most sense for you.
1. What are your specific career goals?
When in doubt, start by outlining—in detail—where you want your career to go and what qualifications you need to get there. For example, if you have your sights set on moving up the corporate ladder into a role in upper management, it's important to note that according to the Bureau of Labor Statistics, the entry-level education requirement for aspiring top executives is a bachelor's degree.1 So, if you don't currently hold a degree, you may want to consider pursuing a BAAS with a concentration in Leadership and Communication.
This concentration was designed for aspiring entrepreneurs, managers, or directors who want to develop career-enhancing leadership and critical thinking skills. If you enroll in this program, you'll gain expertise that is customized to your professional strengths and interests and has broad applications across a wide range of fields. You'll have the opportunity to:
Grow your efficacy as a leader
Learn impactful communication strategies
Personalize your approach to professional development
Perfect the art of making data-driven decisions
Discover how to improve your leadership style with positive psychology
However, if you want to become more competitive in your field, were recently laid off, or seek to revise your skill set to make a career change, then the Upskill Certificate may better align with your goals. This 4-course credential allows you to quickly build in-demand professional skills that are tailored to help you excel in your chosen career path. Prepare to gain competitive advantages including the ability to:
Enhance your unique leadership skills and traits
Develop rhetorical strategies to effectively persuade your audience
Build empathic and analytic skills to aid collaboration
Apply critical thinking skills in the workplace and beyond
2. How much time can you dedicate to your studies?
A key consideration when choosing between a degree or certificate program is determining how quickly you need to enhance your education and how much time you can set aside toward that effort. Penn LPS Online certificates are short programs of study that can be completed in less than a year by taking one 8-week course per term, whereas the BAAS degree is a comprehensive 120-credit program that takes approximately four years for new bachelor's degree students to complete; transfer students may be eligible to apply previous credit toward the degree and shorten the time to completion. Both are great options, but the time commitments involved are vastly different.
"It was definitely a challenge, both in terms of the course load and then actually thinking meaningfully about the process. But I was able to carve out the time needed. Having online access meant I could set my own pace and gave me the flexibility to devote myself fully on the course material at the best times for me." — Felicia Grable, Penn LPS Online Certificate in Creative Writing '20
Although both the BAAS and certificate programs provide the flexibility and accessibility afforded by online learning, it's important to realistically take stock of your work, family, and personal responsibilities to ensure that you don't underestimate your availability and end up overextending yourself. The good news is that without the hassle or expense of a campus commute, it's inherently more manageable to fit your coursework into your busy life. And with the easy-to-navigate learning management platform, Canvas, you can access your course materials and complete your assignments where and when it works best for you.
3. Would you like to study a wide range of topics or specialize in one subject area?
A major difference between a bachelor's degree and a certificate program is the scope of what you study in each. In the BAAS program at Penn LPS Online, you'll start by choosing a concentration—which will likely be interdisciplinary in nature—that aligns with your career and life goals. But you'll also complete foundational course requirements that reflect core competencies such as the ability to communicate effectively, the analytical skills to solve complex problems, and an appreciation for diverse cultures and traditions. On the other hand, certificate programs concentrate more narrowly on a particular skill set—or area of study—that has a creative, practical, or professional application. While you can complete more than one certificate to diversify and expand your expertise, the certificate programs are designed to be short and focused compared to a bachelor's degree in the liberal arts.
If you compare the concentration in Data Analytics and Psychological Sciences for the Penn LPS Online BAAS program to the Certificate in Data Analytics, these similarities and differences become apparent. In both programs, you can improve your data literacy, learn to understand predictive modeling, develop skills in statistical programming, and design experiments to address real-world problems. In the degree concentration, you can also develop strategies to support well-being at work, at home, and in your community. Although the curricula for both offerings include data analytics courses, the bachelor's degree program also focuses on the study of positive psychology as well as offering foundational courses that round out this liberal arts degree.
4. What are you hoping to gain from your education?
It's no secret that career advancement is the primary motivation for going back to university for many adults. And there's absolutely nothing wrong with that! If you want to enhance your qualifications by earning a degree to transition into a career in a research or clinical setting, then the BAAS degree with a concentration in Physical and Life Sciences could be a good fit. Or, if you're already employed in your intended field and you want to improve your digital fluency—and develop the skills to use technology to work smarter in the virtual workplace—then you may want to look to the Certificate in Digital Strategies and Culture.
It's also a good idea to take stock of what you would like to achieve outside of the professional realm. For instance, enhancing your education can help you to stay intellectually curious and open, build your confidence and sense of purpose, and discover new passions and interests. That's why it's helpful to think about the subject areas that you are interested in but haven't yet had a chance to explore and try to include these types of courses in your studies. In doing so, you'll increase the likelihood that you will be motivated, engaged, and satisfied with your learning experience at Penn LPS Online.
The Certificate in Social Difference, Diversity, Equity, and Inclusion is an excellent example of a new credential at Penn LPS Online that offers the opportunity to enhance your career and your personal development. This certificate is designed to provide the tools to help you identify and address the social histories of structural inequalities such as sexism, systemic racism, queerphobia, and other forms of institutional discrimination. The courses in this program explore diverse perspectives on gender, race, sexuality, equality, and class in the United States. They help equip you with the critical and analytical means to evaluate complex social issues and develop strategies to create real, meaningful change in your community.
At the end of the day, only you can determine whether pursuing a degree or certificate will best support your goals. Once you've asked yourself these four important questions, all that's left to do is make a commitment and trust your instincts. Whichever path you take, it's helpful to recognize that by investing in your education—and yourself—there really is no wrong choice.
Ready to take your education to the next level?
View the Penn LPS Online course guide to see the full range of online learning options available in any upcoming term. Or if you're looking for more details about programs, enrollment, and the student experience, sign up for an information session today.
Sources
1 https://www.bls.gov/ooh/management/top-executives.htm#tab-1