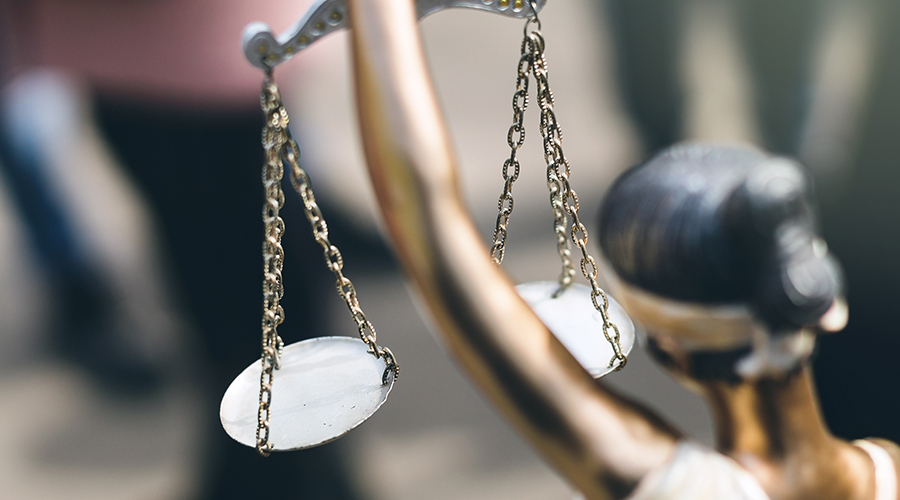 What is ethics?
Ethics is a theory or system of moral values that guide the conduct of an individual, group, or society at large. As a child, you were likely told to treat others as you'd like to be treated, which introduced you to the moral concept of right and wrong. Other standards and values governing behavior include treating everyone equally, bettering society, doing no harm, helping those in need or distress, and exhibiting compassion, cooperation, honesty, integrity, and respect.
"Ethics is knowing the difference between what you have a right to do and what is right to do." – Potter Stewart, associate justice of the United States Supreme Court
If you're interested in learning more about ethics, consider enrolling in ETHC 2000: Ethics & Society at Penn LPS Online. In this Ivy League course, you'll learn and investigate the primary questions in moral philosophy, particularly as they pertain to critical ethical dilemmas such as climate change, abortion, and donating to aid organizations. You'll use these debates to better understand and test general ethical theories.
When it comes to the professional world, you may be familiar with the concept of business ethics, which involves creating policies that concern issues such as insider trading, corporate governance, bribery, discrimination, and fiduciary and social responsibilities. Business ethics are generally guided by laws and are put in place to create a level of trust and safety between consumers, employers, partners, and companies.
Read on to explore meaningful career paths wherein an understanding of—and the ability to apply—ethical principles and make ethical decisions is not only advantageous, but essential.
Social worker
Are you looking to pursue a career path that focuses on helping others? Social workers provide counseling and support to people who are facing challenges. Social workers help clients adjust to changing circumstances and challenges, such as dealing with domestic abuse, substance misuse, adoption, divorce, illness, or unemployment. Social workers assess their patients' needs, strengths, and support networks and then refer and advocate for related resources to improve their well-being.
According to the Bureau of Labor Statistics (BLS), the employment of social workers is expected to grow 9% by 2031, which is slightly faster than the average.1 Social workers typically need to earn a bachelor's or master's degree in social work from a program accredited by the Council on Social Work Education and, in some states, obtain a license to practice. These degree programs generally instruct students about human behavior, diverse groups of people, social welfare policy, and ethics in social work. Social workers are typically employed with healthcare providers, human services agencies, child welfare services, or schools.
Suppose you're not ready to commit to earning a bachelor's degree but want to enroll in courses relevant to the field of social work. In that case, APOP 1000: Introduction to Positive Psychology and APOP 1200: Human Flourishing: Strengths and Resilience at Penn LPS Online are ideal options. In the former, you'll gain an introduction to the foundations of positive psychology, including what it means to thrive, the components of well-being, and how to cultivate it in individuals, organizations, and communities. In the latter, you'll explore the concept of resilience (or the ability to overcome challenges) and learn how to leverage character strengths to enhance the well-being of yourself and others.
The courses mentioned above are offered in the Certificate in Applied Positive Psychology, which is particularly valuable if you're looking to enhance your credentials and upgrade your resume to advance your career in social work. Not only will you learn tools and strategies to enhance human flourishing and support personal, organizational, and community well-being—you'll also learn about the theoretical and empirical foundations of positive psychology to help you and your clients thrive.
Health education specialist
Another fulfilling career in which having an ethical background is essential to helping promote well-being is as a health education specialist. This type of professional is responsible for teaching people about behaviors and strategies that promote wellness at the individual and community levels. Typical duties for health education specialists include:
Creating programs, educational materials, and events to instruct people about health-related topics
Helping people locate health services or support
Training health workers or healthcare providers
Advocating for improved health policies and resources
According to the BLS, employment of health education specialists is expected to grow 12% by 2031, which is must faster than the average for all occupations.2 Health education professionals typically need to obtain a minimum of a bachelor's degree in either health education or promotion—or in other majors such as business, social sciences, or healthcare. Sometimes, employers may also require job candidates to have a master's or doctoral degree. Health education specialists typically work at hospitals, government agencies, or nonprofit organizations.
If you want to pursue work in health education, you may be interested in the Data Analytics and Social Sciences concentration for the Bachelor of Applied Arts and Sciences (BAAS) degree at Penn LPS Online. This option allows you to integrate data analytics with insight into historical, economic, political, and behavioral contexts. As such, you'll learn how to:
Make complex information easily accessible through effective visualization
Develop statistical skills to address real-world issues
Apply rhetorical strategies to persuade data-driven information to different audiences effectively
Demonstrate knowledge of the analytical tools used in social sciences
Human resources specialist
Human resources specialists recruit, interview, hire, and onboard new employees. These HR professionals may also take care of compensation and benefits, training, and employee relations. Additional duties may include:
Answering questions about organizational policies
Performing reference and background checks on job applicants
Helping to ensure that human resources professionals are following federal, state, and local regulations
Running employee orientations
Processing records and other paperwork
Because human resources specialists are usually trained in all aspects of HR, they are integral to most companies.
As per BLS data, employment for human resource specialists is projected to grow 8% by 2031, which is faster than the average.3 To enter the profession, applicants typically need to obtain a bachelor's degree in human resources, business, communications, or a related field. HR specialists may work in office settings across virtually any industry, which is a benefit to pursuing work in this field. If you enjoy travel, this is an ideal role, as specialists may sometimes need to attend out-of-town job fairs, visit colleges, and meet with applicants.
If the idea of becoming a human resources professional appeals to you, the Organizational Studies concentration for the BAAS degree could be an excellent fit. Through applied courses in writing, speaking, and group dynamics, you'll develop the critical and interpersonal skills to help you pinpoint your communication goals, understand your audience, and customize your messaging and strategy to be successful in today's complex workplaces. You will also develop the expertise to help you build and work effectively with diverse teams in physical and virtual professional contexts.
If you're currently working in human resources and want to advance into a leadership role, the Certificate in Organizational Anthropology can help you learn how to manage relationships within complex team structures effectively. You will develop your understanding of how teams, corporations, and organizations develop and reinforce culture and how to apply research to create better-functioning groups. You'll hone strategies for communicating more effectively, gaining alignment, and inspiring change in the workplace.
Corporate social responsibility manager
You may want to pursue a career as a corporate social responsibility (CSR) manager if you'd like to have ethics and business intertwined within a leadership role. The role of a CSR manager is to oversee social responsibility and philanthropy efforts that help organizations make a positive difference in the world and their local communities. Critical components of this role include the ability to:
Make ethical business decisions
Ensure compliance with social and environmental laws
Promote sustainability efforts
Help corporations meet their commitments to ethical labor practices, diversity, and climate-friendly environmental policy
Two related leadership roles are ethics and compliance director or executive director of a nonprofit. The first is similar to a CSR position with a greater emphasis on adherence to legal guidelines and organizational policies that maintain business ethics. The second poses the opportunity to make a positive impact by overseeing the goals, vision, and tactics of nonprofit organizations.
The Leadership and Communication concentration for the BAAS degree was explicitly developed to help aspiring managers, directors, and visionaries become the best leaders possible. Through lessons from expert practitioners and a diverse curriculum, you'll develop the practical knowledge and critical thinking abilities needed to develop ethical, career-advancing leadership and communication tailored to your strengths and professional goals.
For example, if you enroll in LEAD 3300: Leadership and Nonprofit Management, you'll be introduced to an evidence-based approach to management in the nonprofit sector by studying in detail one of the nation's oldest, largest, and most respected nonprofit organizations. Accordingly, this course is beneficial if you aim to build the skills and knowledge to pursue management roles with charitable agencies.
Bioethics consultant
Bioethics consultants advise companies or individuals on the ethical implications and applications of health-related life sciences. These professionals guide healthcare practitioners and patients through ethical health and biotechnology decisions, policy issues, and legal matters–such as end-of-life scenarios, fertility treatments, genetic testing, sexuality and gender, mental health care, and other matters related to patient rights.4
Working as a compliance consultant is a similar role to explore if you're interested in bioethics. This job involves helping organizations ensure that their products, services, and operations adhere to local or federal regulations. Duties may include explaining legal concepts or terms, advising compliance committees, and creating and executing risk mitigation strategies for clients. Bioethics compliance consultants also typically collaborate with medical or pharmaceutical scientists to advise them on ethically developing new drugs or medical technologies.5
To pursue work as a bioethics consultant, you will likely eventually need to earn an advanced degree in bioethics. However, earning an undergraduate degree in either bioethics or life sciences could be a great starting point in this exciting field. If this interests you, take some time to explore the Physical and Life Sciences concentration for the bachelor's degree program at Penn LPS Online. In this program, you'll obtain a solid foundation in both branches of science through courses in biology, chemistry, and physics. You'll prepare to:
Understand and identify the scientific method
Interpret quantitative and qualitative evidence
Read and critically evaluate scientific research
Effectively communicate findings
Explore ethical considerations related to research and clinical care
Ready to take the first step toward pursuing a career involving ethics?
Without a campus commute, you can complete your work for the flexible and accessible certificates or bachelor's degrees at Penn LPS Online, where and when it works best for you and your family.
If you haven't already, submit your application today. You can also view our course guide to see the full range of learning options available in any upcoming term. Or, if you're looking for more information about programs, enrollment, and what to expect as an online student, sign up for an information session at your convenience.
Sources
1 https://www.bls.gov/ooh/community-and-social-service/social-workers.htm
2 https://www.bls.gov/ooh/community-and-social-service/health-educators.htm#tab-1
3 https://www.bls.gov/ooh/business-and-financial/human-resources-specialists.htm
4 https://usa.careerguidancecharts.com/blog/20-top-ethical-careers-that-make-a-difference
5 https://www.indeed.com/career-advice/finding-a-job/what-can-you-do-with-bioethics-degree