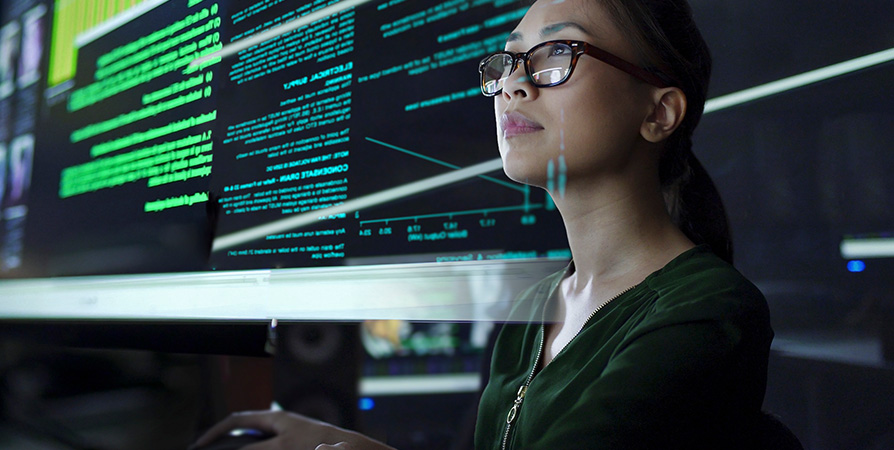 Technology is transforming the world so rapidly that its effects are hard to fathom. The last decade alone saw technological breakthroughs in machine learning, artificial intelligence, cloud computing, and data analytics—leading to many of the iconic technology products and services we now take for granted. Dr. Meryl Krieger and Dr. Clayton Colmon, instructors of digital culture at Penn LPS Online, note that the coronavirus pandemic has also ushered in a whole new phase of the digital age. Going forward, they predict, individuals will need technical proficiency to participate in society and a level of mastery they call "digital literacy" to make an impact. This fall, Meryl and Clay are launching a new Penn LPS Online course block in digital culture that equips students to "confidently engage the changing world around them." A course block is a sequence of Penn LPS Online courses (typically 4-6) designed to develop skills and knowledge with increasing complexity in a specific area of study.
Meryl and Clay live and breathe technology. In addition to their teaching roles, they also serve as Senior Learning Designer and Associate Director of Instructional Design, respectively, for the Penn Arts and Sciences Online Learning team. Their daily work entails helping other Penn faculty make their courses even stronger in the process of translating them for the online space. Clay notes, "We have this dual vantage point as instructors and instructional designers. We have seen how students in different courses have interacted with online learning spaces, so we know what tools we can use in our own courses to help students build community, feel present, and develop projects together." Meryl adds that working directly with students informs their work as instructional designers. Through teaching, they gain insight into the best ways to structure course sites, communicate content, and design assignments for different types of courses. "We are always bringing new ideas back to our faculty so that they can make their content even more engaging and meaningful for students with a wide range of backgrounds, personalities, and learning styles," she says.
What can digital storytelling do for you?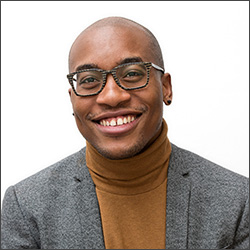 The first course in this series, taught by Clay, is DIGC 1200: Digital Literacy & Cultural Change. In this course, students look critically at how they engage with technology. They consider the vested interest media and technology companies have in technology being used in specific ways that benefit their bottom line, sometimes at users' expense. For example, social media feeds are designed to entice users to "scroll" away their free time, while corporations exploit their attention, social influence, and personal user data. By contrast, students look at more empowering uses of digital tools that allow individuals to exercise more creativity and control and sidestep what digital culture scholars call "surveillance capitalism," in which corporations collect and mine user data to predict and shape consumer behavior. In particular, the course highlights the unprecedented possibilities that technology offers individuals for self-expression and self-determination.
"My background is in African-American literature, queer studies, science fiction, and utopian studies," says Clay, who holds a Bachelor of Arts in English and political science from Rutgers University and a doctorate in English from the University of Delaware. He notes that for historically marginalized people, digital storytelling can be a form of activism, whether it is simply adding their experience to the media landscape or representing alternative realities that inspire social change in the real world.
Like all Penn LPS Online courses, Digital Literacy & Cultural Change provides students with both theoretical frameworks and practical tools to apply research-based knowledge in their professional lives. Throughout the class, they experiment with digital tools they are likely to encounter in professional settings, including multimedia, HTML, mind-mapping, and other visualization tools. Students also practice telling their own stories, digitally, for their current jobs and future career goals. In fitting with one of the course's central themes, self-determination through digital authorship, students design elements of their own course experience, including the parameters of their projects and the rubrics by which their work is evaluated. "Professional environments are dynamic," Clay says. "Sometimes, there are no set rules, and it's up to you to create them."
Meryl plans to take a similarly flexible approach in her course. She says, "In my experience teaching adult learners, they have so much to say and so many brilliant ideas, and they're just looking for the guidance and some basic structures to blossom into whatever it is they want to become."
Seeing the bigger picture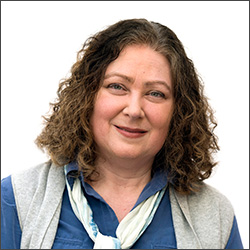 Meryl says that digital literacy is all about context and "understanding not only how to use technologies but how to use them effectively and mindfully." Her spring course, DIGC 1600: A History of Digital Culture, introduces students to fundamental topics in digital literacy from a different vantage point than Clay's class. Whereas Digital Literacy & Cultural Change foregrounds identity, agency, and the relationship between individuals and technology, Meryl's course provides students with a broader, historical understanding of how technology functions in society. "Throughout human history, something has been a new technology," Meryl says. She adds that whether the new technology is a pair of eyeglasses or an algorithm, the process is essentially the same: it is developed, marketed, adopted, and adapted by people, who are influenced by the technologies in turn. "When eyeglasses were invented, they went through the same kind of marketing that we do today with the technologies and media that were available at the time, so you see eyeglasses in Renaissance paintings. What's hilarious is there are paintings of historical figures wearing glasses who never did in real life, as a symbol of their learnedness."
In spring 2021, A History of Digital Culture will feature four guest speakers that will discuss how technology has evolved within their professional arenas and help students get access to some of the thinking that goes behind what gets published. The guests include Dr. Mantha Zarmakoupi, Assistant Professor in Roman Architecture in Penn's Department of the History of Art; Dr. Patrick Feaster, three-time Grammy nominee for historical recordings and specialist in the history, culture, and preservation of early sound media; Matt Murray, Wall Street Journal Editor in Chief; and Dr. Stephanie Singleton, folklorist, librarian, and 9/11 Truth Movement expert.
Meryl's interest in digital culture came about because of research she did while pursuing her doctorate in ethnomusicology at Indiana University Bloomington. She notes that the field of ethnomusicology itself exists because of analog recording technology that enabled researchers to start recording and analyzing music from around the world. Midway through her program, YouTube launched, and she shifted her research focus to study the impact of technological change on musicians' lives and careers. As a scholar and practitioner of technological innovation for decades, Meryl says that dialogue about the subject is now more critical than ever. She looks forward to the thoughtful, diverse perspectives that Penn LPS Online students will bring to classroom conversations about the hidden feedback loops between technologies and people. Meryl notes that the course "asks a lot of 'why' questions" and that "part of what makes someone really digitally literate is understanding not what the answer is, but what questions to ask."
Communicating across diverse professional spaces
The next two courses in the digital culture course block offer students an opportunity to continue exploring the interplay between technology, individuals, and society, with specific professional applications in mind. In ORGC 201: Virtual Collaboration, students dive deeper into how, why, and through what means they communicate in digital spaces for work. This timely course examines the challenges and opportunities that virtual communication presents and what virtual teams need to do their best work together. Students learn to observe virtual workplace dynamics at the individual, interpersonal, and organizational levels using a sociologist's lens. One Penn LPS Online student, Rosie DeFilippo, says the course radically changed "how I show up, and strive to show up," in virtual professional environments and elsewhere. "At its core, this class is about human connection and what it feels like to be seen and to see others," she explains.
There are no prerequisites for Virtual Collaboration; however, Clay and Meryl recommend that students take the courses in the digital culture course block in their numbered sequence to avoid jumping too quickly into the "deep-end" of these topics. The foundational concepts and practices in the introductory courses—Digital Literacy & Cultural Change and A History of Digital Culture—position students for even deeper professional growth in Virtual Collaboration and the upper-level courses that follow it, they explain.
Progressing through the recommended course sequence gives students sophisticated frameworks through which to approach the fourth course in this course block, PROW 4000: Writing for Social Media. This professional writing course teaches students best practices for crafting communications in various platforms using a combination of language, visuals, digital tools, and a keen understanding of audiences that requires constant, careful listening. Students discover the nuanced social norms within various platforms and what the communications adage "the medium is the message" means for how Facebook fundraisers, Instagram stories, LinkedIn articles, LinkedIn profiles, and other social media genres are interpreted. Though the course is especially designed for people who work in social media professionally, it is relevant for anyone interested in networking and presenting a professional image online.
Lastly, Clay and Meryl are developing two more advanced digital culture courses. One builds on the themes of centering marginalized voices and envisioning societal change, and the other explores contemporary conversations around digital culture and ethics, privacy, social justice, and economics.
Meryl and Clay say students should come into the digital culture courses prepared to interact with different types of communication platforms and with an open mind about what it means to speak from and engage with diverse perspectives. "There will be some conversations about digital publics, algorithmic oppression, and other issues of race, class, and gender," Clay notes. These courses all cultivate fluency with diversity, access, and inclusion, which Clay says is an increasingly important professional competency in the twenty-first-century digital workplace. "We explore what it means to communicate across diverse teams and represent different forms of experiences in society," he says.
Whether students take one course in the course block or progress through the entire sequence, they can expect to develop a more empowering relationship to the technologies that pervade our lives—and to learn a lot about themselves and their classmates in the process. "So many things are possible through digital culture, and the longer we live with it, the more we explore and evolve its potential. That is what these courses are about: exploring and interrogating the possibilities of digital culture with a sense of play," says Meryl. "Absolutely," Clay agrees. "We are engaging in serious critical play."
The Penn LPS Online digital culture course block is part of the University of Pennsylvania's cutting-edge programming for working adult students. Learn more about our courses, certificates, and Bachelor of Applied Arts and Sciences, the first fully online undergraduate degree in the Ivy League.