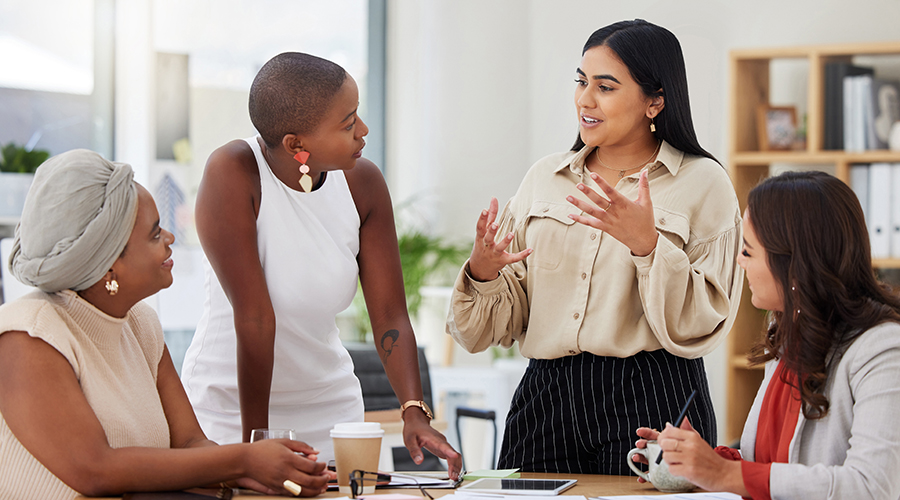 Effective communication in leadership
You'd be hard-pressed to find a person who is not at least somewhat familiar with Martin Luther King Jr.'s riveting "I Have a Dream" speech from the steps of the Lincoln Memorial. When you think of successful leaders such as Dr. King, Ronald Reagan, or Barack Obama, the primary commonality between them is that they are all outstanding orators. Strong communication skills allow leaders to clearly define their visions in a way that inspires and empowers the people around them, whether politically, personally, or professionally. Effective communication is vital to efficacy in leadership because it helps to generate rapport, build trust, and encourage collaboration towards a common goal.
Why are communication skills integral to effective leadership?
When it comes to business, clear and effective communication from leadership offers a multitude of benefits to employers and employees. One such benefit is that it keeps employees aware of individual and organizational goals. When workers understand what is expected of them, they are more likely to be able to deliver the desired results, which can help increase job satisfaction, improve morale, and boost confidence.
As mentioned above, successful leaders must be able to inspire their employees. If leaders are not strong communicators, it will negatively affect the motivation and, consequently, the productivity of their teams. Conversely, when objectives and expectations are well-defined—and teams are collaborating to meet them—it can promote efficiency, enhance engagement, and improve overall work performance.
Finally, strong leadership communication helps ensure that team members are aware of organizational challenges and opportunities, allowing them to make more informed decisions that ultimately benefit the bottom line.
Leadership and communication at Penn LPS Online
The concentration in Leadership and Communication in the Bachelor of Applied Arts and Sciences (BAAS) program provides practical knowledge, critical thinking, and communication strategies to help you grow and thrive as a leader. With lessons from expert practitioners, you'll learn how to:
Identify, develop, and leverage distinctive leadership traits and skills
Build the rhetorical abilities to effectively persuade through verbal, visual, and written communication
Discover how to apply quantitative data in decision-making and problem-solving at work
Explore competing schools of thought on leadership ethics
Understand and apply research in economics, psychology, and other social sciences
Explore key empirical themes in positive psychology and strategies to employ them personally and professionally
Investigate case studies to learn effective strategies for global leadership across organizational and national borders
Create a five-year leadership plan customized to your professional strengths, goals, and interests
5 skills to enhance leadership and communication
Being an effective leader is virtually impossible if you lack strong communication skills. The good news is that it's possible to cultivate and hone skills that will help you excel in both areas. And you can do it at Penn LPS Online.
1. Adaptability
"Change is the law of life. And those who look only to the past or present are certain to miss the future." – John F. Kennedy
As a leader, you must constantly react to changing conditions, factors, and challenges while keeping a level head. In a professional context, adaptability refers to your capability to remain flexible and respond effectively to fluctuating plans, responsibilities, schedules, expectations, trends, goals, or work processes. As such, adaptability is related to other soft skills critical to strong leadership, including creative thinking, analytical, interpersonal, and teamwork abilities.
It's also essential to be adaptable in how you speak and write so that you can tailor your messaging to best reach and influence team members with different communication styles. For example, some employees may appreciate detailed written guidance when embarking on a new project, while others may prefer a concise verbal direction or summary. Although some of this may be intuitive, it's always beneficial to speak with your reports early on about their communication habits and preferences so that you can determine what works best for them.
To that end, in the introductory course LEAD 1010: Leadership Theory, Practice, and Purpose at Penn LPS Online, you'll explore competing leadership concepts to establish the groundwork for your five-year leadership and communication career plan. Each week, your studies will focus on a different foundational element of leadership, such as problem-solving, crisis communications, and self-assessment, as you learn to identify and develop your unique leadership skills and strengths.
2. Empathy
"One of the criticisms I've faced over the years is that I'm not aggressive enough or assertive enough, or maybe somehow, because I'm empathetic, it means I'm weak. I totally rebel against that. I refuse to believe that you cannot be both compassionate and strong." – Jacinda Arden
Leading and communicating with empathy is crucial to your success as a business executive, manager, or director. The better you are at recognizing, acknowledging, and validating the feelings and experiences of your employees, the more valued they will feel and the more likely they will be to meet your goals. Accordingly, it's important to schedule regular communication meetings with your team so you can get to know them better, including their professional experiences, challenges, and goals.
To be an empathetic leader, it's also vital to express genuine curiosity about the people you work with and take a personal interest in their lives, which helps to build stronger relationships.
The many potential benefits of empathetic leadership include the following:
Creating trust, appreciation, and loyalty
Enhancing employee engagement and motivation
Improving collaboration and empathy between team members
Increasing job satisfaction and productivity
In other words, connecting with and relating to your team can have a lasting positive impact on your employees and your company.
An excellent way to help develop your empathetic leadership skills is to enroll in APOP 2000: Positive Psychology at Work. In this research-focused course, you'll explore case studies on essential work-related topics, including prosocial behavior, positive leadership, and our sense of meaning and purpose. And you'll learn tested strategies—applied in business, education, health care, and nonprofit organizations—to help you create a constructive and compassionate work environment wherein you and your team will thrive.
3. Transparency
"The people, when rightly and fully trusted, will return the trust." – Abraham Lincoln
Being transparent involves openly and candidly sharing information with your team about your company's high-level goals, challenges, and opportunities—regardless of whether the information is good or bad. Being transparent will keep your employees informed and build trust between yourself and your team, which is critical to performance. Through transparency and trust, you can also empower employees to take healthy risks, share their perspectives freely, better collaborate and innovate, and actively problem-solve.
You can help to create a culture of transparency in the workplace by establishing clear communication channels and well-defined expectations and providing regular feedback on how your team and organization are progressing in their goals. It's also imperative to create an open environment where employees feel comfortable speaking up when their opinions don't align with leadership. This can involve implementing regular anonymous surveys or scheduling short meetings to check in and allow employees to share their thoughts or ask questions.
Without transparency or trust in the workplace, communication and morale suffer, employee stress increases, and productivity decreases. But when you are authentic and vulnerable with employees and readily share insights and discuss rationale, you can create a space in which your team feels secure in exploring—and voicing—their creativity. If you involve your employees in aspects of the decision-making process, they are more likely to feel engaged and loyal to your organization, to the benefit of everyone involved.
In LEAD 2020: Leadership Lessons from the Social Sciences at Penn LPS Online, you'll explore the top evidence-based ideas from organizational sociology, behavioral economics, political science, and positive psychology that impact leadership theory and practice. Through lectures, readings, and assignments, you'll obtain insights and perspectives on effective leadership and decision-making based on human behavior and relationships to help you better connect with and lead your current or future team.
4. Active listening
"I need to listen well so that I hear what is not said." - Thuli Madonsela
Active listening is critical to effective leadership communication. It's a skill that involves hearing what people say and trying to understand their words' meaning and intent. Fundamental active listening techniques include being fully present in your conversation, responding to and using non-verbal cues, asking open-ended questions, avoiding interruptions, judgments, or advice, and reflecting on what you've heard. When you practice active listening, the goal should be to understand and empathize rather than to respond.
When you practice active listening skills as a leader, you can help create a stronger rapport with your team by showing that their opinions and ideas are heard and valued. When you know when to speak and when to listen, you can encourage productive conversation, build trust, and create an opportunity to better understand your employees' motivations, challenges, and goals. An essential component of active communication is maintaining open body language. This involves making good eye contact, refraining from folding your arms, and smiling and nodding while you listen.
What better way to improve your communication skills than to learn from others who have already been successful? In LEAD 2030: Leadership Lessons from the Humanities, you'll explore leadership rhetoric, strategy, and ideas from some of history's most effective communicators. Drawing from works by Plato, Machiavelli, Shakespeare, and other great thinkers, you'll also delve into various moral frameworks and ethical perspectives on leadership that you can immediately apply in your management practice.
5. Ability to give and receive feedback
"Criticism may not be agreeable, but it is necessary. It fulfills the same function as pain in the human body. It calls attention to an unhealthy state of things." – Winston Churchill
If you take on a leadership role, it will be your responsibility to give feedback effectively and receive it thoughtfully. Providing clear and constructive feedback to your employees through routine communication gives them the chance to course correct as needed, leverage their strengths, and improve their overall efficiency and effectiveness. Some tips to help you provide helpful feedback include focusing on the behavior rather than the person, balancing negative comments with positive ones, and referring to specific examples to support your statements rather than focusing on generalities.
If you want to become a better leader, it's equally important that you can receive feedback from your employees. Strong leaders appreciate that they are fallible and must constantly learn and grow. And who better to provide constructive criticism of your leadership skills than those directly affected by them? When you receive feedback from team members, it's essential to be open and aware of your body language and tone of voice, try to remain objective rather than defensive, ask questions for clarification as needed, and assess the input to create an appropriate action plan.
Speaking of action, LEAD 3040: Professional Communication and Personal Development is a writing-intensive course designed to develop your professional communications skills to help you advance your career in management. Through assignments including presentations, job-seeking, and professional documents, you'll apply best practices for professional writing and crisis communication and practice editing your own written and spoken words to enhance impact. And you'll learn how to apply positive psychology principles and strategies to heighten your personal and professional development.
Prepare to take your leadership communication skills to the next level
Ready to enhance your leadership and communication skills to help you pursue a career as an entrepreneur, manager, or director? Fill out your application today and enroll in the concentration in Leadership and Communication for the BAAS degree at Penn LPS Online. You can also register for individual leadership and communication courses without committing to the entire degree program or browse the Penn LPS Online course guide to see what's available in any upcoming term.