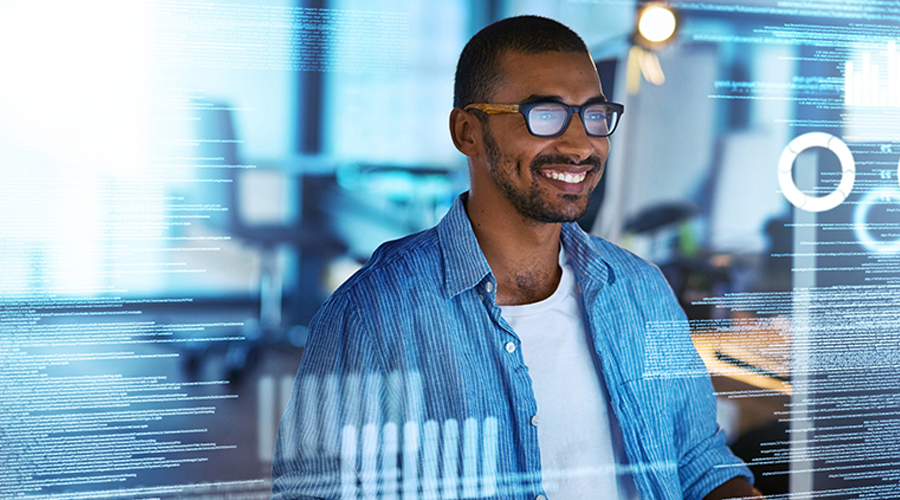 What is digital culture?
There's no question that in today's professional world, fluency in digital technologies is considered an asset. In fact, worldwide spending on digital transformation—which includes everything from automated work processes to cybersecurity and artificial intelligence—is predicted to hit $3.4 trillion by 2026. This technological revolution also requires a shift to digital culture and digital strategies in the workplace wherein employees use these digital tools to innovate new products and solutions, collaborate with one another, and deliver targeted offerings that are best suited to customers and clients.
If you're interested in developing skills as a critical consumer, designer, and creator of content for the internet, social media, or other digital media, explore the Digital Strategies and Culture Certificate at Penn LPS Online. The Ivy League online courses in this program provide flexible approaches for using technology to reach your personal and professional goals. You'll also learn how to communicate this technological savvy effectively across diverse professional contexts.
Characteristics and benefits of digital culture
Robust digital cultures allow companies to become more efficient, adaptative, and growth-oriented. Read on to explore some additional advantages to developing digital cultures in the workplace.
Enhanced collaboration
One of the major benefits of a strong digital culture is the ability to connect through Zoom, Slack, or Microsoft Teams and better collaborate with team members across locations and time zones. Digital technologies such as Google Hangouts or Dropbox also make for easier partnerships when working on projects, brainstorming ideas, and sharing documents among employees. Implementing a digital collaboration network can also help to enhance workflows, enrich productivity, improve access to pertinent information, and foster greater team interaction and engagement. With greater collaboration, there is a greater likelihood for unique and impactful ideation.
In ORGC 2010: Virtual Collaboration at Penn LPS Online, you'll explore the relationship between the tools, technologies, and human factors, as well as the cultural and social frameworks necessary to create strong collaboration. Through key concepts, including complexity and interdependence amongst virtual teams, leaders, and organizations, you'll gain insight into how to navigate, learn, collaborate, and lead in today's complex digital landscape. You'll hear from guests who share their experiences and best practices for successful virtual teams and operations.
Greater transparency
To build a strong digital culture, it's necessary to regularly share meaningful information and feedback across teams and stakeholders. Digital workspaces allow for more transparency and better communication because leaders can access superior tools to openly share knowledge across multiple channels. This improved information flow increases company efficiency and also helps to build a culture of organizational trust. This increased trust can empower employees to share their ideas, improve employee engagement and happiness, boost job performance, and enhance employee retention.
As technology has evolved at a rapid pace since the invention of the microchip in the 1970s, the social, economic, and cultural parameters regarding how we behave with one another and new technologies have been tested. In DIGC 3600: Applications of Digital Culture, you'll explore the implications and consequences of digital culture and digital literacy through the lens of ethics, privacy, communication, and identity. You'll work on creating specialized arenas of digital culture with a framework for engaging with technological change in your daily life.
Increased data-driven innovation
A critical advantage of digital workplaces, cultures, and strategies is the ability to collect and analyze data to inform business decision-making. This allows organizations to become more customer-centric as they uncover important patterns, learn from customer feedback, and adjust or design new offerings aligned with target audience preferences. The insights gained through data analytics enable companies to create consumer profiles and use them to develop digital journeys customized to their historical needs and buying behavior. The more data that is gleaned, the easier it will be to come up with relevant concepts and pinpoint market opportunities that are not currently being met.
In DIGC 2200: Design Thinking for Digital Projects, you'll learn how to empathize with your audience, define the problem, innovate, prototype, and test. As you build your critical thinking and technological understanding, you'll apply these skills to help you recognize and solve specific digital problems. Through an ethnographic approach to understanding the diverse needs of communities, you'll look at case studies that will inform your own design thinking project at the end of the course.
Added flexibility
Agility and adaptability are important attributes of virtually every successful organization. Digital technologies and cultures provide companies with the flexibility to respond more quickly and effectively to changing market dynamics, customer needs, or internal issues. When it comes to employees, those well-versed in the use of the latest digital tools will be more adaptable themselves when presented with new challenges, able to use data-driven insights to make decisions, and confident in employing digital tools to come up with unique solutions.
If you'd like to enhance your professional adaptability by learning a new technological skill, then explore DIGC 2000: Coding Foundations for Digital Strategies. In this course, you'll obtain a basic understanding of program code and structures that are ubiquitous across all programming languages. As you analyze the possibilities and implementations of computer programs and explore strategies for engaging with digital development tools, you'll also think critically about how programming decisions may impact others. You'll be introduced to the Scientific Python Development Environment (Spyder), an open-source cross-platform Integrated Development Environment (IDE) used by programmers worldwide. If you find your interest is piqued, you can then enroll in DIGC 3000: Intermediate Coding for Digital Strategies to further your expertise.
The future of digital marketing strategy
With the help of website analytics tools like Google Analytics, organizations gain valuable information on user activity that can be used to develop targeted digital strategies to align with user profiles. When this vast wealth of consumer data is combined with innovations in artificial intelligence (AI) and machine learning, the ability to produce targeted ads that align with buying habits, needs, and interests of consumers is only further enhanced.
This is particularly relevant when it comes to eCommerce stores and brands that can use the data collected to understand what their users are doing online, including social media, to inform strategy and add value. For example, if consumers consistently make a habit of visiting another brand's digital store after making a purchase, then creating a partnership that offers a combined discount offer is an obvious choice. In 2023, the social media ad spend in the US is expected to be just over $94.4 billion, and it could reach $130.5 billion by 2027.
If you'd like to learn how to use social media campaigns to create engaging messaging, build an organizational or brand identity, and cultivate user loyalty, PROW 4000: Writing for Social Media is an ideal fit. You'll explore how readers and designers approach multimedia texts by bringing together language, image, sound, and gesture to create coherent messages. By the end of the course, you'll build a multiplatform portfolio of social media content to illustrate your expertise to your employer or potential clients.
Another rising trend in digital marketing and strategy is voice search. With improvements in AI technology, the use of digital assistants in GPS devices in cars, smartphones, televisions, and speakers has increased greatly in recent years. In 2022, 20% of Google searches on mobile were through voice, 40% of all internet searches in the US were voice-based, and 58% of consumers used voice search to query local business information.
If you're looking to build skills to help you break into the field of digital marketing and strategy, PROW 4010: Composing a Professional Identity from the Certificate in Digital Strategies and Culture at Penn LPS Online is an ideal choice. In this course, you'll develop rhetorical fluency with regard to job searches and career advancement, including identifying and researching potential job opportunities, networking, and developing mentor relationships. With peer and professor feedback, you'll build a professional profile that includes a cover letter, resume, LinkedIn profile, and a web portfolio to showcase your experience and talent.
Learn more about the Digital Strategies and Culture Certificate
Looking to pursue a digital strategy certificate online that was designed to easily integrate into your personal and professional obligations? The 4-course Digital Strategies and Culture Certificate at Penn LPS Online provides the opportunity to develop your digital literacy, explore creating audience-specific digital content, and communicate and collaborate effectively in virtual workspaces. And it is offered on an accelerated 8-week schedule that allows you to continue to advance your career as you enhance your qualifications.
The coursework in this certificate focuses on flexible approaches for using technology to help solve complex problems and interpret and analyze various forms of data. As you build digital platform fluency, you'll gain skills and strategies for building and maintaining strategic partnerships across dynamic networks and virtual environments. You'll also discover how to use and read general purpose coding language and design, deliver, and manage engaging content for digital audiences.
Ready to take the first step toward enhancing your digital fluency and boosting your resume? Fill out your application at Penn LPS Online today and enroll in the Certificate in Digital Strategies and Culture. You can also register for individual classes in the Digital Culture course block without committing to the certificate program. Or browse our course guide to see a full range of what's available in any upcoming term.