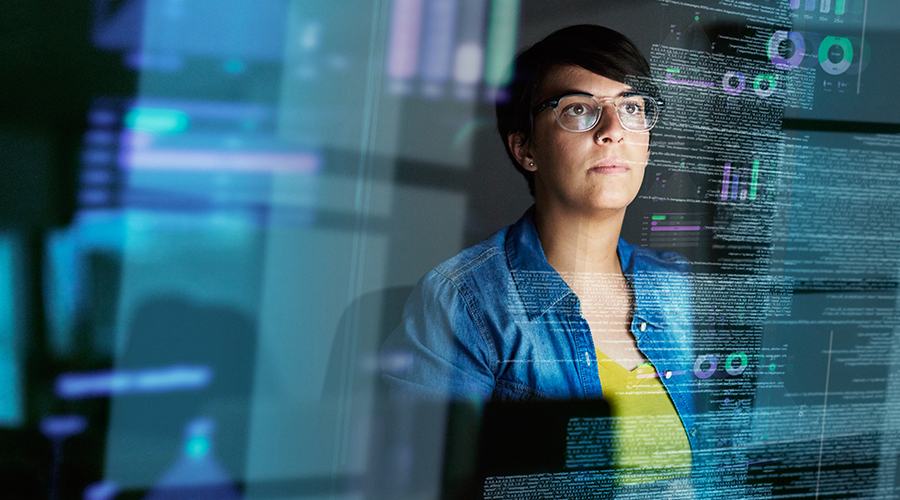 There's no doubt that technology has revolutionized the way we live, work, and communicate with one another. In this ever-changing world, businesses and organizations routinely harness the power of digital marketing channels—including websites, email, and social media—to drive brand awareness and grow their target audiences. As such, there are a variety of exciting and in-demand career paths that you may pursue in the field of digital marketing.
The Certificate in Digital Strategies and Culture at Penn LPS Online is designed to help you grow your skills as a critical thinker, marketer, designer, and writer. Drawing from digital humanities and social sciences, the Ivy League courses in this cutting-edge program will help you enhance your technological fluency and develop expertise as a critical creator and user of multimedia content. This certificate enhances your ability to design and manage engaging digital projects, interpret, and analyze data to solve complex problems, use and read general purpose coding language, and gain the wherewithal to shape strategic partnerships with digital tools.
Read on to explore 5 exciting roles in digital marketing.
1. Digital marketing manager
To be successful as a digital marketing manager, you'll need to have a good understanding of digital marketing strategy, excellent communication skills, and effective leadership skills. In this role, you'll be responsible for directing a team to create and implement digital marketing campaigns for social media, display, SEO, email, and online ads. Not only will you plan for and schedule campaign elements, you will likely also delegate tasks, review performance against marketing goals, and present results to your leadership team. Depending on your interests, you may choose to specialize in managing a specific area of digital marketing such as email.
According to the Bureau of Labor Statistics (BLS), employment of marketing managers is anticipated to grow 10% by 2030—or an average of 31,000 openings each year, over the decade.1 A significant part of effectively managing digital marketing involves staying on top of technological and market trends. Accordingly, part of your time may be spent studying the look and feel of successful web campaigns and developing market research studies to help you understand your target audience and pinpoint market share opportunities.
Given the overwhelming shift to remote or hybrid work in recent years, the ability to collaborate and communicate well in virtual environments is key. In ORGC 2010: Virtual Collaboration at Penn LPS Online, you'll explore the unique challenges and opportunities inherent to working in virtual teams and for virtual organizations. With topics including how to navigate, learn, and lead in today's digital landscape, you'll also hear from guest speakers who offer their personal best practices for managing employees in the virtual workplace.
"At its core, this class is about human connection and what it feels like to be seen and to see others." — Penn LPS Online student Rosie DeFilippo on ORGC 2010: Virtual Collaboration
2. SEO or social media strategist
It's now basically non-negotiable for modern businesses and organizations to have a strong presence on both search engines and social media. SEO, or search engine optimization, is critical to the success of any digital marketing campaign and it involves employing tactics to promote visibility and engagement with digital content, products, or services. As an SEO specialist, you will work to improve your employer's rankings on Google and collaborate with content creators to ensure that digital marketing efforts perform well.
According to the Pew Research Center, approximately 7 in 10 Americans now use social media to connect with others, engage with news content, and share information.2 It's therefore easy to understand why building and maintaining a loyal base of followers is such an important component of digital marketing. As a social media strategist, your main focus will be to develop, implement, and manage the plan for your employer's social media marketing efforts.
Both of these roles require a solid understanding of how to optimize digital tools such as graphics, text, or multimedia assets for SEO, display, and social media campaigns. Additionally, you will need to analyze metrics such as impressions, brand mentions, and conversion rates to help inform your strategy. According to ONET, employment of SEO and social media strategists is expected to grow by 15% or more by 2030, which is much faster than the average for all occupations.3
If you're interested in developing your understanding of this rapidly evolving demand, PROW 4000: Writing for Social Media explains how to use social media to generate engaging messaging, build organizational or brand identities, and cultivate loyalty in your social media followers. You will explore different tactics that combine language, images, and digital tools to create coherent fundraisers, stories, and other social media posts. By the end of the semester, you'll have compiled a multiplatform social media portfolio that demonstrates your skills and acumen to potential employers and clients.
3. Content marketing specialist
Are you creative, organized, and a skilled storyteller? Pursuing a career path as a content marketing specialist could be an ideal fit. Content marketing specialists are tasked with planning, developing, and scheduling engaging content for use across multiple digital platforms. In this role, your responsibilities may also involve creating and maintaining an editorial calendar; responding to SEO and consumer behavior insights; customizing content in response to analytics; and ensuring that content across websites, social media, and video are consistent with brand guidelines.
As a content marketing specialist, you may choose to freelance or seek full-time employment with a business, nonprofit, or marketing agency. The types of content that you create may include everything from blog posts and videos to podcasts and social media copy. You should be comfortable with the idea of collaborating with other departments, presenting your campaign ideas in meetings, and identifying gaps in content that need to be filled. If your interest lies more in the research and planning stages of the content process rather than the creation, you can choose to pursue roles in content strategy.
PROW 4010: Composing a Professional Identity is a writing-intensive course in the Digital Strategies and Culture Certificate program that will prepare you to identify and attract potential clients, network more effectively, and achieve professional recognition. By the end of your studies, you'll have created a professional profile that includes a foundational cover letter and resume, a LinkedIn profile, and a web portfolio to highlight your unique professional skills and experience.
If you're an aspiring content marketer, another relevant course to consider is DIGC 1200: Digital Literacy & Cultural Change. In this class, you'll enhance your digital literacy and learn how to use digital tools to deconstruct, create, and revise projects. As you think critically about audience, genre, design, and rhetorical purpose, you'll also consider important questions such as how technology affects the way people share their values and perspectives.
4. Website UX designer
If you're an analytical person interested in learning about the design side of digital marketing, you may want to explore the field of user experience (UX) design. UX designers execute the end-to-end development of websites and ensure that software products and website features are optimized for use by customers or prospects. In this role, you may identify and interview target user groups to understand their needs; develop solutions through flow diagrams, site maps, and storyboards; and perform usability tests on layouts, navigation, CTAs, landing pages, and other interface elements.
According to the most recent data from the BLS, employment for this role is projected to grow 13% by 2030, which is faster than the average for all occupations.4 As a UX designer you may build different types of websites including ecommerce, news, nonprofit, gaming, portal, or business, depending on the client need. Consequently, you must be able to pinpoint which types of applications and designs will best fit the specific websites you're working on. For example, an ecommerce site needs to feature a payment-processing application, whereas a portal site requires design and functionality that can preview and link to aggregate external sites.
Design strategy is a process with five stages wherein you empathize with the audience, define the problem, ask questions and ideate, prototype potential solutions, and test your results. In DIGC 2200: Design Thinking for Digital Projects, you'll enhance your skills in critical thinking and technological context and apply them to solving problems in digital spaces. By examining the pros and cons of how different case study scenarios are developed and executed, you'll gain insights that you can apply to your own design thinking project as part of the coursework.
5. Web programmer
If you're fascinated by the idea of using code to implement website designs, then you may want to explore web programming. Web programmers are responsible for planning and developing the execution of websites. This typically involves writing, modifying, and testing code that allows software and applications to function correctly. Accordingly, as a web programmer you'll need to know how to use different types of computer languages, such as C++ and Java, to effectively write programs.
As a computer programmer you may collaborate with software developers and, in some cases, share the same duties. On the job, you may use existing code libraries to improve your efficiency or choose to create your own lines of code. Although you may need to rewrite your programs to function on different system platforms such as OSX or Windows, this will be less likely if you're proficient with software-as-a-service (SaaS) applications because they work on all platforms.5
In the DIGC 2000: Coding Foundations for Digital Strategies course at Penn LPS Online, you'll obtain a basic understanding of programming languages and repositories like GitHub and explore strategies for using digital development tools in coding projects. This course also serves as a prerequisite for DIGC 3000: Intermediate Coding for Digital Strategies, where you'll have the opportunity to enhance your skills in Python and other development tools, expand your critical thinking skills, and engage in practical simulations to take your digital fluency to the next level.
Ready to go digital?
Registration for fall 2022 is now open. Learn more about how the Certificate in Digital Strategies and Culture can help you enhance your qualifications and advance your career. Or view the Penn LPS Online course guide to see the full range of courses that are currently available.
Sources
1 https://www.bls.gov/ooh/management/advertising-promotions-and-marketing-managers.htm#tab-1
2  https://www.pewresearch.org/internet/fact-sheet/social-media/
3 https://www.onetonline.org/link/summary/13-1161.01
4  https://www.bls.gov/ooh/computer-and-information-technology/web-developers.htm
5  https://www.bls.gov/ooh/computer-and-information-technology/computer-programmers.htm#tab-2