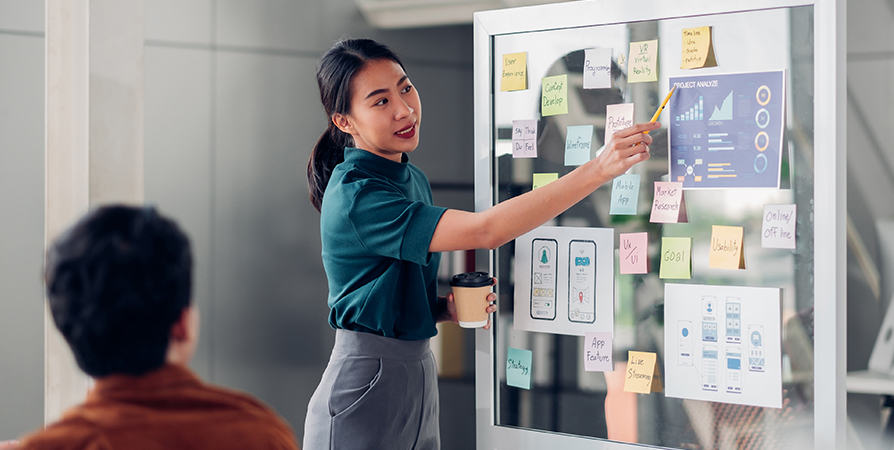 If the last couple of years have taught us anything, it's that the world is in a constant state of change, and this certainly applies to the workplace. With the shift to remote and hybrid work environments and the resulting increased reliance on technology, it is essential to be adaptable to achieve success in your career. And that's where upskilling comes in. Upskilling equips you with the tools needed to perform efficiently in your current career, learn adaptable skills, expand your knowledgebase, and achieve career advancement.
The 4-course Upskill Certificate at Penn LPS Online is designed around in-demand professional skill sets that will support your career ambitions. The beauty of this program is that it combines the timelessness of liberal arts with the practicality of career training. Whether you're looking for ways to become more competitive in the job market, revise or rebrand your skill set, or pivot into a new field, you can customize your certificate to your ambitions by choosing courses that align with them.
The Upskill Certificate at Penn LPS Online prepares you to:
Develop your verbal, visual, and written communication skills
Discover how to use quantitative and qualitative data in decision-making
Identify and leverage your distinct leadership traits and skills
Use empathetic and analytical skills to collaborate with others
Practice and apply critical thinking skills in the workplace
Read on to explore five important reasons you should consider upskilling with a certificate from Penn LPS Online.
1. Create opportunities to advance at your current company
When you proactively learn new skills that can help your current employer stay competitive, you demonstrate your commitment and worth as an employee. And when you upskill, you can save your company a significant amount of money by eliminating the need to outsource for new expertise. Upskilling can also give you the leverage and confidence you need to highlight your new expertise to your employers and ask for a promotion, salary increase, or both. Research supports the premise that when professionals upskill, they become more valuable to their employers. In a 2021 Workplace Learning Report by LinkedIn Learning, development professionals globally said that upskilling and reskilling were the top priorities for the year—and that internal mobility (rather than new hires) was more of a priority than before the emergence of COVID-19.1
If you're eager to help advance your career by building your skill set, LEAD 1010: Leadership Theory, Practice, and Purpose in the Upskill Certificate at Penn LPS Online is an ideal place to start. In this intensive introductory course, you'll explore important theories and foundational elements of leadership, including self-assessment, crisis communications, and problem-solving. Through analyzing effective public leaders, you'll learn to develop your own unique leadership skills and strengths. You'll also build the groundwork for a five-year leadership and communication plan that you can develop through further certificate coursework.
2. Develop in-demand expertise
According to a 2020 report by the US Chamber of Commerce Foundation, 74% of hiring managers and employers agreed that the available workforce in recent years has demonstrated a lack of skilled talent—and 78% stated the need to overhaul hiring practices to focus more on competencies.2 It's clear that there is great demand for workers with strong skill sets, but what skills are companies looking for? The answer will vary by industry, but certain soft skills tend to be universally desired—these include leadership, critical thinking and problem solving, teamwork and collaboration, oral and written communication skills, professionalism, and strong work ethic management.
Critical thinking is essential to virtually every job because it refers to your ability to analyze evidence, make observations, evaluate hypotheses, and use data to solve problems. In DATA 1010: Introduction to Data Analytics, you'll learn about important concepts in data analytics across a wide range of applications using the programming language R. By the end of the class, you'll have developed a rich understanding of how to use quantitative data to make decisions and solve problems. Through the collaborative, problem-based learning approach of PROW 1000: Fundamentals of Professional Writing, you'll work on strategies to improve the clarity, grammar, precision, and persuasiveness in your writing.
3. Improve your adaptability in an ever-changing job market
In the wake of the pandemic and the resulting impact on the workforce, Gartner HR Research found 58% of employees need to develop new skills to successfully perform their jobs. The research also emphasized the importance of giving employees the flexibility to leverage their skills sets in a more fluid progression, rather than the traditional ladder-like career trajectory that emphasizes traditional roles or titles.3 Adaptability in the workplace refers to your ability to change, learn quickly, and put your learning to practice to be successful. And being adaptable requires skills such as teamwork and collaboration, critical thinking, resilience, creativity, empathy, and leadership.
Employees around the globe have had to become more adaptable as they transitioned to remote work during lockdowns and, in some cases, returned to hybrid or in-person workplaces. To that end, in ORGC 2010: Virtual Collaboration from the Upskill Certificate, you'll explore how to effectively navigate, learn, collaborate, and lead in today's complex digital landscape. You'll hear from guest speakers who share best practices that helped make their virtual teams and organizations successful. While in ORGC 1600: Introduction to Team Culture, you'll learn how to become more adaptable in the way you participate in, form, and eventually lead high-performing teams through research-based insights from the arts and sciences and intensive practice.
4. Attract new employers
Another major benefit of upskilling is that your new competencies may give you the ability to attract new employers or make a career change. A 2020 study by software company UiPath found that 80% of global office workers believe they would be more productive at work if they had the opportunity to learn new skills.4 If you're ready to look for new opportunities in your current industry or make a career pivot, then upskilling is the perfect way to enhance your qualifications, differentiate yourself from other candidates, and find a job that suits your interests and goals.
In PROW 4010: Composing a Professional Identity at Penn LPS Online, you'll focus on building your professional profile to advance your career and open up job opportunities. As you explore how professional identities are constructed through discourse communities, genres, and social media, you learn how to identify and research potential employers, network successfully, and build relationships with mentors. Through practical, guided writing exercises, peer and professor feedback, and self-reflection, you'll develop a polished foundational cover letter and resume, LinkedIn profile, and an online portfolio to highlight your capabilities to current or future employers.
5. Become more fulfilled personally and professionally
The benefits of upskilling go beyond your ability to earn a promotion or find a new job. The reality is that at some point in your career there's a good chance that you will find yourself feeling unsatisfied or stuck in your role. Learning new skills is one of the most effective ways to help you change your perspective, get over the slump, and feel more satisfied in your work life. Upskilling also provides the opportunity for you to keep your mind active, explore your intellectual interests, and discover new passions that could ultimately lead to career paths you may not have previously considered.
For example, if your industry values an understanding of statistics, in MTHS 2200: Introduction to Applied Statistics, you can learn the fundamental techniques for using sample data to make statistical inferences, linear regressions, and measure correlation. Or if you're fascinated with technology, in DIGC 1200: Digital Literacy and Cultural Change, you can enhance your digital literacy as you learn how to think critically about audience, rhetorical purpose, and design as you create digital artifacts that speak to cultural change. In addition, returning to school demonstrates your commitment to lifelong learning to potential employers. When you set and achieve your personal development goals, your motivation, self-worth, and confidence will also get a boost as well. At the end of the day, this is more valuable than anything else.
Ready to take your skills to the next level?
The Upskill Certificate at Penn LPS Online provides the flexibility for you to balance your studies with your personal and professional responsibilities. With no campus commute, you can complete your coursework when and where it works best for you and your family. Request more information or enroll today to start your career advancement with an Upskill Certificate.
Looking for more learning options? View the Penn LPS Online course guide to see the full range of online courses available in any upcoming term. Or if you're looking for more details about programs, enrollment, and the student experience, sign up for an information session today.
Sources
1 LinkedIn-Learning_Workplace-Learning-Report-2021-EN-1.pdf
2  https://www.uschamberfoundation.org/reports/hiring-modern-talent-marketplace
3  https://www.gartner.com/en/newsroom/press-releases/2021-02-03-gartner-hr-research-finds-fifty-eight-percent-of-the-workforce-will-need-new-skill-sets-to-do-their-jobs-successfully
4  https://www.uipath.com/blog/digital-transformation/new-research-shows-workers-concerned-skills-gaps