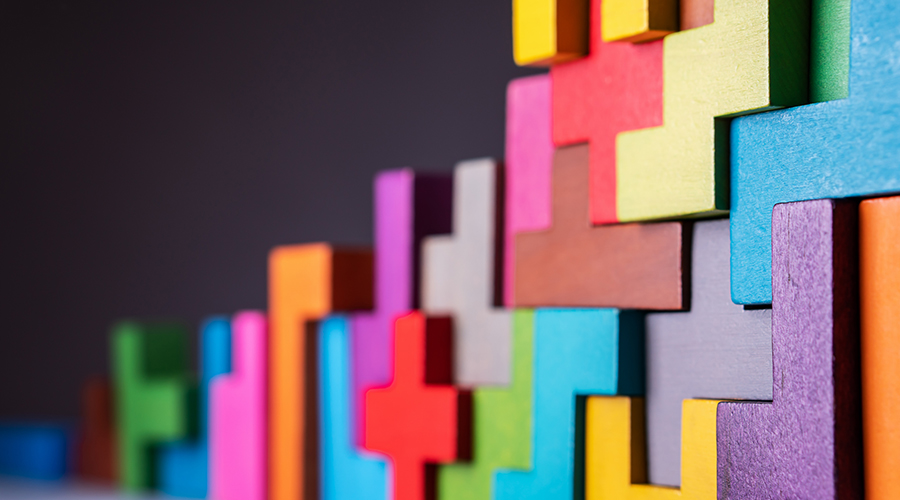 What is Individualized Studies?
Have you ever wished you could customize a unique degree concentration to align with your unique life goals and career aspirations? With the Individualized Studies concentration from the Bachelor of Applied Arts and Sciences (BAAS) at Penn LPS Online, you can do exactly that. When you pursue an Individualized Studies concentration, you gain the flexibility to combine courses from two or three complementary course blocks to create a highly personalized liberal arts specialization that provides the skills and experience to help you be successful.
If you're thinking about pursuing a bachelor's degree, it's important to ask yourself some questions about your goals and the specifics of the program so you can make a fully informed decision.
Why are you interested in earning this degree?
The decision to enhance your education is a very personal one. Whether your goal is to obtain the skills and knowledge to help you qualify for a promotion, pivot to a different field, or pursue your intellectual interests, it's important that you consider your motivations fully so you can be sure they align with the degree program you choose. For instance, the BAAS degree at Penn LPS Online was developed to provide an Ivy League applied liberal arts education that builds soft skills, such as communication and problem-solving, that offers the opportunity to develop expertise to enhance your career. If this supports your motivation for completing your degree, then you're on the right track.
What are the requirements for the degree?
It's important that you fully understand all the requirements of the degree program you're interested in pursuing. The BAAS degree program at Penn LPS Online requires you earn to a total of 120 credits, including 32 foundational credits, 48 credits from your concentration, and 40 elective credits. Additionally, you will need to complete a capstone project in your Individualized Studies concentration, a Senior Portfolio, and a virtual campus learning experience. When you build your personalized course plan for your degree, you choose courses from any three of the following course blocks:
If you're a transfer student, up to half of the degree requirements for the BAAS may be met with work completed at an institution regionally accredited by one of the following: Middle States Commission on Higher Education, New England Association of Schools and Colleges Commission on Institutions of Higher Education, Higher Learning Commission, Northwest Commission on Colleges and Universities, Southern Association of Colleges and Schools, Western Association of Schools and Colleges, or Accrediting Commission for Community and Junior Colleges. And if you're considering the BAAS program at Penn LPS Online, you can request a preliminary transfer credit evaluation before you submit your application.
What are potential career opportunities once you graduate?
It's imperative to do your research so you can understand how the degree you choose may open up potential career opportunities once you've completed the program. A key benefit of the Individualized Studies concentration at Penn LPS Online is that you have the opportunity to tailor the courses in your program to help you meet your career goals. For instance, if you want to become a freelance writer who serves clients in nonprofit and social justice groups, you could combine courses in Professional Writing and Social Difference, Diversity, Equity, and Inclusion. Or, if your goal is to enhance your expertise to help you advance into a management role, you could choose courses in Leadership and Communication, Organizational Anthropology, and Data Analytics. The options are practically endless, as long as you collaborate with your academic advisor to ensure you meet the requirements for the BAAS degree.
Have you spoken to a professional who has earned this degree?
It can be beneficial to speak to a professional who has earned the degree you're considering. Doing so can be an excellent way of answering any questions you may have about the program, course requirements, instructors, overall learning experience, and ways in which earning this degree helped advance their career. Most people are more than willing to share their personal postsecondary experiences if you just ask. It's also a good idea to prepare your questions in advance so you can get the most out of your conversation.
For example, Daniela Mandracchia is a support services specialist with the IRS who earned her BAAS in Individualized Studies in 2020. As a transfer student close to fulfilling her degree requirements, she chose the Individualized Studies concentration to maximize the credits from her prior coursework that could be used toward her degree. Because her previous studies focused heavily on the social sciences, she took online courses in Applied Positive Psychology, which she felt would be beneficial to her work with the IRS. Of her studies in applied positive psychology, Daniela says, "I am much more understanding of human nature now. Once you understand the underlying factors for certain behaviors, you can interact with anybody—your supervisor, your coworkers—and get the most out of those relationships."
Questions to ask yourself if you're considering a degree concentration in Individualized Studies
Now it's time to take stock of your strengths and think about what your ideal academic experience looks like to help determine whether pursing an Individualized Studies concentration makes sense for you.
Do you enjoy creating your own path?
If you're interested in having the flexibility to curate your personalized learning plan at Penn LPS Online, then the Individualized Studies concentration is a good fit. This is particularly relevant if you want to explore complex topics and perspectives that are not offered in the traditional BAAS concentrations. Not only can you explore overlaps in subject areas that pique your intellectual curiosity, but you can also strategically combine course blocks to build distinct competencies that give you a competitive advantage in your current or prospective field.
As you create your own path in the BAAS in Individualized Studies, you'll also benefit from the guidance of a dedicated career advisor. To help prepare you for success, your career advisor will connect you with professional development, transition resources, and personal branding and portfolio-building tools. In addition to career services, at Penn LPS Online you'll also benefit from world-class resources including academic advising, technical support, online tutoring, and access to the University of Pennsylvania's large library system. So, while you'll have the flexibility to make your own path, you'll still have the support of the Penn LPS Online team throughout your educational journey.
Are you self-motivated?
If you see yourself as a self-starter, you're already ahead of the game, but if not, you will need to commit to working on your self-discipline to help you succeed in the Individualized Studies concentration. Many Penn LPS Online students juggle multiple work and personal responsibilities in addition to their studies. So, it's even more important you stay motivated, organized, and committed to carving out the time required to complete your program. The good news is that with online learning, it's much easier to fit your coursework into your busy schedule.
Some ways to help you be more productive and effective during your time at Penn LPS Online include creating clear academic goals, executing an action plan, and building strong study habits. When you work with your BAAS academic advisor, you'll take an in-depth look at your long-term professional goals and discuss the specialized skills you want to develop from your Individualized Studies concentration. Your advisor will also confirm that the disciplines you want to combine will provide the specialized skills and knowledge to help you flourish academically and in your career. That itself can offer some great motivation.
Are there any additional benefits of choosing Individualized Studies?
The self-designed concentration at Penn LPS Online offers myriad benefits, whether you want to enhance your qualifications to pursue a new professional path or rise through the ranks at your current organization. One such advantage is the ability to maximize your transferrable credit towards your BAAS degree. It can be frustrating if you're bringing in a lot of credits from another institution that don't align well with the traditional concentrations. However, with Individualized Studies, you can customize your degree to make the most of your previous credits while developing a curriculum that serves your personal and professional goals.
Another benefit to pursuing an Individualized Studies concentration is that you can propose a title for your concentration that, if approved, is included with the Individualized Studies designation on your official transcript. This unique title makes it easier to communicate the value of your degree—and your expertise—succinctly and effectively to graduate school admissions committees, prospective employers on your resume or LinkedIn, during job interviews, or with discussions with friends and family.
Another competitive advantage of Individualized Studies at Penn LPS Online is if you complete certain course blocks, you are awarded a certificate alongside of your degree. Certificates illustrate your qualifications within a specific skill set or area of study and add an additional layer of qualification to your portfolio that may make you more marketable as a job candidate or current employee. The list of possible certificates that may be awarded, if you're eligible, include Applied Positive Psychology, Climate Change, Creative Writing, Data Analytics, Digital Strategies and Culture, Global and Regional Studies, Leadership and Communication, Neuroscience, Organizational Anthropology, Professional Writing, Science Foundations, Social Difference, Diversity, Equity, and Inclusion, and Upskill.
Are you ready to learn more?
The Individualized Studies concentration offers a flexible, high-impact learning environment that allows you to take control of your education. You have unique skills, experiences, and goals. Your degree program should reflect that, and it will at Penn LPS Online.
Still have questions? Attend a virtual information session to learn more about Individualized Studies and the Bachelor of Applied Arts and Sciences program. If you haven't already, submit your application to Penn LPS Online, or explore our course guide to see what's available in any upcoming term.