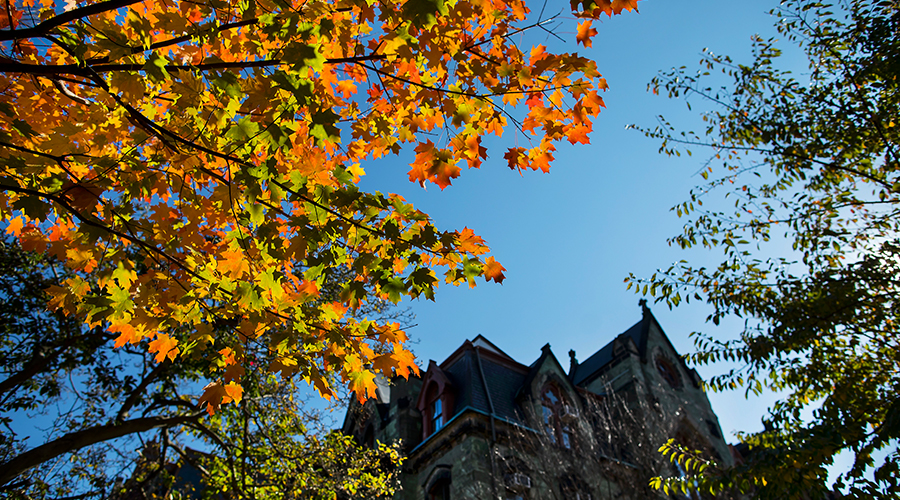 As every lifelong learner knows, there's nothing like starting out in a new subject for the first time: whether you are a degree student fulfilling your electives or simply taking courses to feed your curiosity, learning the vocabulary and key concepts of a new subject area can be energizing as well as enlightening. That is one of the benefits of an interdisciplinary liberal arts approach: you gain fresh insight on your sphere of knowledge and discover meaningful connections between what you know and what you learn.
Since most Penn LPS Online courses are offered on an accelerated 8-week schedule, you have the option to take two consecutive courses in the fall as well as the spring—offering a valuable opportunity to deepen and build on your knowledge from one course to the next. Fall 2023 registration is still open: Current Bachelor of Applied Arts and Sciences (BAAS) students and certificate students can enroll in fall courses at any time using Path@Penn. Explore some of our recommended courses below for ideas on how to complement your studies with exciting new ideas!
If you're new to Penn LPS Online, you can enroll as a certificate student or course taker by August 15—and open enrollment makes getting started easy. Check out some of what's on offer this fall to see how our courses can enhance your professional skill set, fill in gaps in your knowledge, and make you a more flexible thinker.
Practice the arts of persuasion and relationship-building
PROW 3020: Strategic Writing for Fundraising
Professional writing encompasses many genres and applications—but at its heart, it is a medium of persuasion. Fundraising dramatically illustrates this application: many institutions, organizations, and short-term projects depend on donations to carry out their missions, and communicating with donors involves long-term strategy and relationship-building as well as writing skills. Led by experienced development professionals who have raised millions of dollars to support University schools and centers, this fall 1 course offers case studies and practical assignments to help you work toward your fundraising goals—in any field. Researchers, community leaders, and professionals in fields outside of development may need to support academic or research initiatives through fundraising at some point in their careers.
Instructors: Laura Garnick Bellet and Linda Kronfield, lecturers in fundraising communications at Marks Family Center for Excellence in Writing
8-week course offered in fall 1 (August 29 – October 23, 2023)
May be taken as an individual course
May be applied toward the Certificate in Professional Writing
May be applied toward the BAAS concentration in Individualized Studies
APOP 2200: Flourishing with Others: Building Thriving Relationships

Good fundraising strategy depends on building good relationships, but so does every other aspect of work—and community and home. Positive psychology research shows that interpersonal relationships are key to well-being, from professional connections to friendships, family relationships, and romantic partnerships. This fall 2 course takes a deep dive into the science of building and improving your relationships, using the positive psychology approach of combining research data with experiential learning and self-reflection. You may have a more robust experience in this course if you have previously taken APOP 1000: Introduction to Positive Psychology, but that is not required.  And if you take this course as a complement to professional writing, you'll gain insight into two very different but complementary approaches to the arts of communication and working together to create positive change. 
Understand the 21st-century world and its challenges
CLCH 3100: Global Environmental Issues
After a summer of high temperatures, wildfires, and severe storms in the Northern Hemisphere, climate change is on our minds more than ever. This fall 1 course tackles the complex, multifaceted global challenges of climate change into comprehensible parts by targeting a few specific case studies for pressing environmental issues around the world, such as devastating mud flows in Indonesia and forest fires in the Amazon. For each example, you'll gain insight into the most up-to-date scientific research behind the phenomenon as well as the economic consequences, law and policy, and human costs associated with each. This approach gives you the tools to understand how your regional climate impacts fit into the larger world picture. 
GLBS 3200: Latin America and the Caribbean: Themes, Trajectories, and Disruptions
Regional studies are inherently interdisciplinary: to understand the culture of a region, you need to get to know its history, its politics, its economics, and its culture. This fall 2 course offers students a broad yet detailed study of the region known as Latin America, from the complex civilizations that preceded the arrival of Europeans all the way to this region's present-day politics, economics, and world impact. A long historical view of Latin America is necessarily a global view, as the region has played a critical role in worldwide movements of people, money, and ideas, including the Atlantic slave trade, political revolutions, and global music and art. If you've already taken a course such as CLCH 3100: Global Environmental Issues, this course will enhance your ability to think both granularly and globally, and fill in your understanding of international affairs: To better understand Latin America is to better understand the world.
Learn the theory and science of human behavior
LEAD 2020: Leadership Lessons from the Social Sciences
Social sciences include politics, economics, psychology, and sociology—in other words, the study of human behavior, particularly in groups. This fall 1 course includes readings from a wide range of these fields to learn the concepts and case studies that can help professionals make better decisions, understand dynamics in the workplace, and enhance your personal leadership style to be more effective. You don't have to be in a leadership role to put these lessons to work: the social sciences can be applied in a broad range of professional settings, wherever you are in your career. This course is designed to follow LEAD 1010: Leadership Theory, Practice, and Purpose in the Certificate in Leadership and Communication.
Instructor: Rebecca Padot, Assistant Professor in the Department of History and Government at Misericordia University and Senior Fellow in Penn Partnership for Religion and Urban Civil Society
8-week course offered in fall 1 (August 29 – October 23, 2023)
May be taken as an individual course
May be applied toward the Certificate in Leadership and Communication
May be applied toward the BAAS concentration in Individualized Studies and Leadership and Communication
SDEI 1600: Race and Ethnicity in Organizations

It is increasingly vital for working professionals at every level to have some understanding of how race and ethnicity shape an individual's experience at work—whether you are stepping into a leadership position, joining a committee to promote inclusivity in your organization, improving your colleague and client communications, or want insight on how your personal experience fits into larger social patterns. This fall 2 course draws on historical case studies, contemporary reports, and ongoing sociological research about how race and ethnicity impact our day-to-day experiences at work, from one-on-one interactions with colleagues to the structures and norms of your workplace culture. Courses in the Certificate in Social Difference, Diversity, Equity, and Inclusion can be taken in any order, but your experience may be enriched and deepened if you have previously completed SDEI 1100: Introduction to Social Difference in American Society. If you've taken a course in leadership, organizational anthropology, or another social science, you'll be able to build your vocabulary and conceptual understanding of workplace dynamics as you study the history and sociology of race.
Instructor: Clayton Colmon, PhD, Associate Director of Instructional Design, Arts and Sciences Online Learning, University of Pennsylvania
8-week course offered in fall 2 (October 24 – December 21, 2023)
May be taken as an individual course
May be applied to the Certificate in Social Difference, Diversity, Equity, and Inclusion
May be applied toward the BAAS concentrations in Data Analytics and Social Sciences,  Individualized Studies, and Organizational Studies
Immerse yourself in innovative poetry for a full term
CRWR 1600: Modern and Contemporary US Poetry
Whether you're a literature lover or a lifelong learner who wants to explore a new topic for longer than our fast-paced 8-week courses, this classic course introduces a range of iconoclastic poets over the course of a full term, from poetic pioneers Walt Whitman and Emily Dickinson to contemporary visionaries Caroline Bergvall and Kenneth Goldsmith. The Penn LPS Online course is designed and led by the same writers and teachers who established Penn's wildly popular Coursera course, affectionately called "ModPo" for short; you can read a recent Philadelphia Magazine article exploring why people around the world have been crowding into this MOOC since 2012. As a Penn LPS Online course, the experience is much more personal: you'll read and discuss poems in a smaller group of students with more opportunities for peer and instructor interaction, laying the groundwork to discover what poetry can teach you about writing and communication.
This is just a preview of the exciting online courses available this fall! There are many other subjects to choose from—and many combinations that can broaden, deepen, challenge, and transform your knowledge in consecutive terms. View our course guide to see the full range of what's available this fall.