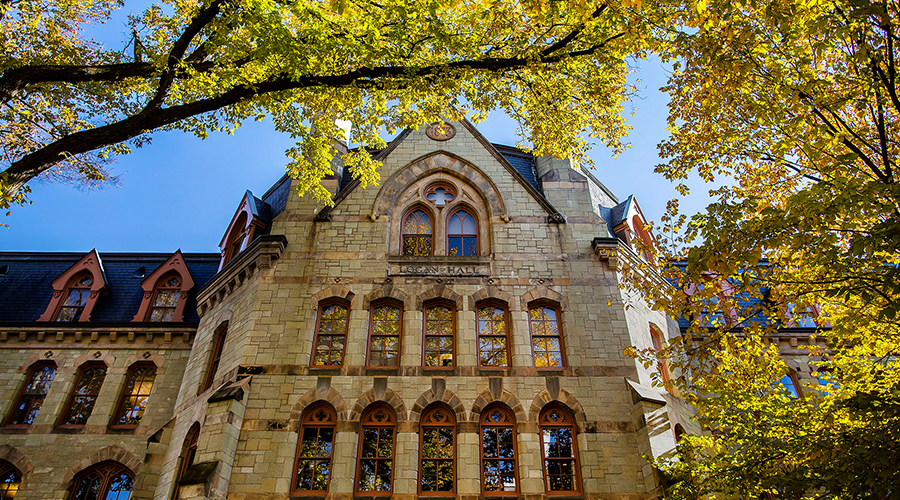 Who can resist thinking about a fresh start—or fresh school supplies—in the fall term? Turn your notebook to a clean page and make a list of what you'd like to accomplish this academic year. Whether you want to explore an unfamiliar subject, add a professional skill to your portfolio, or begin a career-enhancing certificate program, fall is the perfect time to start something new.
Fall 2022 course registration is open now. Current Bachelor of Applied Arts and Sciences (BAAS) students and certificate students can enroll in fall courses at any time using Path@Penn. If you're new to Penn LPS Online, you can enroll as a certificate student or course taker by August 15—and open enrollment makes getting started easy.
What's your ambition for this fall?
Expand your cultural horizons
More and more organizations are seeing the value of fostering a diverse, inclusive workplace and community—but not as many have the knowledge to understand the history and social science of inequality, or the tools to address it. This course focuses on how organizations and institutions wield power and influence social structures—whether they are designed to provide governance and social benefits fairly or to further marginalize and segregate certain populations. Since Penn LPS Online students log in from all over the world and bring different experiences of social difference and hierarchies of power, this course provides a framework to identify and understand institutional power broadly as well as the tools to examine the unique "power map" that you personally navigate where you live and work.
Courses in the Certificate in Social Difference, Diversity, Equity, and Inclusion can be taken in any order, but completing SDEI 1100: Introduction to Social Difference in American Society first will enrich and deepen your experience of SDEI 2000: Organizational and Institutional Power.
Think of the religion predominantly practiced where you live. There are some beliefs and rituals connected to that religious practice that you would recognize anywhere in the world that it is practiced—and others that vary greatly from region to region or even from church to church. That diversity of practice and belief is central to RELC 2500: Asian Religions, which does more than sketch the outlines of Asian religious traditions including Jainism, Buddhism, Hinduism, Taoism, Zoroastrianism, Sikhism, Zen, and Shinto. This course will also look at a panoply of ways each religion is understood and practiced, as various communities reinterpret, reframe, or recombine their central tenets differently. As you develop your own knowledge and familiarity with Asian religions, you also learn to think critically about how religious beliefs form and change.  
The field of global studies trains the flexibility of the mind: you exercise qualitative skills like analytical thinking and communication while moving deftly between granular detail and a broad high-level perspective. This introductory course establishes a wide-angle view of how people, cultures, and ideas move around the world that is particularly helpful if you plan to study the history, politics, and culture of specific regions such as the Middle East, Japan, or Russia—and, taken on its own, global thinking is a career-boosting skill that promotes complex problem-solving and future-forward planning.
Increase your data and digital literacy
Coding is often considered a vital skill for the jobs of tomorrow—and it can also seem intimidating to the uninitiated. This course is designed to give you a basic understanding of programming languages and repositories with the eventual goal of using code for a tool or project that serves your needs and interests. What separates the course from a basic coding 101 is that it emphasizes a qualitative as well as a quantitative perspective on programming: as a class, you are encouraged to think critically and creatively about how coding tools are shared, taught, and applied in different digital landscapes.
When you enroll in DIGC 2000: Coding Foundations for Digital Strategies, you must first complete a pre-course module that equips your computer with the programming languages and environments you'll need for coursework.
As those acquainted with the field already know, positive psychology is much more than big ideas about well-being and happiness: it is a rigorous, data-driven science applied by practitioners to critique contemporary research, design experiments, and assess and apply methods. This course is designed to make you a more informed consumer of positive psychology research, both to stay current with innovations in the field and to better understand and interpret how research is reported. Skeptics welcome: this course can expand on your prior coursework in positive psychology, but the critical reading and analysis skills have broader applications for reading and dissecting pop psychology and science journalism.
When you think of professional writing, you may be imagining text communications like emails and reports. But as different professional sectors increasingly use data to make recommendations, support claims, or persuade audiences, your professional communication may include data visualizations: consider an academic researcher placing numerical tables into a journal article, a fundraising professional creating pie charts to show audience demographics, or anyone who has made a budget pitch or presentation. When it comes to data, anything from the color of the lines to the amount of white space can be a rhetorical tool in making your case. This course is designed to increase your literacy as a reader of data visualizations as well as to provide practice with online data visualization tools that will help you tell your story in an effective, appealing way. 
Instructor: Dana Walker, Lecturer in Critical Writing for Marks Family Center for Excellence in Writing
8-week course offered in fall 1 (August 30 – October 24, 2022) and fall 2 (October 25 – December 22, 2022)
May be taken as an individual course
May be applied toward the Certificate in Professional Writing
May be applied toward the BAAS concentrations in Individualized Studies and Organizational Studies
Start a career-enhancing certificate
What is your workplace culture like? Intentionally or not, any group of people working together will create a culture of shared beliefs, values, and expectations—and if team leaders aren't purposeful in creating an inclusive, constructive culture, the group dynamics can easily get out of hand. The Certificate in Organizational Anthropology draws on social science methods and expertise to help you identify and assess the culture in your organization—and, oftentimes, take steps toward making positive change. The courses in this certificate can be taken in any order, but ORGC 1600: Introduction to Team Culture is the ideal starting point for concepts, vocabulary, case studies, and other tools to manage team culture more effectively—whether or not you have a leadership role at work. 
Similarly, if you are currently in a management position or angling to advance into one, the Certificate in Leadership and Communication can provide you with the tools to analyze what strengths you bring to a leadership role and which strategies can set you up for success. The courses in this certificate do not need to be taken in a particular order, but taking LEAD 1010: Leadership Theory, Practice, and Purpose first can provide you with a more robust foundation for future coursework. The courses in this program of study involve live meetings and written reflections; you learn as much about your own leadership style as about effective and prominent leaders in the real world. You also lay the groundwork for a realistic, practical five-year career plan that you can revisit throughout the five-course certificate.
Part biology, part psychology, the Certificate in Neuroscience studies human and animal behavior through the physiology of the brain and nervous system. It is a complex, ever-evolving field, and some familiarity with biology and chemistry is helpful for learning and understanding the foundations of neuroscience. When you enroll in NEUR 1000: Introduction to Neuroscience, you must first complete a learning assessment module that is designed to help you identify your baseline knowledge and get familiar with the mathematical and scientific principles underpinning the course.
Once you complete the introductory course—required for this certificate—you'll have the basic knowledge you need to continue the certificate; you can narrow your course selection to focus on behavior or pharmacology, or both. This challenging, fascinating certificate can provide valuable insight to anyone whose professional or personal interests align with behavioral health, mental wellness, perception, addiction, and other matters of the mind.
---
This is just a preview of the exciting online courses available this fall—there are many other subjects to choose from! View our course guide to see the full range of what's available in the upcoming term.