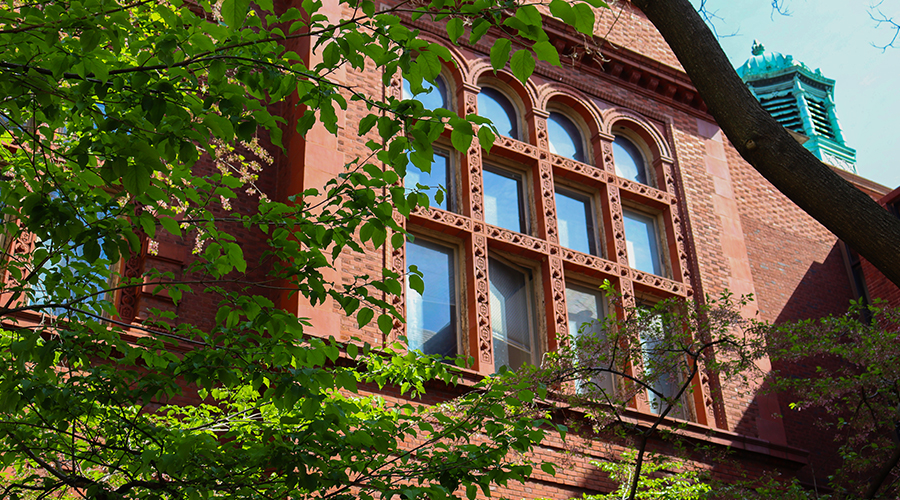 Let's look into the future: What does 2024 have in store for you?
Is this the year you make a big career move or take a step closer to your academic goals? Is it time for you to fulfill a promise to yourself to explore your creative side or do more to support your community? Perhaps, as 2023 comes to a close, you seek to better understand what's happening in the world around us? Whatever inspires your desire for knowledge, Penn LPS Online has a spring course for you.
Advanced registration for the spring terms is available to current students October 30 – November 13. Course registration via Path@Penn officially opens on November 21. If you're new to Penn LPS Online, you can enroll as a certificate student or course taker by December 15—just submit your contact information, some details about your educational background, and an enrollment fee. Aspiring Bachelor of Applied Arts and Sciences (BAAS) students can complete a standard application by February 1 for a spring 2 start. (If you plan to apply through the Gateway Program, you have until December 1 to submit your application—but students in this program must select courses from four foundational skill areas.)
Ready to find a match for your aspirations?
Build a better community around you
How do you define what's good and right—and how is your moral code influenced by where and how you live? This course uses the tools and methods of philosophy to dive into pressing ethical problems such as climate change, abortion, charitable giving, and more. Using these controversial issues as test cases to assess the applicability of different ethical theories, the course equips you with a philosophical framework to tackle challenging questions and moral dilemmas in any field, from medicine and science to law and policy.
Instructor: Errol Lord, Associate Professor and Graduate Chair of Philosophy
8-week course offered in spring 2 (March 18 – May 14, 2024)
May be taken as an individual course
May be applied toward the BAAS foundational requirement in Ethical Reasoning
ORGC 3300: Building Influence Across Cultural Boundaries in Organizations
Whether you have a leadership role in your organization or work as a member of a team, you already know how challenging it can be to collaborate and communicate with colleagues—especially in high-pressure environments or on time-sensitive projects. This course draws on insights from the fields of psychology, anthropology, and behavioral economics to understand the dynamics of connecting, influencing, persuading, and negotiating in the workplace. In the process, you will acquire practical, applicable strategies for communicating across cultural boundaries, building bridges and forming more effective working relationships at all levels.
SDEI 2600: Inequity in Arts & Design: Re-Presenting History
If art holds a mirror up to nature, as Shakespeare wrote, what will we see reflected in art created in a society troubled by system inequality? This new course explores painting, sculpture, video, and site-specific installations by impactful US artists such as Kehinde Wiley and Kara Walker, connecting contemporary art to artifacts of the past to understand how social inequity is critiqued or perpetuated by art. No prior knowledge of art or art history is required for this course; you'll learn the vocabulary and frameworks you need in lectures and readings as you explore themes including the legacy of slavery and colonialism, indigenous art, representation and cultural appropriation, and other social issues.
Gain a global perspective
CLCH 2100: Introduction to Disaster Management
From widespread wildfire smoke to rising flood waters, and Alaskan heat waves to freezing temperatures in Texas, few communities haven't been impacted by extreme and unpredictable weather events. The field of disaster management is designed to predict and prepare for such events in order to minimize harm. In this course, you learn the distinct stages of the disaster cycle—mitigation, preparedness, response, and recovery—and which actions can be taken at every level of government to help prevent and respond to the social, political, and economic consequences of disasters.
No science background is necessary for this course; the focus is on human behavior and social institutions in the midst of emergencies. Whether you are curious about disaster management as a profession or simply want to know more about how to prepare and plan for your home, workplace, or community, this course offers practical, actionable knowledge and resources.
GLBS 2000: Globalization: Social, Economic, and Political Aspects
Global citizenship is central to the Penn LPS Online mission: our students log on from all across the planet, and many of our skills-based courses are designed to prepare learners for a world that is increasingly connected by technology and commerce, yet deeply divided in complicated ways. Global studies courses take a closer look at those connections and divisions, exploring the social, economic, and political forces that shape the world we know. In this course, you'll draw from a range of social science frameworks to understand evolving global issues such as population and migration trends, the evolution of global consumer and financial markets, the spread of digital technologies, inequality, populism, climate change and food security, and the shifting geopolitical balance of power. Whether you plan to deepen your study of world history and culture, follow international policies and conflicts with wide-ranging impact, or just want to understand more about what's going on in the world, this course furthers the groundwork for a global perspective.
Connect with creativity and culture
APOP 3400: Flourishing through Creativity and the Arts
What does creativity mean to you? Perhaps you love to sing, have a talent for sketching, or have always wanted to write a book. It can be challenging to make time for creative pursuits alongside work and family responsibilities, but emerging research in positive psychology shows a link between creativity and well-being. This course explores new findings in this field as well as interventions and techniques for improving well-being through creative practice or engagement with the arts. 
There are no prerequisites for this course, although students may find it helpful to have some background such as APOP 1000: Introduction to Positive Psychology: you'll be drawing from the scientific principles and methods of positive psychology to explore this topic and design interventions that increase both creative engagement and well-being in your own life.
RELC 2000: Gods, Ghosts, and Monsters
Every culture and religion around the world has produced art, myth, or doctrine about the fantastic—that is, supernatural beings and phenomena that surpass human understanding. Drawing from the methodology of religious studies as well as history, anthropology, and visual art, this course explores examples of gods, ghosts, and monsters from a wide range of sources including Buddhist, Shinto, Christian, Hindu, Jain, Zoroastrian, Egyptian, Central Asian, Native American, and Afro-Caribbean cultures. Not only will you develop an intercultural, interdisciplinary understanding of religion and ritual, you'll also reflect on your own personal and cultural beliefs and explore why certain stories and ideas about the supernatural endure over time.
Instructor: Justin McDaniel, Edmund J. and Louise W. Kahn Endowed Professor of the Humanities
8-week course offered in spring 1 (January 18 – March 14, 2024)
May be taken as an individual course
May be applied toward the BAAS concentrations in Individualized Studies and Literature, Culture, and Tradition
Level up your academic and professional skills
ENLT 1200: Writing about Literature and Culture
Reading critically is an essential skill both in and out of the classroom; nearly every Penn LPS Online course requires you to read attentively and inquisitively, and respond to readings with thoughtful written prose. In this course, you deepen and expand your writing abilities by practicing literary analysis: you learn to closely read exciting contemporary prose and poetry, ask the right questions, identify textual evidence, and organize your ideas into a persuasive, cohesive argument. This practice will support further academic study in creative writing, literature, and culture—but the skills you develop are valuable in any professional or conversational context.
MTHS 1000: Mathematical Foundations for Data Analytics
You may assume that this course is designed as a bridge toward a course of study such as the Certificate in Data Analytics—and you certainly could enroll in this introductory course to familiarize yourself with algebra functions, probability, and other concepts that form the foundation of data and statistical analysis. In addition, data literacy is a critical professional skill: whether you are a key decision-maker at your organization or aspire to a leadership role, knowing when and how to use data analytics can help your team strategize and solve problems more effectively. 
PROW 3030: Advanced Academic Writing
The ability to translate your reading, research, and intellectual work into meaningful writing—for term papers, thesis projects, peer-reviewed research, or other academic purposes—is a challenging process. This course explores the genres and styles of academic writing and documentation, strategies for both reading and writing dense academic texts, time management and mindfulness techniques, and other methods for bringing your academic writing skills up to the level of your academic accomplishments.
If you've already completed PROW 1030: Introduction to Academic Reading, Writing, and Research—or obtained similar instruction from another degree program—yet want to polish and refine your academic writing, this course offers nuanced, in-depth discussion and hands-on practice.
Instructor: Valerie Ross, Faculty Director, Penn LPS Online Certificate in Professional Writing
8-week course offered in spring 2 (March 18 – May 14, 2024)
May be taken as an individual course
May be applied toward the Certificate in Professional Writing
May be applied toward the BAAS concentration in Individualized Studies
We spend so much of our days—and our lives—at work, yet how often do we have the opportunity to step back and take a critical look at our careers, let alone the very concept of a career? This new course takes a multidisciplinary approach to the past, present, and future of work, using tools such as autoethnography, psychology, and organizational science to articulate your personal relationship to work—and how to bring your professional interests and goals into alignment.
This course is designed to support students in the Bachelor of Applied Arts and Sciences program as they personalize their online education to support their passions and ambitions, particularly as they work toward their senior portfolios. However, enrollment in the BAAS degree is not a requirement to register for this course; general course-takers who are considering a career change might also find their journey supported by self-reflection and critical thinking about work.
Instructor: Kristin Sowden, Associate Director of Career Advising and Programming
8-week course offered in spring 1 (January 18 – March 14, 2024)
May be taken as an individual course
This is just a preview of the inspiring online courses available this spring—there are many other subjects to explore and skills to try out. View our course guide to see the full range of what's available in the upcoming terms.