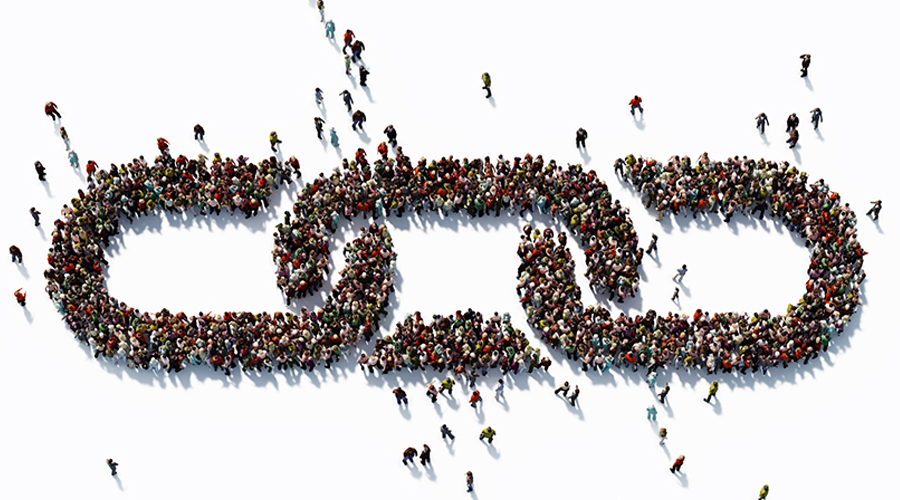 Diversity and inclusion is a multimillion dollar business, says Dr. Kimberly Torres. A sociologist and Penn-affiliated faculty member, Torres has observed organizations increasingly hiring external consultants, creating new departments, launching social justice initiatives, and seeking out credentials to signal their commitment to diversity and inclusion. "We've been throwing money at things since 2020. It's changing slowly," she says. "It's cool to talk about race and social difference right now. But what does that really mean? If you jump on the bandwagon, can you stay?"
The question of the bandwagon—that is, how to move beyond signaling and stopgap measures to make lasting and sustainable progress toward diversity, equity, and inclusion—is one of the driving motivations of Penn LPS Online's Certificate in Social Difference, Diversity, Equity, and Inclusion (SDEI). The online certificate draws from a range of disciplines with two goals in mind: to help students understand the complex histories and realities of social inequality, and to equip them with tools to tackle implicit biases and create more inclusive workplaces, communities, and organizations.
The complex, multifaceted nature of these dual goals is reflected in the title of the certificate. "The decision to add social difference and equity to that diversity and inclusion formula was intended to focus on the aspects that require certain social contexts," says Dr. Clayton Colmon, Associate Director of Instructional Design for Penn Arts and Sciences Online Learning, who designs and teaches courses for both the SDEI certificate and the Certificate in Digital Strategies and Culture. "Equity doesn't assume that only representation matters—that only having somebody in a seat is the way that we get toward change. Equity involves reckoning with systemic challenges." And since social difference is usually the factor that determines who already has a seat at the table versus who is excluded, understanding social difference is a critical step in this course of study. "When we sing My country tis of thee, sweet land of liberty, was that liberty for everyone?" asks Torres, who co-created the SDEI certificate with Colmon. "And if not, what is our particular place in the social structure, and how do we understand it based on our own statuses, including sexuality, gender expression, race, and being physically disabled?"
Dr. Kristine Rabberman, Assistant Vice Dean and Director of Academic Affairs at Penn's College of Liberal and Professional Studies says, "We always knew that we wanted to have a strong curriculum in social difference in Penn LPS Online. There is an impressive range of students with different backgrounds, areas of interest, and motivations for coming in, and we know there is such an incredible need for this certificate." Torres adds, "Without this curriculum, we would really not be giving students a complete education. I think these courses will get people to stay on the bandwagon."
Read on to discover some of the central lessons of the Certificate in Social Difference, Diversity, Equity, and Inclusion—and how these courses and benefit you personally and professionally.
Social difference is complex—and intersectional
The Certificate in Social Difference, Diversity, Equity, and Inclusion is deeply interdisciplinary, drawing on a variety of different knowledge domains— including history, sociology, digital culture, literary, and media studies—to explore concepts and tools that can be applied in a range of real world situations. But history and sociology play a particularly critical role in shaping students' understanding of how social difference is constructed—and specifically how it is constructed in American culture. "Pushing to have this course based on contemporary American society was incredibly important," says Torres, who teaches the spring 2 course SDEI 110: Introduction to Social Difference in American Society.
In SDEI 110, America becomes a case study where students can explore the historical roots of contemporary inequality. "When we talk about George Floyd or Breonna Taylor, when we talk about police killings and social unrest, they have particular structural underpinnings in our society. It's embedded in our value system," says Torres. She points to a number of watershed moments in American history—the institution of slavery, Emancipation and the Great Migration, the resulting social institutions of families and densely populated cities—that shape a history of racial inequality with different characteristics that of Europe or South America. Penn LPS Online students, who log on from all over the world, can bring their own distinct regional knowledge to bear on the lessons of American history.
A sociologist who specializes in racial inequality in higher education, Torres also incorporates sociological methods and concepts into SDEI 110. "Sociology, at its most basic, is the study of groups," explains Torres. "We do look at individual behavior, but also group behavior, how groups find identities, and how groupthink becomes important. We look at social problems from the perspective of institutions rather than the individual."
"Social inequality is a complicated problem," adds Rabberman. "This is not something that just happened overnight. It is tied up in history and society and culture, and as a result, students need a foundation for understanding the complexity of these power structures in order for them to figure out the ways that they—individually or as part of a group—can help to effect change."
Another dimension of this complexity is the fact that there are many different vectors of social difference—and, of course, we experience our own identities as complex and unique. "In sociology, sometimes we try to teach one lecture on social class, one lecture on race, and that creates the idea that these things are experienced individually," says Torres. "In reality and in my class, we talk about the intersection of these experiences and the vantage point we have in society as a result."
Colmon adds that social difference is not an inherently divisive dynamic. "Difference can be generative socially, in the sense that we can develop forms of affinity and connection among groups of people who choose to work together in a particular type of struggle," he says. "We work together through difference."
Understanding inequality is both an academic and practical skill
In DIGC 120: Digital Literacy and Cultural Change, one of the courses included in  SDEI, Colmon asks his students to reflect on the digital environments that they go through every day. "They're going to engage with questions that can then be applied to their workspaces or the communities and organizations they serve," he explains. "Who built those spaces, what types of assumptions are made about their users, what types of data and information is taken from them? And then, how can we disrupt historical patterns by being conscientious consumers or building our own counter spaces?" The purpose of this reflection is not only to raise student awareness of how digital culture is created, but to give them a sense of their own power and agency in participating in or creating digital culture. 
One of Colmon's DIGC 120 students is a tech professional who manages a team of coders and is taking Digital Strategies and Culture courses to understand the social context and implications of the work his team is doing. Inspired by the focus on building inclusive digital communities, the student created a website with resource guides and best practices for using technology for education, mentorship, and leadership. "The questions that we asked in that class—the humanizing question of how to re-make spaces and digital environments as nodes for meaningful connection—pushed him to explore what roles he might get into in the leadership realm, both using the expertise that he has as a user interface designer and some of the questions that he started exploring in the course," Colmon recalls. The student went on to apply for Harvard University's Graduate School of Education, using his DIGC 120 website as a model of the prototype he could build on during his graduate degree.
Some Penn LPS Online students may be interested in becoming academics, but nearly all of them are working adults—and professionals at any stage of their career can benefit from understanding how to create inclusive spaces. That's one reason Torres likes to have students do group presentations in her classes: "We work independently 90 percent of the time as students, but in the job market or in the corporate realm, you usually have to collaborate," she points out. "You report to your team, you have a direct report, so you need to learn how to listen to other people's ideas." Group projects require students to work together to unpack the assigned reading or understand key concepts; particularly in a virtual classroom, it is also an opportunity for students to get to know one another and learn from each other. "If I just let you do independent learning, you don't benefit from diversity and inclusion!" says Torres.
In courses like SDEI 110, students also write weekly posts for the class discussion board and are asked to respond to at least one another student. "Usually, folks do much more than that. They end up putting up current events and talking to each other," says Torres. "I find that it's an asset of the remote environment. A lot of students have told me that talking about race across the racial divide can be really difficult. There's this sense that perhaps they shouldn't say anything. But with the discussion board and the miles between them physically, they're able to start that dialogue."
Social justice contributes to connection and personal growth
As faculty affiliated with Penn's Organizational Dynamics master's degree program, Torres teaches and advises many graduate students who find practical applications for their coursework in their established careers, such as an alumna who created a brown bag lecture series for her department and another who piloted a mentorship program at her institution. Others go on to do research in the sociology of social difference, diversity, equity, and inclusion; for example, Torres co-facilitates a course with a former student whose thesis project addressed the emotional toll experienced by black women in non-inclusive white work environments.
But Torres also hears from students who experienced a personal epiphany or change in behavior after completing the course—sometimes months later, when they have had time to reflect on and internalize the teaching. A student contacted Torres after witnessing a store manager berate a Black sales associate in an expensive women's clothing store; the student called the store's headquarters to let them know how their associate was being treated. Torres received a message from another former student who had resisted the concept of structural racism during the term but came to understand more once he saw the Black Lives Matter protests of 2020 and the social inequalities that were deepened by COVID-19. "It's the little things that move me, because we're starting to see the values and attitudes and behaviors become more active," says Torres. "That's how you break the bonds of hate and intolerance. The privilege of being able to spend a few hours a week doing sociology and talking about social inequality seems to be a huge thing for a lot of folks. It changes their outlook and their disposition."
In the digital culture courses that are cross-listed with the SDEI certificate, Colmon asks students what kinds of communities—digital and otherwise—they want to create. "I'm really excited that students are going to be using the tools that we have in the courses to build spaces of their own, that speaks to the things that they think are important to the future," he says. "There are a lot of narratives about what's not possible. There aren't as many narratives that use our experiences and histories to push us toward spaces of joy and creativity, or spaces that allow us to realize a world that isn't quite here yet." 
Studying inclusion at an exclusive institution
As Penn LPS Online students begin to understand the complexity of structural inequality and the particularity of their own perspective and experience, they will necessarily confront some uncomfortable truths about higher education.
"Penn wouldn't exist in an equal society. It's got a 9 percent acceptance rate for [residential] undergrads," Torres points out. A large Ivy League university located in West Philadelphia, Penn houses top-tier research centers, exclusive degree programs, and students and faculty from all over the world—and its resources are out of reach for many.
For Penn LPS Online leadership and staff, expanding access to the University is a vital component of the educational mission. "One of the fundamental drivers for the Bachelor of Applied Arts and Sciences degree in the first place was to open up the expertise and excellence that's built into Penn as an Ivy League institution," says Colmon, "and also to do the visionary work of building pedagogical environments that make students feel supported and that speak to real-world concerns." For Colmon, it's important for Penn to take a leadership role in the growing field of diversity and inclusion education and put its wealth of resources to work by creating a meaningful, effective curriculum. It is equally important, he says, to recognize that Penn LPS Online students bring their own forms of expertise into the program. "There are diverse perspectives and diverse experiences represented in our student population, and those experiences shape the way students engage with each other," says Colmon. "That is something that allows students to feel empowered and feel like their perspectives and their histories are affirmed as points of knowledge." 
Rabberman agrees. "By expanding our student body to those who may not normally have been represented within our traditional student populations, we are giving ourselves and Penn additional voices," she says. "For our students to come in and benefit from the teaching and research expertise of Penn—and then also to bring their experiences into the classroom space for faculty and other students to learn from—that is very powerful."
---
You can enroll in the Certificate in Social Difference, Diversity, Equity, and Inclusion at any time, or enroll in individual courses without committing to the entire online certificate. It is strongly recommended that students pursuing the certificate first complete SDEI 110: Introduction to Social Difference in American Society; there is still time to enroll in the spring 2 term beginning March 14.
To learn more about ICOM 100: Intercultural Communication, a course cross-listed with the Certificate in Social Difference, Diversity, Equity, and Inclusion, read the Penn LPS Online feature Why cross-cultural communication is important—and how to practice it effectively.
To learn more about DIGC 320: Designing Critical Futures, a course in the Certificate in Social Difference, Diversity, Equity, and Inclusion, read the Penn LPS Online feature Faculty spotlight: Clayton Colmon.