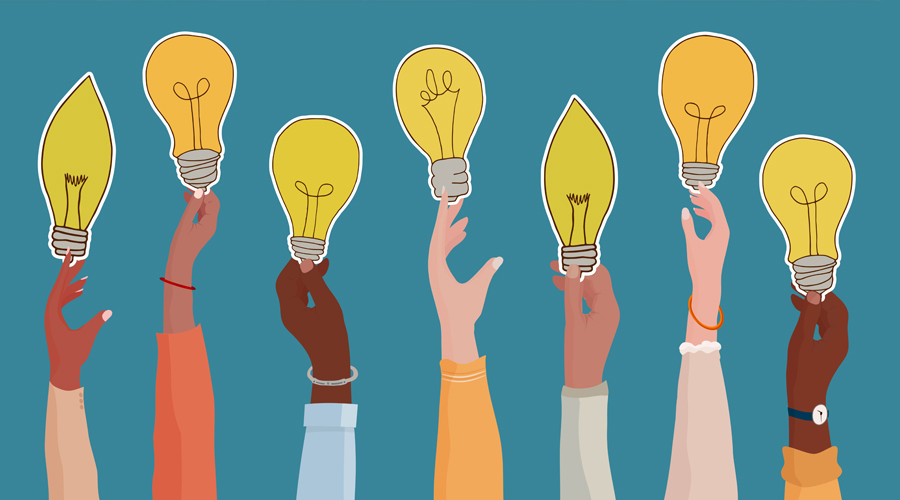 As a result of the pandemic, many members of the workforce have taken stock of what matters to them in terms of both their roles and their employers. Now more than ever, it's important for organizations to demonstrate a commitment to creating diverse and inclusive work environments for their employees. Workplace diversity refers to cultivating a team that comprises different genders, races, nationalities, abilities, and sexual orientations. Equity involves ensuring that all employees have access to resources, opportunities, and fair compensation. In inclusive workplaces, all employees feel valued, involved, and supported—which in turn cultivates trust, motivation, and greater job satisfaction.
Whether you're an aspiring or current entrepreneur, manager, or HR professional, the Certificate in Social Difference, Diversity, Equity, and Inclusion is designed to provide the critical and analytical tools to identify unconscious biases that underpin inequality and marginalization, and implement strategies that promote equality in the workplace and beyond. In this Ivy League 4-course certificate program, you'll develop a fluency and comfort level with the vocabulary of diversity, equity, and inclusion; learn how to support psychological safety, openness, and accountability across diverse groups; and discover how to contextualize social difference and structural bias in diverse professional contexts.
Read on to explore why it is critical—and beneficial—for leaders and organizations to prioritize diversity and inclusion.
1. Boost innovation, profitability, and employee engagement
What organization wouldn't want to see higher employee engagement, increased innovation, and improved financial performance? Work environments that comprise employees of different genders, ethnicities, sexualities, ages, and experience levels can foster increased creativity and innovation. If the entirety of a team has similar backgrounds and identities, there is a likelihood it will produce similar ideas when brainstorming or innovating. However, if a team comprises people with differing knowledge bases and perspectives who collaborate, there is a greater likelihood they will produce inventive ideas and solutions. And when workplaces are inclusive, it's more likely that employees will feel comfortable enough to share their unique ideas with colleagues and managers. Inclusion is also a key driver in improving job satisfaction and performance.
Not only can creating diverse and inclusive workplaces benefit employee performance and innovation, it can also benefit the bottom line. Recent research from McKinsey & Company found that organizations in the top quartile for executive-level gender diversity were 25% more likely to have above-average profitability than those in the fourth quartile. And companies in the top quartile for ethnic and cultural diversity outperformed those in the fourth quartile by 36% in profitability.1 Suffice to say when leaders bring on people of different genders, ethnicities, and cultural backgrounds, it can really pay off.
2. Increase understanding and informed decision-making
Having a diverse and inclusive team can also improve a company's cultural awareness and understanding of nuances in today's global marketplace If an organization has an international client base, for example, then having employees who speak the languages and understand the cultures of those clients can improve communication and strengthen business relationships. A diverse workforce can also help businesses better understand their target markets, promote themselves more effectively, and quickly pinpoint opportunities as they arise.
Additionally, diverse teams of decision-makers and problem-solvers can help prevent bad decisions that may alienate customers or clients, hurt brands, or prevent growth. Because diverse groups of people bring different experiences and points of view to the table, there is a greater likelihood they will be challenged in a way that creates game-changing solutions to problems. This level of diversity of thought can push team members toward a deeper mutual understanding and inspire innovation in a way that may not occur in a more homogenous group.
Two courses from the Certificate in Social Difference, Diversity, Equity, and Inclusion that are beneficial if you want to help build a more equitable workplace are ICOM 1000: Intercultural Communication and SDEI 2500: Race, Place, and Space. In the former, you'll focus on key tenants of intercultural practices and strategies and build a foundation for understanding the intricate relationship between language, culture, and communication. In the latter, you'll be introduced to the study of race within contemporary US society to help you gain a better grasp of how and why it continues to be such a powerful stratifying agent in social and intergroup relations and in economic and political hierarchies.
3. Attract and retain a greater pool of talent
High employee turnover rates are antithetical to successful businesses. According to data from the Society of Human Resource Management (SHRM), the cost of replacing an employee averages out to about one-third of their annual salary—and results in additional losses in productivity, time, and knowledge for the organization.2 When multiple people leave an organization it can also negatively impact morale and reputation for remaining employees. If team members don't feel that their work is valued or taken seriously, then they will eventually find a new place to work. As such, it's important to provide an inclusive work culture in order to retain a diverse set of talent. If employees feel that they work in an equitable environment where they are appreciated, they may experience greater job satisfaction, feel increased pride in their work, and serve as strong brand advocates for their employers.
Workplace diversity and inclusion also increase the likelihood that a business will be able to attract and keep a large pool of talent. According to data from the CNBC/SurveyMonkey 2021 Workforce Happiness Index, almost 80% of respondents across the US said it is important for them to work at a company that prioritizes diversity and inclusion, while more than half consider it "very important." At the end of the day, employees of all backgrounds desire and deserve to feel safe and comfortable and that they belong in their work culture.
If you want to gain a better understanding of the origin and change of social norms, the composition of diverse populations, and social constructs behind contemporary issues including class, racial, and gender inequality then SDEI 1100: Introduction to Social Difference in American Society at Penn LPS Online is a great place to start. Through readings that highlight key sociological theories, concepts, and methodologies, you'll gain a thorough and nuanced understanding of how social problems affect people on macro and micro levels. You can use this increased awareness to help you become a more equitable leader for your team and your organization.
Ready to get started?
It's clear that there is a vital need for leaders to identify and address structural inequities such as systemic racism, sexism, classism, homophobia, xenophobia, and other forms of institutional discrimination. The Certificate in Social Difference, Diversity, Equity, and Inclusion at Penn LPS Online can equip you with tools and knowledge that allow you to effect meaningful change in creating a diverse and inclusive workplace within your current or future company.
If you're also interested in leveraging your strengths to become a more effective leader, explore the Certificate in Leadership and Communication. This credential is designed to help you customize your approach to professional development, practice strategies for impactful communication, apply data in decision-making and problem-solving, and expand your critical thinking skills.
Both certificate programs are created with the needs of working adult students in mind. Whether you already have a degree, some college credit, or a high school diploma or GED, at Penn LPS Online you can enjoy the educational excellence of the Ivy League with the convenient flexibility of completing your studies on your own terms and schedule. If you're ready to follow your intellectual passions, broaden your horizons, and take your career to the next level, then there's no time like the present.

Enrollment for Penn LPS Online certificates is open year-round! Enroll today or explore the Penn LPS Online course guide to see the full range of what's available in any upcoming term.
Sources
1 https://www.mckinsey.com/featured-insights/diversity-and-inclusion/diversity-wins-how-inclusion-matters
2 https://www.shrm.org/hr-today/news/all-things-work/pages/to-have-and-to-hold.aspx