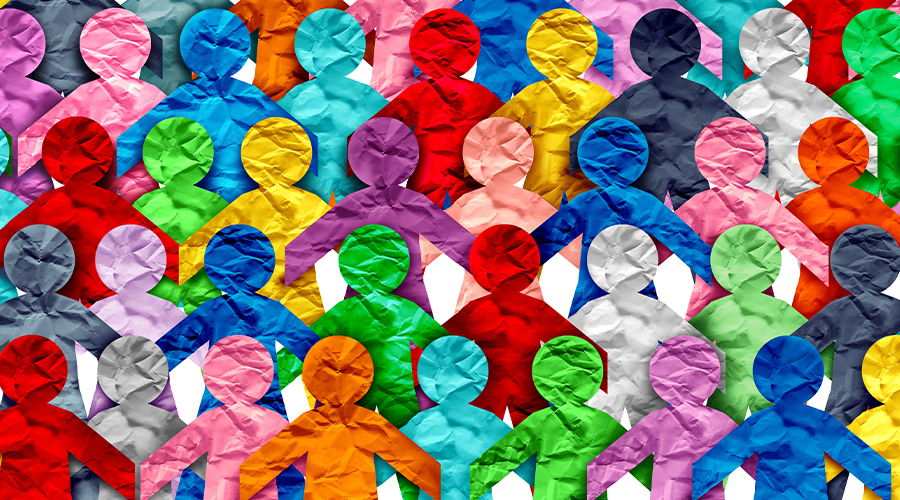 What is diversity, equity, and inclusion in the workplace?
Diversity, equity, and inclusion, or DEI, in the workplace refers to policies and procedures that encourage representation and participation of people of different genders, races, ethnicities, religions, ages, sexual orientations, disabilities, and classes. However, it's not enough to simply hire a diverse workforce. Rather, it's also important that all employees have equitable access to salary and benefits, resources, and advancement opportunities, and to have a voice within their teams and organizations at large. The great thing about creating diverse, equitable, and inclusive work cultures and environments is that they are mutually beneficial to both employees and employers.
Why is it important to have diverse and inclusive workplaces?
Creating a diverse and inclusive workplace culture is important because it has a positive impact on everything from employee recruitment and loyalty to innovation and performance.
According to research from the Diversity Wins: How Inclusion Matters report by McKinsey & Company, there are three fundamental indicators of inclusion in the workplace: equality, openness, and belonging. Equality refers to fairness and transparency in pay, recruitment, promotion, and access to resources. Openness refers to a workplace culture where people are treated with respect and without bias, discrimination, or microaggressions. And belonging refers to a sense of community that encourages people of all backgrounds to feel free to share their insights and talents—and to know that their input is valued by coworkers, managers, and their organization.
Read on to explore the many ways DEI can help workers and companies thrive.
Boost creativity and innovation
When people of different cultural backgrounds and levels of expertise collaborate, it can help boost innovation and creativity within an organization. Because of their unique experiences, perspectives, and knowledge, diverse teams are more likely to bring pioneering ideas to the table than are more homogenous groups. A Boston Consulting Group study found that companies with above-average diversity in their leadership teams reported innovation revenue at rates 19 percentage points higher than those with below-average diversity in management.
Build a reputation that attracts talent and customers
Companies that become known for embracing a diverse, equitable, and inclusive work culture not only open their potential talent pool—and their ability to attract the best of the best—they also benefit from the potential to better relate to and win over diverse customers. It's easy to understand why diverse teams may see a competitive advantage when they share similar perspectives and cultural touchpoints with their client bases. Consequently, it may also be easier for these employees to appeal to and promote their products or services to potential clients that also come from diverse backgrounds more effectively.
The Great Resignation during and following the COVID-19 pandemic illustrated that workers are reassessing both their levels of job satisfaction and what they are looking for in an employer. It's become clear that companies who want to continue to recruit the best talent in their respective industries will need to know how to appeal to the next generation of workers. According to the Deloitte Global 2022 Gen Z & Millennial Survey, along with pay, work/life balance, and development opportunities, this demographic also looks at the societal and environmental impact (including diversity and inclusion) of prospective employers. The report also notes that 52% of Gen Zs and Millennials are not satisfied with their current organization's progress in creating a diverse and inclusive workplace. So there continues to be a lot of work to do.
Create a culture of trust
As mentioned above, creating a culture of belonging and trust among employees is paramount to leading a successful organization with a healthy workplace culture. According to a research-driven 2021 analysis by McKinsey & Company on the Black American experience at work, there is a significant trust deficit between organizations and their Black employees. To that end, Black employees were more likely than white employees to report that they often don't feel that their employers value and embrace diversity, allow them to be their full selves, or reward them fairly for their work.
To build a work environment where everyone feels safe to express themselves, leaders must actively set a tone of honest discourse and reach out to diverse employees from a place of vulnerability. Although it's not always an easy pursuit, leaders need to be willing not only to listen to people's personal experiences with racial injustice or other forms of discrimination but also to risk saying the wrong thing in response. This includes being open to hearing and adapting their words and actions to reflect constructive criticism. This kind of openness to vulnerability is essential to building real connections and a sense of emotional safety between employees, colleagues, and management.
If you want to learn more about how to understand social differences in contemporary America and develop an intercultural perspective on language to help you communicate more effectively with diverse coworkers, direct reports, or clients, then SDEI 1100: Introduction to Social Difference in American Society and ICOM 1000: Intercultural Communication are worth noting. In the former, you'll take a sociological approach to critical issues, including racial, class, and gender inequalities, to gain a nuanced understanding of how they affect people on a micro and macro level. In the latter, you'll focus on key concepts of intercultural practices, reflections, and strategies to gain a foundation for understanding how to engage meaningfully with speakers of other languages and cultures.
Encourage employee retention
It is expensive and time-consuming for companies to replace talented people who leave for other opportunities, and it's also bad for employee morale. To improve employee retention, organizations should increase their efforts to build a work culture based on DEI. According to data from the CNBC/SurveyMonkey Workforce Happiness Index, a large majority of those surveyed (78%) say it's important to work at a company that makes diversity and inclusion a priority, and more than 50% consider it to be "very important." And, interestingly, employees who were satisfied with their employers' DEI efforts scored higher on the happiness index and reported greater satisfaction with their pay and opportunities for career advancement.
For further proof of the importance of values to many of today's workers, the Deloitte survey found that this key demographic of the global workforce may be willing to turn down jobs if they don't align with their sense of purpose and personal ethics. Gen Zs and Millennials who report being satisfied with their employers' social and environmental impact—and their attempts to create an environment that celebrates diversity and inclusivity—also said that they are more likely to want to stay with their current organization for more than five years.
If you'd like to learn how power structures may impact our personal and professional lives, from institutional frameworks governed by laws to organizational relationships shaped by individual actions, add SDEI 2000: Organizational and Institutional Power to your potential course list. Develop your critical thinking skills as you explore how some of these structures are designed to offer open and equitable social benefits for diverse populations, while others are a part of systems that obfuscate their detrimental effects on historically marginalized groups. And participate in simulations that emphasize the "power maps" we navigate across social landscapes, including professional environments, on a daily basis.
Empower people to reach their full potential
A final important benefit of a diverse, equitable, and inclusive work culture is that it creates an environment that empowers employees. When companies embolden their employees, it helps to nurture connection, build loyalty, and support workers in giving feedback that fosters positive change within the workplace. According to data from the Deloitte survey, Gen Zs want to work for companies with less rigid hierarchies, where they can voice their ideas openly and participate in shaping a more inclusive work environment. And of the workers surveyed who felt empowered by their organizations, close to 90% reported feeling a sense of belonging with their employers.
Research also supports the premise that a diverse and inclusive workforce can have a positive impact on performance and profitability. According to findings from McKinsey & Co's report, companies that had the most gender-diverse executive teams were 25% more likely to see above-average profitability than peer companies with the least gender-diverse management teams. And the higher the representation of women, the higher the likelihood of greater performance. Additionally, in the case of ethnic and cultural diversity, companies in the top quartile outperformed those in the fourth by 36% in profitability.
There's a strong case to be made that diverse and inclusive work environments that empower employees ultimately result in companies that achieve success—whether that's in profitability, employee loyalty, a work culture that gives everyone equal opportunity to flourish, or all the above.
Learn more about social difference, diversity, equity, and inclusion
Are you ready to develop the critical and analytical competence to identify and address structural inequities such as systemic racism, sexism, classism, queerphobia, xenophobia, and other forms of discrimination?
The Certificate in Social Difference, Diversity, Equity, and Inclusion at Penn LPS Online provides research-based strategies and approaches to advance equality, equity, and inclusion and effect meaningful change in your personal and professional communities. By the end of this 4-course Ivy League program, you'll emerge with the skills and knowledge to confidently tackle the continuing real-world consequences of structural inequalities that deny marginalized groups access to resources and opportunities.
The Certificate in Social Difference, Diversity, Equity, and Inclusion also prepares you to:
Discuss the complex intersections of race, class, sexuality, and gender using frameworks that help others realize social justice in specific organizations or communities
Obtain a fluency and comfort level with the vocabulary of social difference, diversity, equity, and inclusion
Identify and contextualize difference and structural bias within diverse professional environments
Analyze how technologies can both reinscribe historical inequities and, at the same time, help us challenge structural inequalities in society
Develop strategies that bolster psychological safety, openness, and accountability across diverse communities
Practice methods of civic engagement that support coalition-building and social movements to address social injustice issues
Eager to get started? If you haven't yet done so, complete your enrollment today to embark on your Ivy League educational journey at Penn LPS Online. And view our course guide to see the full list of offerings available in any upcoming term.